Carly's health recovery plan
£1,560
of £16,000 goal
Raised by
47
people in 32 months
From Donna:
"I am setting up a crowd funding page for my sister Carly in order to finance her ongoing and upcoming health costs and recovery.... I began this page 2 years ago now, and we really appreciate ALL the support we have  recieved, but it is time to once again focus on raising funds and moving things forward.
This illness is complex, its about learning as you go, much trial and error, and doing what you can when you can. New things come to light all the time, and we have reached a stage where we have a potential new focus which ties ALL Carly's health symptoms /syndromes togther ... but it's new and this means much more research is needed; as it working with the very best scientists, researches and practitoners. We are in the process of accessing testing,  making contacts and also reconnecting with old ones - as funds allow.
I would really appreciate your support in trying everything possible to get my Sister back to some form of 'normal' life & health. We are all guilty of taking health for granted, myself included; but after seeing first hand how it truly impacts a life and dreams I really feel I need to ask for as much help as possible for my Sister's recovery....
I appreciate that this is not your standard, clear, structured appeal for fundraisng, with a completely set- in-stone plan and guareentee; but the truthful, harsh reality of chronic illness is that it is messy.....
I hope you will read (and re-read) the info below detailing more about Carly's updated 2017 plan.
If you wish to donate any amount, or have any fundraising suggestions we would all be eternally grateful and would love to hear from you.
Thank you for reading this and for your support. xx"
Background:
Carly was diagnosed with CFS/ME almost 21 years ago when at age 16 she went from completely healthy and active to sick. She came down with a flu virus ovenight which just never really went away, and from here she was left to just get worse and worse.  
This type of illness needs far more comprehensive testing at much deeper cellular and biochemical levels than is freely avaliable. But we had no knowledge back then.....
A few years into the illness, after pushing through university and securing her degree Carly crashed completely,  became incredibly sick and totally bedbound. She remained this way for a good while, and since then has worked hard and does all she can - in every possible way- to support her system - and keep afloat. But she remains primarly housebound and still severely affected to this day. In the past year her health has deteriorated further and she can no longer tolerate any form of medication or supplements. We need a very skilled team to help her gain ground and go forward....
She very much believes it's possible, and we joke that she has gained her own medical phd along the way ;-)
                                 *****
.... One day Carly was vibrant and well as she had been her entire life.. The next day sick..... and given the typical 'ME' label.It doesnt sound possible does it? You imagine someone wil help. Find the solution.  Fix things. 
They don't. Or they can't.
The NHS are not in a position to help this type of complex illness.
Initally this
ME/CFS
label was associated with much judgement and disbelief which certainly didn't help; but much later on (and more recently) we have witnessed a complete reversal, and many heartfelt, genuine and humble apologies from senior medical professonials and professors. They have tried to help, and gone beyond duty and red tape, after openly admitting and declaring how severe and serious Carly's condition is. They have done their best but they too are devastated at their industry limitations, and off the record they advise us to seek as much private treatment as we can possibly find/fund. To keep looking for answers.
So this is our reality and truth.
The NHS have been able to diagnose various syndromes and illness' over time. To begin with our main focus was with
Autoimmune Hypothyroidism
- however conventional treatement for this did not work for Carly - and nobody understood why she had such side effects depsite needing the medication. (Recently she has been unable to tolerate even this much needed medication which is concerning.)
From here she was diagnosed with
Adrenal Insufficiency/ suspected Addisons
and trialled steroids for many years. Again they helped her, but they also caused major issues.
Further diagnosis' have included
 Hypermobility Syndrome and POTS.
 Most recently, it has been suggested that mild
Lupus
is part of the picture too.
Following on from this ( a few years ago) Carly had a breakthrough when a professor at Kings College, London did manage to prove a viral route. He advised us to pay for a Parvo B19 virus panel - and the results showed Carly has positive
Parvo Virus
 - but crucially negative IGM antibodies -which basically means that her body is no longer able to produce antibodies to fight the virus......This virus therefore remains at large and explains why she feels as though she has the Flu every single day. It is because she actually does!
But this leads us to wonder just how many other undetectable infections she has going on?  - As basically standard tests would not be accurate in her immune compromised position.
This then led us to the
Lyme Disease
route, and Carly is still investigating this also privately after a very low CD57 private test confirming immune surpression.
(*Lyme Disease ((and co-infections) is a tick bourne infection, which can often go un-noticed for many years, At some point a stress trigger (like getting Flu) may kick it into gear. Once is it activated it quickly affects every system in the body and explains why sufferers dont always respond well to various treatments. It causes a downstream effect on organs and the immune system. Once the body is so compromised it cannot fight off  infections and so things just accumulate and get worse. This is called Late Stage Lyme Disease.)
                              *****
Any one of these illness's would be justifyably devastating and impactual on their own - for every reason - especially taking into account the length of time; but all-together you can get a sense of how complex and all-consuming this really is.
The problem is that these Autoimmune & other conditions are a result of something deeper .... a reason why her body is not functioning. A reason why she has these infections overloading her. A reason why her responses are so sensitive and stress inducing. A reason her body cannot cope. It is highly dangerous to rush in at this point and needs a very fine tuned approach.

From Carly:
New Findings :
I am currently looking at a
potential genetic root cause
 which triggered this nightmare and cascade...
I fit the picture of new research involving abnormalities within the
RCCX gene cluster.
The understanding is complex (and forgive me if my interpretation below is in any way inaccurate as I am still learning about it all) but basically there are various ways that this mutation links together ALL my symptoms and conditions. There may also be other genomic issues.
What I am learning and understand in relation to my case:
- Hypermobility is being considered as a marker for predisposition to chronic illness - under the right environmental and stress conditions. (*It's a red flag to look after yourself from the get go.)
- Hypermobility in lay man's terms is looseness around the joints. You work harder and use more energy to keep joints in place. Already you will be more naturally tired. This leads to Exracellular Matric (ECM) where the cell lining is very thin (not good) and one repurcussion of this is that infections and bugs can pass through and take route very easily. It likely explains the link with Lyme Disease and infections and why these people are affected more.
- The RCCX abnormality is linked to a heightenned and over-reactive stress response where the body perceives danger too readily. There will likely be much anxiety as the body continally surges. This is very different to psychology but sufferers must do all they to calm the nervous system (as I do) just to help. ..... This leads to...
- Cell Danger Response - which means (as I understand it) that the body's attention is diverted away from energy production in the mitrocondia, and away from fighting virus's .... it goes into survival stress mode and causes further damage. It gets stuck here in a loop and extreme sensitivies kick in. (*I believe this can happen as part of any chronic illness regardless of whether the RCCX model is positive.)
When the body is harbouring latent infections, which are activated (upon any type of treatment) it will also overwhelm the system and further ramp up this CDR. This means in effect that anything which may help the body is also stressing it severely at this point. (*This is certainly happenning to me and explains a lot.)
- Another part of the RCCX picture which is that there is a bottle neck block due to a gene expression occurring directly from this - the CYP21a2 gene … As I understand it this will cause sensitives/reactions due to a block in the pathway. It is specifically linked to causing issues with adrenals. (*Again the nutrients required to help clear the block are causing major issues for me ..... so its all about finding the right way in - to begin to address all of this step by step.)
- Potentially RCCX patients (especially ones with autoimmune disease) may lack a key protective element against exogenous retroviruses. Specifically they lack sufficient C4. And because the C4 gene contains the "protective endogenous retrovirus HERV-K", it leads to susceptibility to other viruses. (*Again I fit this in tests.)
                                    *****
I have been in communication with the researcher in this field - Micheal McEvoy - who thinks I am a strong candicate for this Genetic RCCX issue and says;
"I think that your RCCX has predisposed you to viral infections and autoimmunity and your immune system cant resolve infections very well especially viruses."
The key is finding a team to work with me, and find solutions to this very new emerging area. It will take time, research, testing, consulting. Phase by phase.
I cannot express the relief, the joy and the overwhelm at potentially finding a root cause.
It is a real chance. 
And I'll take that with gratitude.
Action Steps for phase 1:


- I have found a geneticist to work with me. He would like me to get my full genome (including RCCX)  tested privately.
*COST UNKNOWN AS YET*
- Practioner Appointments ongoing with a team I am getting together.
* Initial 6 months - £1200
- Further OAT and Hormone Testing.
* £600
- Potential supplements.
*Inital 6 month - £600
* Possible Medication.
* COST UNKNOWN AS YET
                           ******
This will be a gradual process. The main thing initally is that I can access Genome and RCCX testing.
However, we can proceed even if negative as this is still very much the realm of my whole condition.
I will continue to fund (with my family) my other ongoing health care costs including diet, lifestyle, homeopathy, massage and accupuncture of course. And any fundraising money wil be spend where best fits.
I have to take a moment to say that I cannot guarantee that by supporting me (or even fundraising for me) you will see definite results. But I really hope that you do. I have a real and new lead here which I am very very excited about....not just for me, but for other people too. It feels right and I learn more and more each day, each month, each year.
I won't give up.
Thankyou so much for taking the time to read this. To maybe share with someone else for whom this information may be relevant. And for your love.
Carly and Family xx
                                          ******
Carly writes a blog at
www.carlyjennings.co.uk
and continues to inspire many people and pass on health and healing information. When she recovers she would like to help other people to get well, and will do all she can to pay any generosity forward.
P.S - Read Carly's inital 'Thankyou Blog Post' HERE -
http://living-brightly.com/health-healing/my-fundraising-update/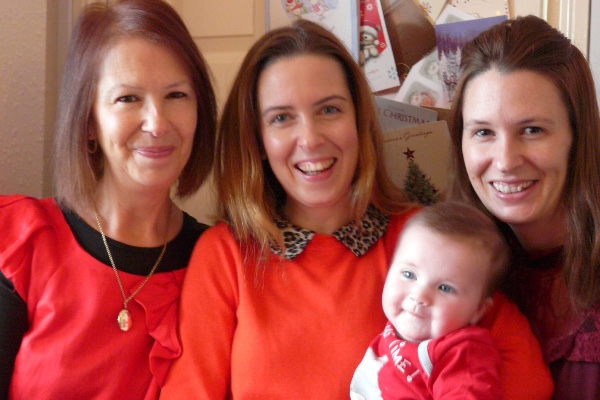 + Read More