GYSGT Moncie Johns KIA Basra 06/17/14
$13,940
of $12.5k goal
Raised by
165
people in 34 months
Gunnery Sergeant Moncie Johns was killed in Basra, Iraq on June 17, 2014 while supporting US missions and serving as a contractor. He was retired from the Marine Corps but still desired to serve, protect, and defend the Iraqi people. Details are forthcoming due to the nature of the incident.
Gunny Johns was one of the finest Marines ever to wear the uniform. He embodied the values of Honor, Courage, and Commitment. He was dependable, intellgent, fearless, and always the first one to volunteer for the tough assignments. He was due to return home to his young daughters in 4 days.
Gunnery Sergeant Johns led Marines in a variety of units during his time in the Marines including 1st Battalion 4th Marines, 2nd Battalion 5th Marines, and as a Drill Instructor. 
Due to the unexpected and tragic timing of this loss, this account is being set up to help the family cover immediate needs and to set up a scholarship fund for the girls. Moncie was the definiton of leader and embodied all of the core qualities that make this nation great. Please donate, share this page, and help us to properly honor a true American hero. 
Semper Fidelis.
(For personal verification purposes, I served with Moncie in Alpha 1/4 where he was platoon sergeant for Weapons. I was in 3rd platoon. He arrived to us straight off the DI field and we deployed to Iraq/Najaf from May 2004-Feb 2005 with the 11th MEU aboard the USS Denver. Afterwards, he became our Company Gunny. You will find me on his FB friends list. I created the page as a way to help his daughters and family. The money will go directly to his brother Mike. Please feel free to email or message me with any questions via the link on this page. I can provide additional references, verification, or anything else that will put your mind at ease and give you 100% confidence that 100% of the funds raised will go to the immediate family. Thank you. -Dave)
+ Read More
Update 2
Posted by Dave Smith
34 months ago
Share
Update for Moncie Lamar Johns Memorial Service: The family has planned a memorial service for Moncie Lamar Johns to be held in Brantley County, Georgia on Saturday, June 28, 2014 at 2:00 pm. The memorial service will be held at Hickox Praise and Worship Church, 1641 Buffalo Creek Drive, Nahunta, Georgia 31553. The service will begin at 2:00pm and a meal will be served immediately after the service. All family and friends are welcome to come and pay tribute to a wonderful man gone too soon. Anyone wishing to send flowers may do so to Hickox Praise and Worship Church, 1641 Buffalo Creek Drive, Nahunta, Georgia 31553 (Church will be open on Friday June 27 and Saturday June 28 or contact Rose Johns 912 462-6568 or Sandy Johns Broxton 912 565-9124) .
+ Read More
Update 1
Posted by Dave Smith
34 months ago
Share
We have reached $10,000!!! Thank you so much to all who have donated, shared, and supported this. Gunny Johns was an amazing leader, mentor, Marine, and father. He loved his girls more than words could ever say and it was visible every single day. It is impossible to express how thankful we are to see so many people willing to support his family in this time. Thank you so much!!! Please continue to spread the word and share on your social media networks. God bless.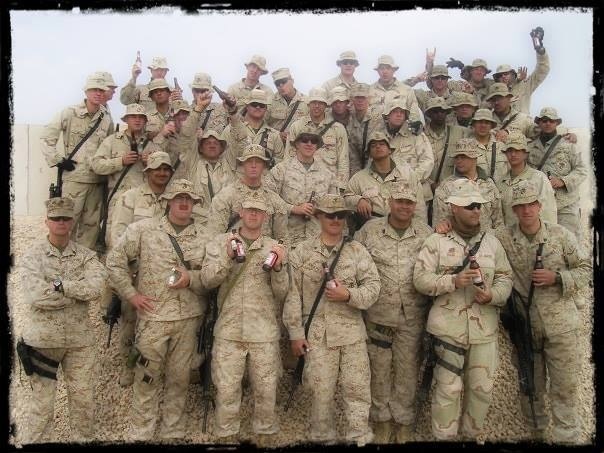 + Read More
Read a Previous Update