Flags for Fort Snelling Fund
$43,829
of $60,000 goal
Raised by
934
people in 28 months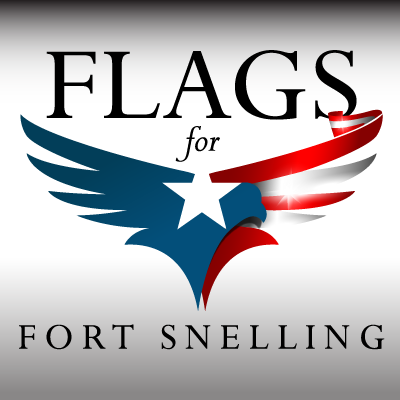 Flags for Fort Snelling organizes the funds and volunteers necessary to honor our American Heroes laid to rest at the Fort Snelling National Cemetery on Memorial Day. Our mission is to raise enough funds to support ove 130,000 American Flags to be placed for each Veteran laid to rest at Fort Snelling. 
We can't do it without your help! Please consider a donation of any size, then SHARE this effort on your Facebook to help spread awareness.

Watch the Kare11 Coverage here: 
http://www.kare11.com/story/news/2015/05/25/volunteers-honor-vets-by-planting-ft-snelling-flags/27911519/
...How it all began on Memorial Day of 2015...
My name is Joanne and I started this GoFundMe, not for myself, but for a non-profit organization that I have founded along with a few other amazing and caring people. Our organization is called Flags for Fort Snelling.

This all started as an idea last Memorial Day as a teaching moment for my kids. My kids knew what Memorial Day was, but after a couple questions of "Are we doing anything fun this Memorial Day?" and asking about BBQ's it dawned on me that they knew about Memorial Day but did not really understand what it's true meaning and value was.  I decided that I would take them to Fort Snelling National Cemetery to assist in putting out flags so they can see the gravity of what Memorial Day really is. I had called the cemetery and asked how he can sign up to volunteer to put flags out. I was initially told that the cemetery no longer does that (I was not told the last time the cemetery did that was about 20+ years ago).  I couldn't believe they did not do that anymore, it really upset me.

So like most people I voiced my feelings about it on my Facebook and said I was still going to take my kids to put out flags ourselves.  I had a few friends that said they wanted to join. So with combined efforts within a few days, a few of us had over 3,000 flags donated to us and some we bought personally. There was a group of about 15 of us that met that morning of Memorial Day to put flags out before the service.

The amount of attention that this had gotten with the few of us sharing posts and asking people to join us caught the attention of Kare 11 news. They came out and did a story on it. After that story, there was a flood of people thanking us for what we did, for taking requests for flag placement from people that couldn't come to remember their friends or family and having a photo sent to them with the flag placed at their grave, for doing what others won't do. I was moved to tears when I saw that hours after the article from Kare 11 was put online that it had so many views and positive supportive comments.

This all led to a sit down meeting with the Director of Fort Snelling National Cemetery. Long story even longer.... We are backed and supported by him and Fort National Snelling National Cemetery (until we say enough, which has no end in sight) to head up this flag placement and work with the Cemetery to make this a great and amazing show of respect and remembrance for all service members laid to rest at Fort Snelling. We have started it all, but to get the ball rolling up hill so it can make it to the top of this mountain we need help! 

None of the funds raised will go to anything but Flags for Fort Snelling, storage fees, organization costs and fundraising. I ask you to help us in this effort.

We have certain requirements that we have to meet working with the cemetery for flag size, placement etc.... It will take time and money for us to be able to get the flags we need and to make sure they are made right here in the USA. Please share this with friends, service members, and family. Help us start this great act of remembrance for many of those who have no one left to honor them. Do your part to help us honor all of these fallen Soldiers, those named and the unknown soliders.

http://www.kare11.com/story/news/local/2015/05/25/volunteers-plants-thousands-of-flags-at-fort-snelling/27938063/



+ Read More