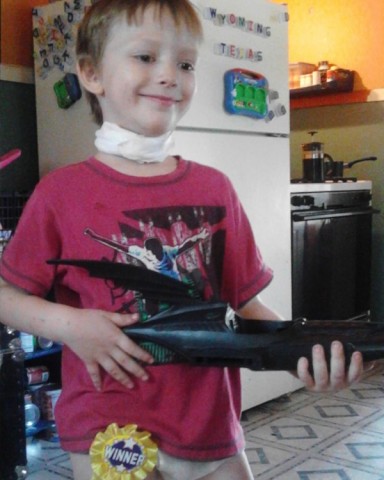 Click here: Dorian in the Houston Chronicle
This is Dorian. He turned 5 in April of 2013.
"My brain tumor makes me mad, and I wish it would go away. If my tumor never goes away, then I still want to have lots of fun. I want to do fun things with my big brother & little sister because I love them. I want to grow up to be a chef in a restaurant in the daytime, and a ninja who saves the city at nighttime. I want to help people, too. That is why I'm here." - Dorian
INOPERABLE, UNTREATABLE, INFILTRATING BRAINSTEM GLIOMA. RIGHT HEMISPHERE, FOUR LOBES AND THALAMUS. SECONDARY FEBRILE PETITE MAL SEIZURES. SECONDARY GRAND MAL SEIZURES. SECONDARY TIC DISORDER. COLOR BLINDNESS. VISION IMPAIRMENT. MEMORY MALFUNCTION & MEMORY LOSS. MOTOR INCOORDINATION. PAIN & NUMBNESS IN EXTREMITIES. PHOTOSENSITIVITY. HEADACHES. IMMUNE DIFFICIENCY. FATIGUE. ATTENTION DEFICIT. ENVIRONMENTAL ALLERGIES. THYROGLOSSAL DUCT CYSTECTOMY.
These words do not define Dorian. They are just the monsters he lives with every day of his life. The list grows as time passes, but in spite of that fact, we know that it could be worse & are thankful that it isn't right now. He can walk, talk, sing, jump, run, climb, dance, draw, paint, pretend, build, think, reason, smile, laugh, and dream (usually of being a ninja or having conversations with God).
He can also hear the devastated tones, understand sympathetic remarks and see the shocked facial expressions. Do you know what he does for those people? He comforts THEM. He reassures THEM. He makes THEM laugh. He hugs THEM. And then, when they are gone, he prays for THEM.
Cancer is expensive in ways that people don't usually realize. Dorian's single mother, an Air Force Veteran with a service-connected injury, was asked to resign from her job because she "took too much time off" to see to Dorian's medical appointments, tests, procedures, and surgeries. The only income the family has left is her modest VA Disability benefits. Dorian's family lives in Casper, WY, but Dorian has specialists as far away as Austin and Houston, so they have to travel large distances to get him the care he needs. Dorian's claim for Social Security benefits was denied because "the adverse impact on the patient's life can not be quantified because he is not yet school-aged." The family will start the application process again soon, and Dorian's mother is looking for a new job to improve their circumstances.
Dorian's tumor will never go away, in fact it will keep growing. We may not know how many days he has left to keep touching the hearts of everyone he meets, but we can give him the full, enriched, FUN life that he asked for...with YOUR help. He has started working on a bucket list which includes visiting Jackson Hole & Yellowstone, learning to be a real ninja, riding in a helicopter, building his first snowman, raising $5000 for the Make-A-Wish Foundation, promoting Pet Adoptions through Animal Shelters, and raising awareness & support for childhood brain cancer through the Smashing Walnuts Foundation which was founded by his friend Gabriella Miller. Help in any form with his bucket list is greatly appreciated, whether it be through time, goods, services, experiences, or monetarily. The funds donated to Dorian through this page will help with medical, travel, and bucket list expenses.