Dillon Narko Family Tragedy
$196,741
of $150k goal
Raised by
1,137
people in 27 days
Daniel Cotter
on behalf of Kathleen Dillon Narko
CHICAGO, IL
Please read this story.  My good friend, Kathleen, and her family are suffering a great tragedy. This story is from her sisters.  Please give if you are able.  Dan Cotter
In late January, our sister Kathleen's husband, Kevin, went running along a Chicago lakefront path and did not return. After seven long weeks of waiting and praying, we have just learned from the police that a passerby spotted a body in Lake Michigan, and it has been confirmed that it is Kevin. Kevin was 52 years old. The police and we believe that due to a medical condition or accident, Kevin fell into the lake, but the cold lake temperature prevented his body from being found until now.


Kevin with his two sons
The incredible heartbreak that our sister is experiencing barely begins to account for the unbelievable financial strain on Kathleen's entire family. Kathleen, who has severe multiple sclerosis and is unable to walk or to drive, is a law professor. In addition, Kathleen and Kevin's older son has severe autism. Both of them need live-in help 24/7.  This is a crisis situation, as both Kathleen and their son with autism have lost their primary caregiver.
Kevin and his younger son were best friends. Kevin made it to every game his son played on many sports teams over the years.  Kevin stayed up late with him when he had to study or write a paper.  Kevin was always there as his biggest fan and supporter. The emotional loss for his younger son is immense. With the loss of Kevin's income, the family is now struggling to pay his son's expenses to stay in college.
Kevin worked tirelessly as a solo practice attorney to support his family, and he did the physical and emotional heavy lifting at home.  Kevin was Kathleen's lifeline and also cared for their son as only a loving father can, attending keenly to his special physical, emotional, and educational needs. They went everywhere together – to the store, movies, and church.

Kevin and his older son
Last October the family experienced another serious health situation when Kevin suddenly collapsed as a result of a previously unknown irregular heartbeat. Kevin was unconscious for several days, and Kathleen sat with him at the hospital every day. Thanks to outstanding medical attention, the love and prayers of his family, friends, and faith in God, Kevin recovered.

Kevin and Kathleen
One of the things their older son loved to do was to go running with his dad.  He was a state qualifier for the Special Olympics and was excited to return to running with Kevin. Kevin began to resume his life and was cleared for running by his doctors. On January 30, 2017, Kevin went running on a regular route along the lakefront and did not return.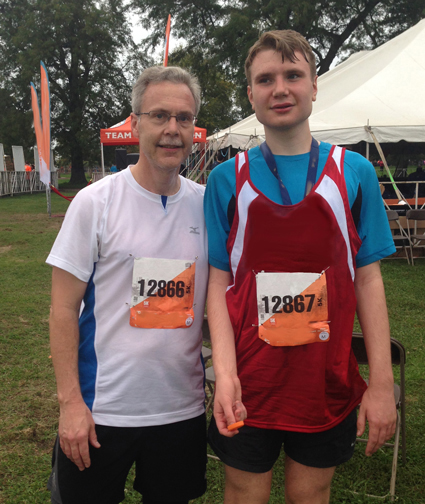 Kevin and his son with autism did many races together
 We are trying to raise money to help Kathleen with the astronomical expenses of her own and her son's 24/7 care, daily transportation, food, housing, and clothing, as well as college tuition costs for Kathleen's younger son.  They have not only lost Kevin's income, but they have gone from needing help for only certain hours each weekday to having to hire skilled caregivers around the clock every day of the week.  Anything will help.  Your kindness and generosity will be appreciated so much by Kathleen and her family during this tragedy.  Please let us know if you have any questions. Thank you for your support and for your prayers. 
Please spread the word and share this GoFundMe page.
With heartfelt gratitude, Kathleen's sisters
+ Read More