Dallas the Dog's Medical Fund
$8,121
of $8,000 goal
Raised by
99
people in 44 months
Just as life was taking a turn for the better, just as Dallas was getting used to normal things like a name, regular meals and walks in the sunshine, Dallas was the victim of a hit-and-run accident and needs surgery to keep his leg.  Yet his rescuers are one of many organizations heavily impacted by one person's horrific actions of animal neglect.
New Examiner.com Article: Dallas the Dog Needs Christmas Angel, Hanukkah Hero or Dog Loving Do-Gooder
Dallas, a sable and white smooth collie with vision issues,  began life as a nameless dog confined in tight quarters and hidden away from the world at large, one of over 100 kept by long-term animal hoarder Elaine Kmiec of Tomball, Texas. As a result of a bankruptcy proceedings, the ownership of the dogs, mostly smooth collies, was transferred over to Houston Collie Rescue. Other regional collie rescue stepped up to help out and Dallas was one of 10 collies that were transferred to Rocky Mountain Collie and Sheltie Rescue.
Dallas was hit by a fast-moving truck on a dirt road in Elbert County, Colorado on Sunday (7 December 2014), leaving him with a broken leg. He's urgently in need of surgery and rehabilitation.  Rocky Mountain Collie and Sheltie Rescue had already committed to the eventual treatment for his eyes.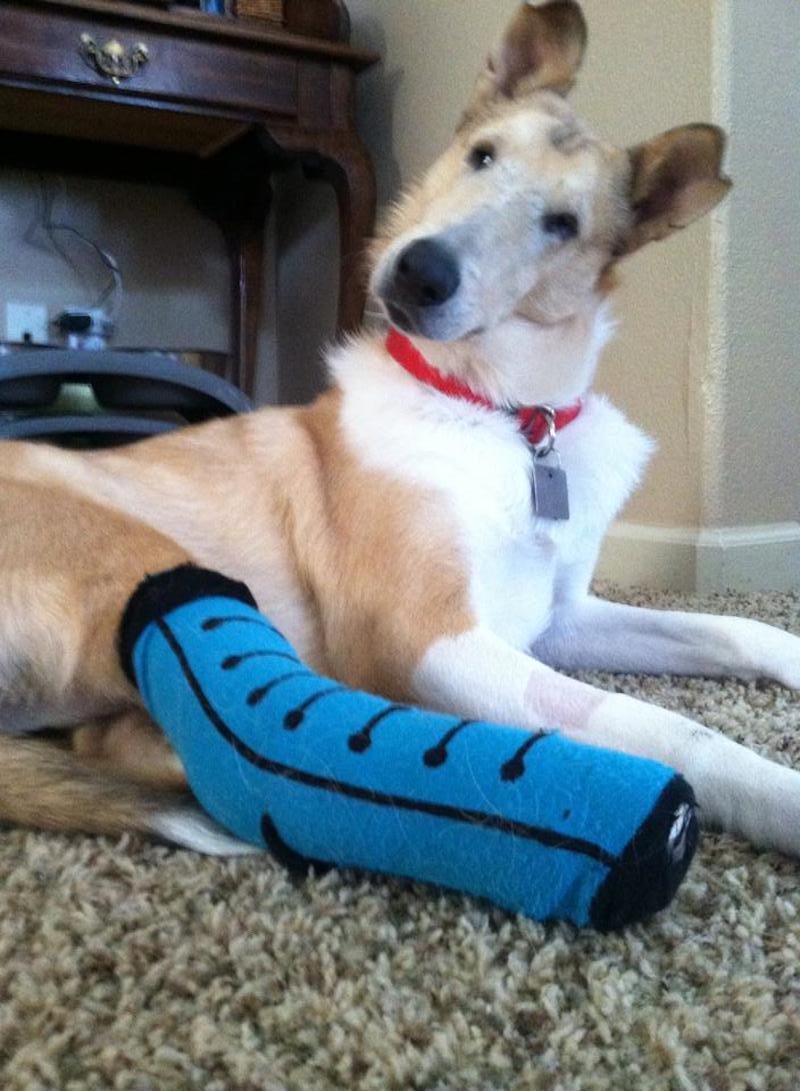 The Tomball collies have stretched local and regional collie resources to the limit, making fundraising difficult. Several rescues besides RMCSR (including  Southland Collie Rescue) have taken in Tomball collies and the transport expenses along with the medical issues of the Tomball dogs and other rescued collies have been immense and will continue to impact the collie community for a while.
With this added emergency, RMCSR really needs contributions. According to Denice Rutherford, Dallas's foster mother, she was walking the dogs yesterday (Sunday, 7 December 2014) morning when it happened. Via email, she related, "We have dirt roads out here so I always make certain that I am on the side of the road that vehicles can see myself and the pups (I was also wearing a bright red coat) as there are no lines and etc. We were literally 1/4 mile from home on the most narrow area when I heard a vehicle coming like a bat out of boofer so I got the pups to the side of the road. There really isn't a shoulder area here. The small, two-door truck with two males in it didn't brake but tried to swerve I guess thinking they could just go around. Dallas, being impaired, stepped towards the road and I started pulling immediately on his harness. He swung around I pulled so hard and his back leg went under the right front tire and broke his leg clean through. The skin stayed intact except for some road rash.
"I never quit pulling him so after the impact, and still pulling he did a circle midair as I didn't want him to get hit by the back tires (I guess the driver didn't know there was a bend there in the road that is why Dallas got hit). You could tell immediately that my Dallas was hurt. I grabbed my phone out of my coat pocket and called my husband but he was in the shower so called my neighbor across the street from me, Jean who was there within 4 minutes. The truck did stop 30-40 feet past us I guess and backed up. I was screaming, calling my neighbor and they drove off. They never got out of the truck."
Rutherford described the struck as being a two-door compact that was "very dinged up" and a work vehicle with things in the bed."
If those two young men didn't stop to help, at least two other strangers did. Rutherford added, "About 20 seconds after the truck drove off, a car came down the road and a very nice couple jumped out of the car and helped me. They gave me a blanket for Dallas while I kept pressure on his wound and when Jean got to the site, we loaded him in her truck and we drove as fast as we could to VCA D.C.A.H. in Castle Rock which is the emergency vet."
On the way to the Douglas County Animal Hospital, a 24-hour emergency care facility, Rutherford was understandably in tears. She recalled, "I kept Dallas awake and held the leg in place and stopped the bleeding as best I could. I had called the vets while in the vehicle to let them know we were coming. They were waiting for us when we arrived and took Dallas back ASAP to work on him."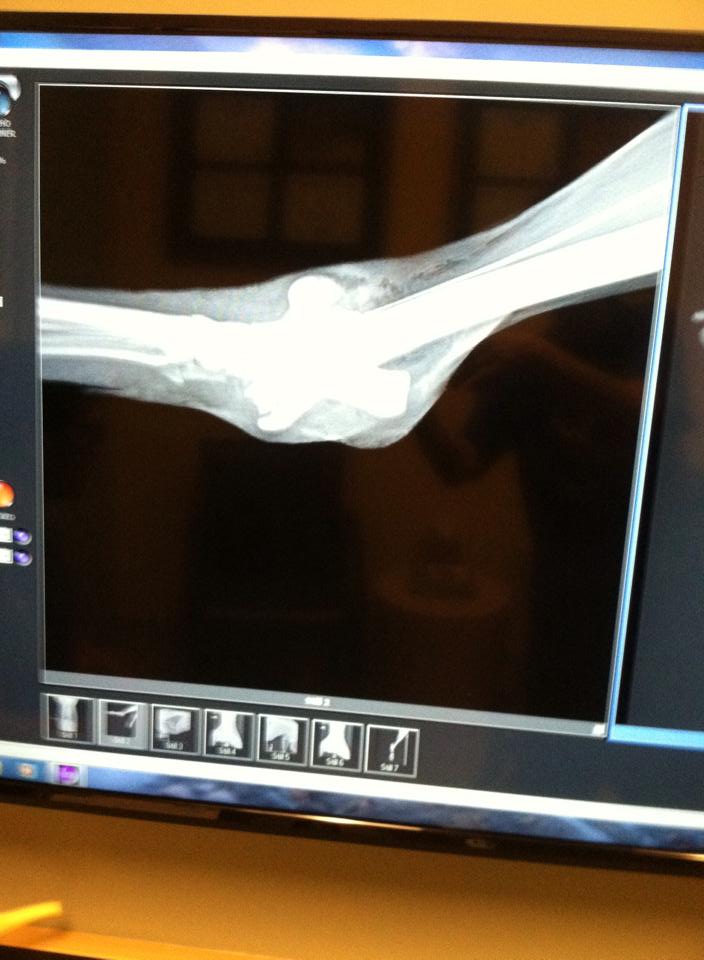 Rutherford credits
Dr. Scott Hafeman
and certified veterinary technician
Shannen Casados
 for taking good care of Dallas who was in shock. Rutherford wrote, "He spent most of yesterday after they splinted his leg in an oxygen kennel as he was in shock. They moved him to a regular ICU kennel last night as he was finally at 100% on his own and out of shock."
Although RMCSR is determined to pay for Dallas' medical bills and recovery, it won't be easy.
[REVISED} The cost for the emergency care at VCA Douglas County Animal Hospital was $1720. A direct donation was made of $120.   The surgery on 18 December 2014 at Colorado Canine Orthopedics in Colorado Springs cost $2868. There is still rehab.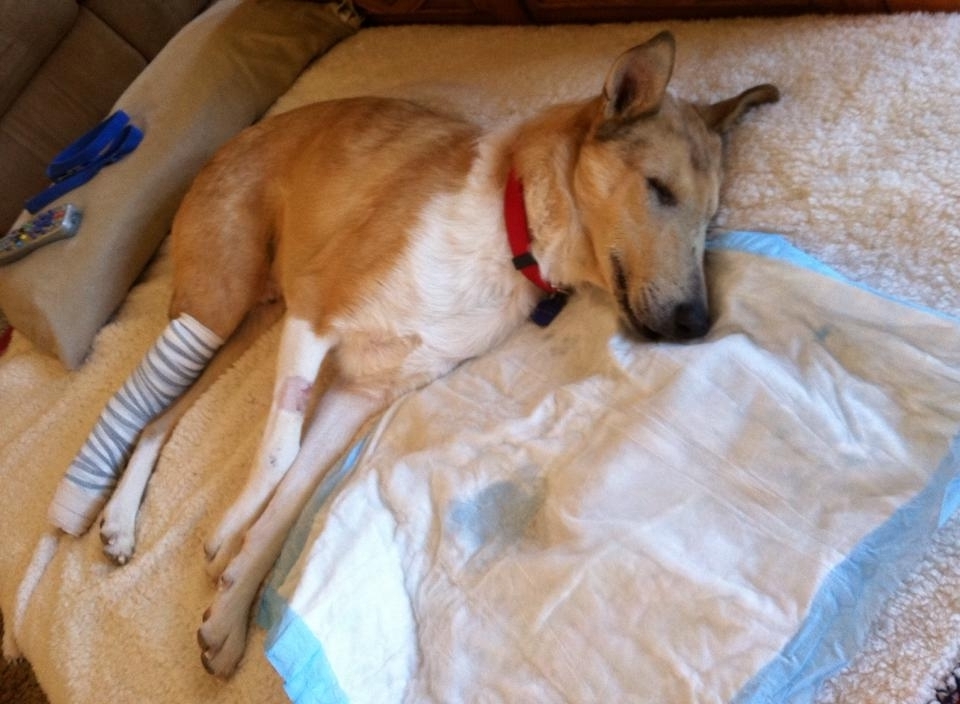 Rutherford herself needs some recovery time and not just from the emotional stress. She badly strained her wrist and arm from pulling so hard.
RMCSR
 has several other Tomball dogs with eye issues (Buck, Gaucho and Dallas). Others are heartworm positive and RMCSR is paying for the treatment (Gaucho, Sundance and Waco).
[REVISED} Our goal amount $5000  ($1720 - $120 = $1600. Then $1600 + $2868 = $4468 plus administration fees from GoFundme).
 Visit its website and donate via GivingFirst.org or you can mail a check to:
Rocky Mountain Collie and Sheltie Rescue
234 S. Hacienda del Sol Dr.
Pueblo West, CO 81007
You can also give directly to:
Colorado Canine Orthopedics
Send checks to the attention of Janice or make payments over the phone through Janice.
Hours: Mon. - Fri., 7:30 a.m. - 5:30 p.m.
Sat., 7:30 a.m. - 3 p.m.
+ Read More