Show your support for Dafna against BCAC
$1,035
of $5,000 goal
Raised by
21
people in 64 months
Dafna Knowles was an officer at Broward Animal Care.
She was let go for not being able to kill dogs and cats that are not terminally ill. For years she has been a top officer, on the streets, recognizing and preventing animal cruelty, and helping dog owners, and helping the rescue community.
She was recently transferred to "kennels" where her job is cleaning and her experience is wasted.
More importantly, her new position , requires euthanizing , or killing, healthy animals. Due to her depression & anxiety, Dafna cannot kill.
As a result, she was separated from her employment with animal care when the easy solution was to put her back in the field where she belongs where only the euthanasia of suffering animals is necessary.
There is not a person involved in rescue , that has not been helped by Dafna.
Dafna has hired an attorney to help her fight against Broward County Animal Care and hopefully prevent this from happening in the future. All animals deserve the best and Broward County doesn't seem to care for whats best.
Please help by donating towards the fight against Broward County Animal Care & spread the word that Animal Care, which claims to be going , no kill, has let go an officer , for not being able to kill.
http://articles.sun-sentinel.com/2014-05-07/news/fl-report-blasts-broward-animal-care-20140507_1_animal-shelter-animal-care-bitten-someone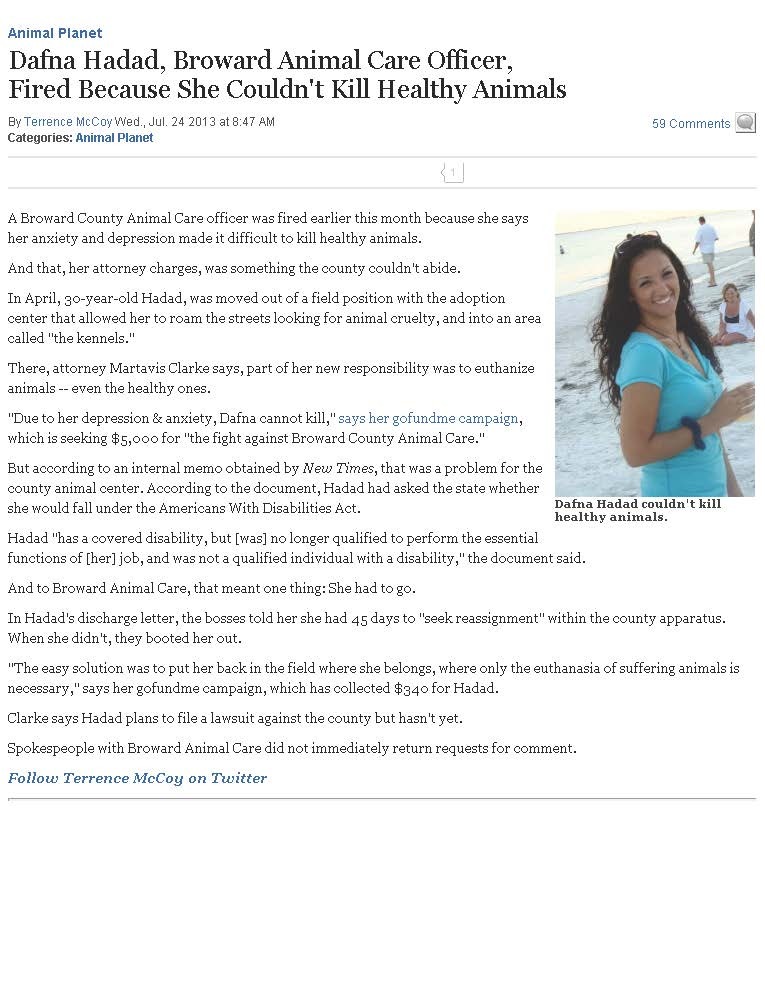 + Read More