Cherab Foundation T-Shirt Campaign
$835
of $750 goal
Raised by
16
people in 45 months
Goal: To research the effect of NV Original whole food nutritional protein on Autism, Apraxia and Central Nervous System Disorders.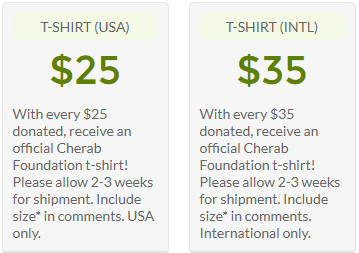 *Please specify size in adult or child in the comments section.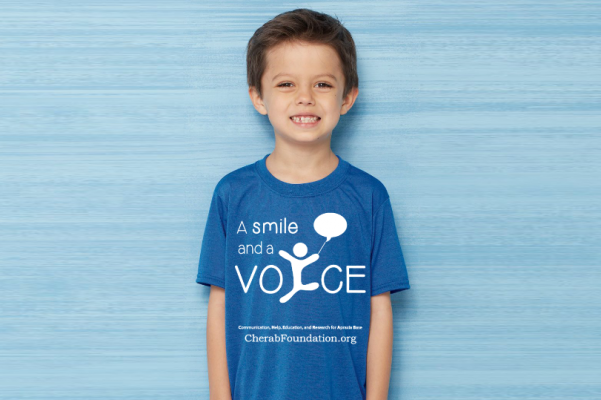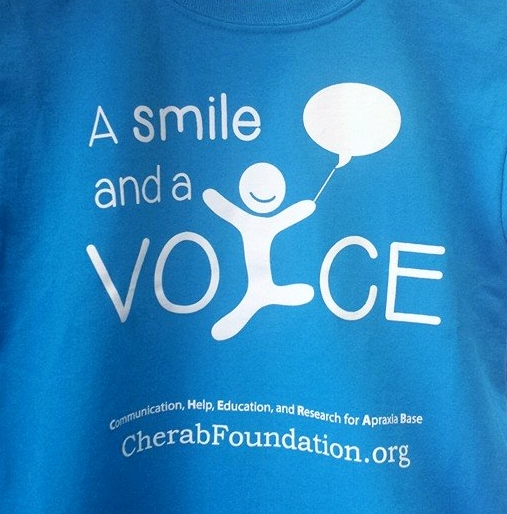 The Cherab Foundation (IRS 501(c)3 registered as the C.A.R.E. Foundation) has had a commitment for over 15 years in helping families and professionals all over the world with Autism, Apraxia, and other Neurologically based Communication Impairments.Please purchase 1 or more t-shirt(s) to show your support for The Cherab Foundation and to help give a voice to the kids! Each shirt is a $25 donation ($35 for international orders). Shipping is included and t-shirts will be shipped within 2/3 weeks!** We are open to general donations also :)
Share YOUR Smile and voice by submitting a photo of you or your child with their favorite word or phrase in a Talk Bubble. Visit
shareasmileandavoice.com
 to share YOUR smile and voice. Help spread the word by sharing your photo on social media using the hastag #shareasmileandavoice We will also be posting the photos to our Instagram and Facebook accounts!
There is very little research done for Apraxia, and in spite of numerous studies for Autism, the evidence for most strategies studied is weak, and in some cases, (particularly with medication) potentially dangerous due to side effects according to a ten year meta analysis published in the journal
Pediatrics
.
Families typically have to endure many years of multiple therapies which are both costly and time consuming for painfully slow progress, if any. The financial and emotional strain to families who have a special needs child can be overwhelming.
The Cherab Foundation has been sharing simple, healthy, benign nutritional strategies as a compliment to traditional speech and occupational therapies for over a decade now. Thousands of members from Cherab for the past 5 years have been using a proprietary formulated protein powder,
NV Original
, which we've seen unprecedented results with thousands of children all over the world.
For a few reasons, we very nervous about the future of NV Original and that it will not remain available to all of us. The thought of this product being gone is devastating. It is something that is life changing for so many, and yet so simple, and healthy.
We have completed some pre-clinical research, but now we need to do the most important part and do a double blind pilot study with the use of NV Original. We currently have a proposal to complete this study. When NV Original is validated it will both secure production so it can continue to be available to the public, and in addition help raise awareness about Apraxia, Autism and other Neurologically based Communication Disorders. This is your opportunity to reach out, take a stand, and help with a specific goal in mind.
Please help us bring the children a smile and a voice.
Thank You
The Cherab Foundation
The Cherab Foundation Inc is an IRS registered 501(c)3 Charitable Organization also registered as the C.A.R.E. Foundation, Inc
Learn more about Apraxia by watching the video, or click here: http://www.cherabfoundation.org/
A Note from Lisa Geng
: Many of you know that I'm extremely worried about NV Original staying available to us. We need to validate what we are seeing in this group with NV original these past 5 years with thousands of us immediately to secure we'll continue to have access to it. We have a proposal for an independent 4 month double blind pilot study with amazing research medical doctors MD/PhD and need to raise 50 thousand dollars as soon as possible. We have an opportunity to start the study by the end of October. Please donate if you are using NV original with your child and would be horrified if it was gone. If you don't believe all the stories you've read about NV original -think it sounds like hype/too good to be true, and would love to see clinical double blind testing. If you would love to raise awareness about apraxia, autism, and all the other communication impairments we deal with in this group…because this study WILL bring more awareness to these conditions because results will be published everywhere -and most of you know what type of results we expect….and lastly -please donate and help and share if the Cherab Foundation in the past 15 years has done anything to help your family -your child. I'm asking because we are in a situation where we need help- we need validation for what we are seeing -and we need NV original! Please help!!! The Cherab Foundation Inc is an IRS registered 501(c)3 Charitable Organization -any amount is appreciated

+ Read More
Be the first to leave a comment on this campaign.