Calape Bohol Philippines Relief
$1,200
of $3,000 goal
Raised by
10
people in 42 months
My name is Terri Cubero-Boyce, born and raised in a small barrio of Labuon in the town of Calape in Bohol, Philippines. I migrated in U.S. in the mid 80's and currently reside in the San Francisco Bay Area with my family. Most of my siblings are residing here in the U.S. as well. Coming home to my humble beginnings every now and then is something I always treasure. In my free time, I enjoy traveling, training for marathons, volunteering and spending time with my family.
What led me?
Three weeks ago after completing a half marathon training and fundraising campaign for The Leukemia & Lymphoma Society for cancer research, I received messages -one from a good friend Maureen, regarding the earthquake that shook our island -Bohol and one from my nephew mentioning that lots of bridges were damaged, as well as homes including our ancestral home.
I am thankful my family and relatives back home are safe. Although, some are still sleeping under tarps and tents outside until the aftershocks stop. It is very unfortunate that many families lost their homes instantly. To date, 14512 houses have been destroyed, and 58,490 have been damaged.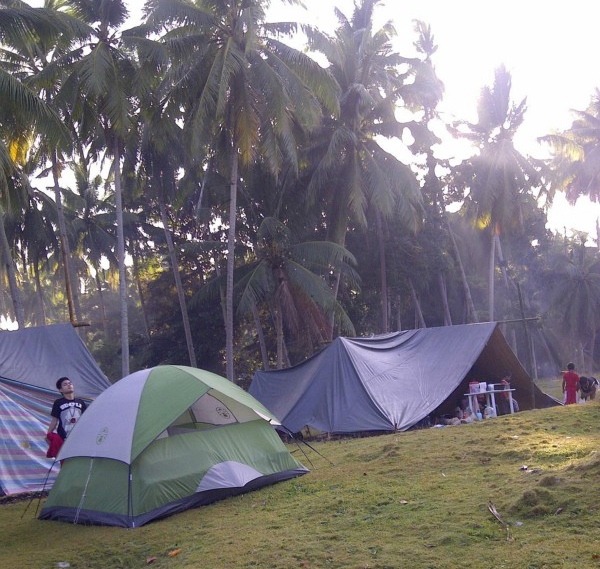 (Photo credit: Liezl Cubero Concha)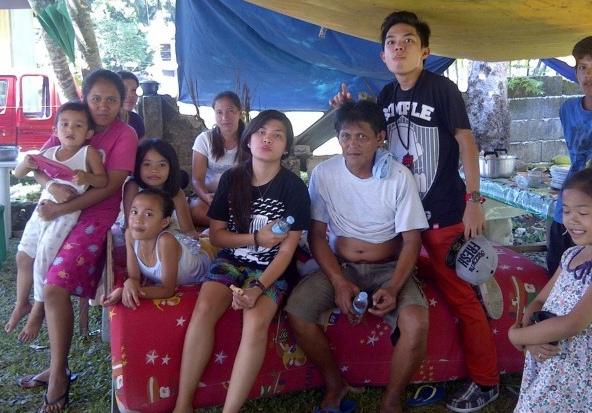 Great nieces and nephews hanging out with their cousins & great friends! (Photo credit: Liezl Cubero Concha)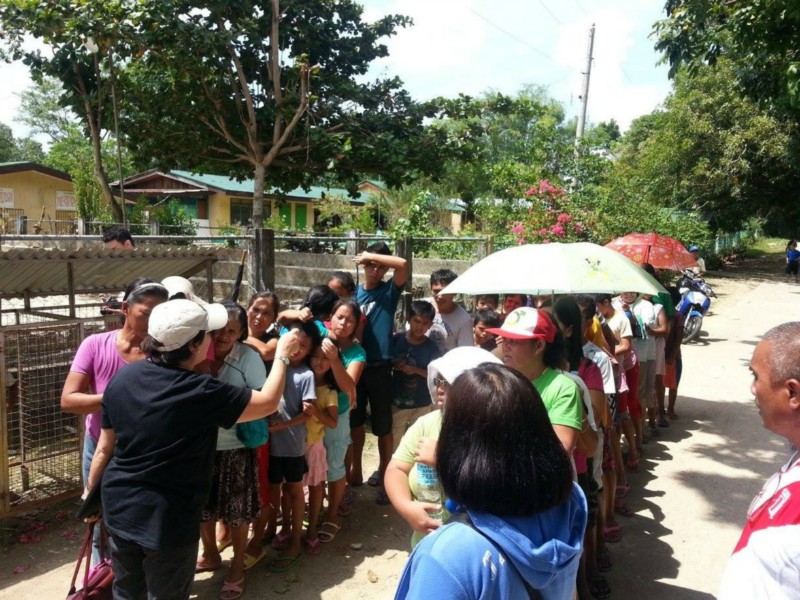 One of the relief distributions by the Local Government Unit (LGU) of Calape. (Photo Credit: Desiree Orillosa Zulueta)
Bohol Island State University (BISU). One of the evacuation centers. (Photo credit: Socorro Husain)
About Us?
We graduated high school from Bohol Province Institute, Class '78. Over the last few years, we have been able to connect through text messaging, social media, and class reunion events. Our next planned class reunion for May 2014 is being postponed due to this calamity.
This fundraising campaign was initiated to help my family and our barrio, but as hours went by, I realized thousands of people were displaced with limited access to any of their basic immediate needs including food and water. Their needs are way bigger than my family. Few days after the quake, after sending a second personal cash donation for relief goods, fellow high school classmates back home -Socorro, Lilibeth, Marlene, Reynaldo, Migue and Marilyn volunteered to help with distribution of relief goods to a handful families.
Our Mission:
"It is our goal that we can provide a little that will go a long way that brings hope to the citizens in the small town of Calape and help restore livelihoods -one family at a time".
We plan to help re-establish local schools as well, by providing classroom supplies. Classes are scheduled to resume on November 5th.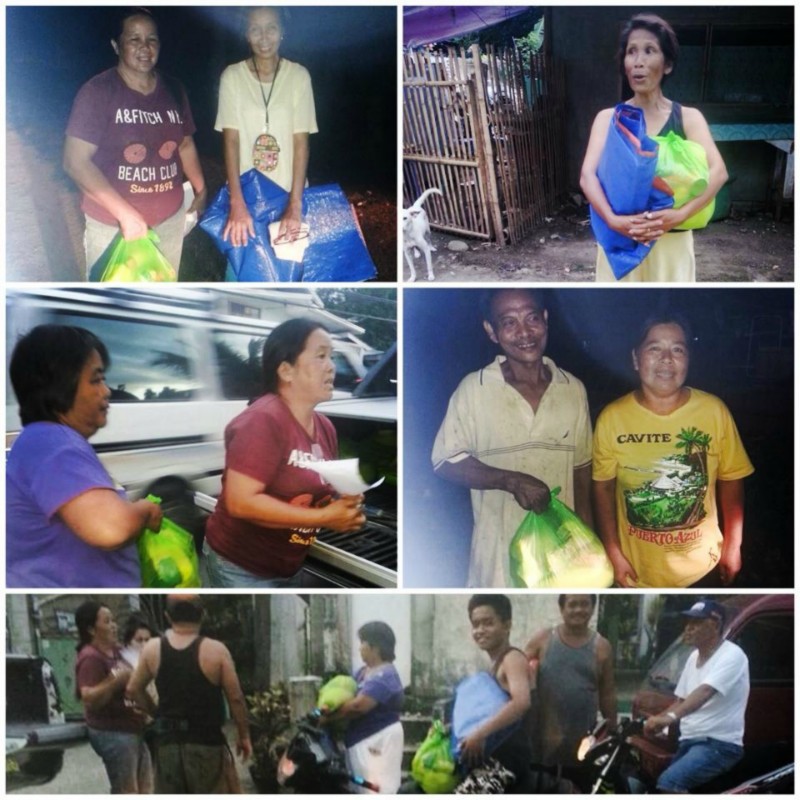 First relief recipients, our very own classmates. Lilibeth in brown shirt always in-charge with a checklist :). (Photo Credit: Socorro Husain)
The 7.2 Earthquake
On October 15, 2013, Tuesday (5:12 PM PST, October 14, 2013 in the U.S.), a destructive earthquake of magnitude 7.2 shook the islands of Bohol and Cebu and nearby provinces in the Philippines. "The energy of the quake released was equivalent to 32 Hiroshima bombs," said Renato Solidum, director of the Philippine Institute of Volcanology and Seismology (Phivolcs).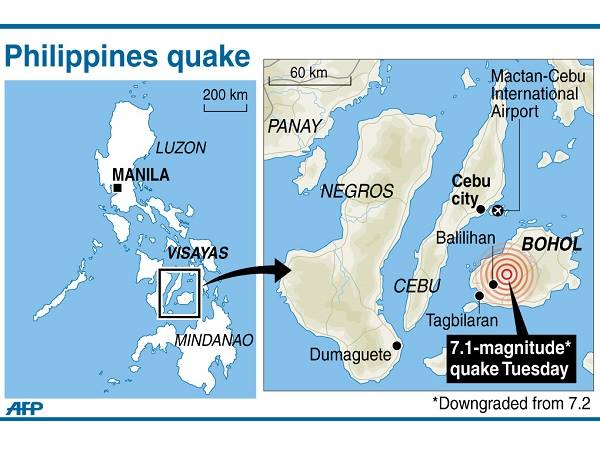 The earthquake struck as the Philippines was observing the Muslim holiday of Eid-al-Adha. The public holiday had all schools closed, some businesses, and offices which helped reduce the number of casualties.
In a bulletin released by The National Disaster Risk Reduction and Management Council (NDRRMC) today 2,746 aftershocks were recorded as of 5 p.m. Friday, October 25th, 74 of which were felt.
For current updates, the link below refreshes every 60 seconds-
http://earthquake-report.com/2013/10/15/very-strong-earthquake-mindanao-philippines-on-october-15-2013/
Other resource:
http://en.wikipedia.org/wiki/2013_Bohol_earthquake#Aftershocks
While relief continue to flow from different organizations, sectors, and individuals throughout the Philippines and across the globe, distribution in remote and mountain areas is very challenging due to damaged bridges and impassable roads.
Your donation of any amount or in-kind contribution is greatly appreciated.
If you have a request where you would like your donation to go towards to, please provide the details or contact me. HOW TO DONATE?* Online - Click 'DONATE'* Check -
Payable to: Calape Bohol Phil. Earthquake Relief and mail 538 Jackson Avenue, Redwood City, CA 94061
* PayPal - * Credit Card Swipe -* CASH -* In-Kind -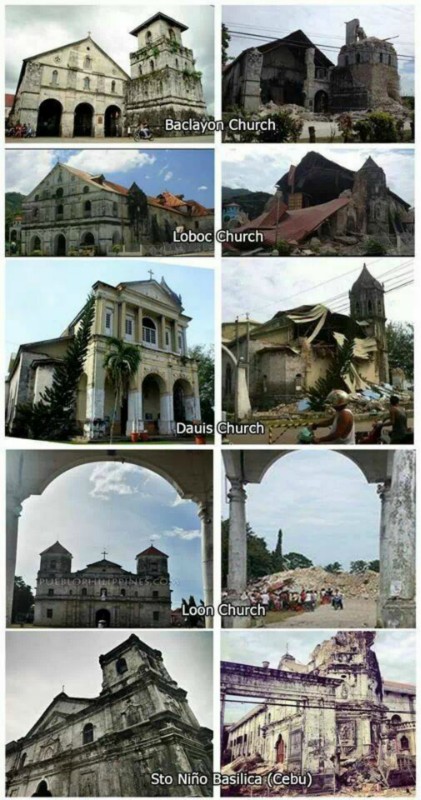 Heritage churches in Bohol destroyed by the quake. (Photo from the web)
"Gone were the churches of Bohol aged hundreds of centuries. Gone were these beautiful masterpieces would make you feel heavenly upon their sight. Gone were the treasures of history. Gone now were the witnesses to how Catholicism had ensconced itself in this country for hundreds of years. Gone these edifices who have been witnesses to how the indios were treated or maltreated by the frailes. Gone were these churches who were built in blood, sweat and tears of the natives. We have lost not just the churches but lives as well. But the Boholanos resilience will certainly bring them back on their feet and once more exude that spirit that once lorded over them." (Credits: Rexcel John Sorza)
+ Read More
Be the first to leave a comment on this campaign.