CBDs 4 ALL - Big Pharma's Nightmare
$3,505
of $100,000 goal
Raised by
63
people in 52 months

CBD (Cannabidiol from Industrial Hemp) is the "Holy Grail" of natural health, making some dangerous, expensive drugs no longer the (sic) "better choice."  

And the demand for CBD is exploding world-wide.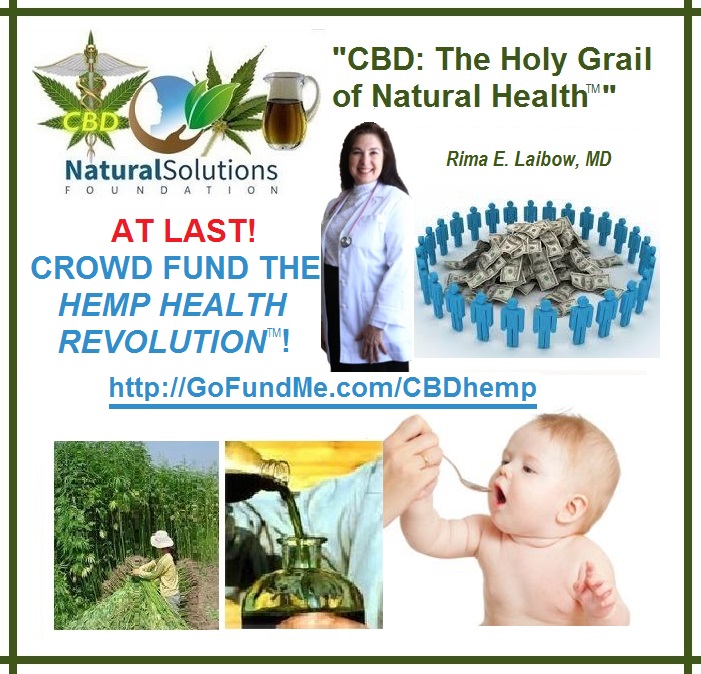 Key Developments in the Project:

1. June 2014: Natural Solutions Health LLC and Agrofutoro enter into a joint venture to grow, process and wholesale Industrial Hemp from Chile.

2. October 2014: Chile's Health Department issues a letter allowing the cultivation of High-CBD Hemp and acknowledging its potential health benefits.

3. January 2015: Chile's Agricultural Department issues the Planting Permit.


Rima E. Laibow, MD, Natural Solutions' Medical Director says "CBD is the Holy Grail of Natural Health - All Help, No High!"
Some uninformed authorities have sought to "demonize"  Cannabidiol (CBD) -- a nutrient from Industrial Hemp.  That's all changing now since, according to our lawyers, CBD is legal in every State in the US and in a host of foreign countries: CBD, made by our own bodies as well as provided by the hemp plant, is a safe nutrient that supports homeostasis by supporting great immune function. CBD works with the body - not against it - to support comfort (when confronted by pain), support normal function (when concerned about seizures), regulate inflammatory processes, stimulate immune function, support neurological balance and much, much more.

The Big Boys want to control it, and, like all real alternative medicine, make sure THEY own it, jack up the price and then suppress it - the usual!

We say "NO!  Certified organic CBD should be easily and inexpensively available to everyone." So, with your help, we're making that happen!

My name is Rima E. Laibow, MD.  I'm the Medical Director of the Natural Solutions Foundation, founded ten years ago, dedicated to YOUR right to make your own health choices, including organic CBD products. 

We're ready to grow the world's first totally Certified Organic CBD hemp in Chile.  We have the exclusive rights to market 100% of the production for 10 years growing the ONLY commercial industrial hemp in Chile and the ONLY Certified Organic industrial hemp in the world!!!

The big investors want to inflate the prices and turn CBD into a drug. WRONG!!!

So we are turning to you to help us raise the money to make clean, solvent-free CBD available.

We need money to build our greenhouses so we can grow not 1 crop per year (outdoor growing) but 5-6.5 crops per year (indoor growing) with no chemicals, no impurities and, as I love to say, "No High, Only Help!"

Each greenhouse has 3 growing areas. The more funding we receive, the more CBD we can produce and the lower we can bring the price!

To say, "Thank you" for your help in making this medical dream a reality, let me give you two gifts. 

The first is a subscription to my own Newsletter, which I call the 'Health Freedom Action eAlert'.  It's filled with useful and important health and freedom info. This Newsletter will change your life.

My second gift is my own Immune System Protocol to help you keep your immune system humming in the face of bacteria and viruses that want to make you sick!  I'll send you an email with access to the Protocol when we receive your donation.

By the way, your donation at any level is most welcome and apprecaited.  We've created a reward system of additional "Thank you" gifts, too. 

Oh, yes, one more thing: when you help make clean, inexpensive CBD available, you're making a tax deductible contribution so Uncle Sam (who's been demonizing hemp and hemp products for decades) is helping you to make CBD a reality, whether he wants to or not!

Thanks so much for your help. Every donation makes a difference.

Yours in health and freedom,



Dr. Rima

Rima E. Laibow, MD
Medical Director
Natural Solutions Foundation
www.DrRimaTruthReports.com
www.Youtube.com/naturalsolutions

Further Information:

http://drrimatruthreports.com/wp-content/uploads/CBD.Summary6.jpg

.pdf version:

http://drrimatruthreports.com/wp-content/uploads/NSH.CBD_.SummarySheet.6.pdf
+ Read More