Buddy Bikes for Christmas - Hudson
$1,760
of $1,760 goal
Raised by
22
people in 39 months
BUDDY BIKES FOR CHRISTMAS - HUDSON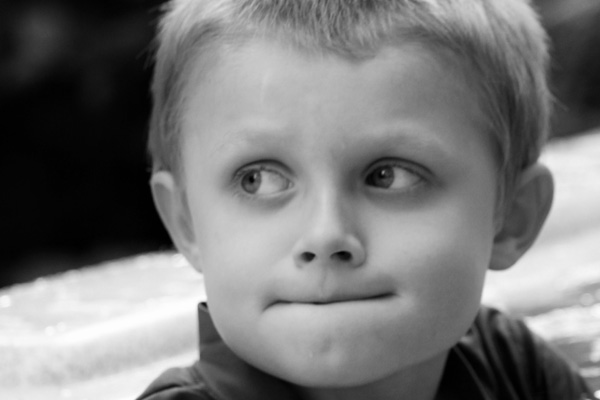 Hudson will receive a Buddy Bike for Christmas 2015 thanks to all of your generous donations! The 2015 Buddy Bikes for Christmas program has ended. We will consider another family for this program for the 2016 holidays. Please see below for requirements and contact
shelley@buddybike.com
if you fit the requirements.
Happy Holidays from your friends at Buddy Bike!
-----------------
Thank you for taking the time to read about our family! We are asking for your fundraising help to provide our son Hudson, with a specialized bike for Christmas.
Hudson is a bright young boy who loves a lot of things life has to offer. He loves music, playing at the park, watching movies, going for walks with his dog, jumping on the trampoline and visiting friends and family. He is a very active little boy and he is always on the go. He is forever hopping, jumping, climbing and running full-tilt! Hudson has Autism and he struggles with many challenges. One of these challenges is riding a bike. Hudson watches his sister cruise around on her bike and tirelessly tries to ride too. Hudson does not yet have the skills to successfully ride independently and he misses out on our family bike rides. When we saw the Buddy Bike in action, we knew we needed to find a way for Hudson to experience the thrill of riding with the Buddy Bike. Buddy Bike manufactures and distributes an amazing bicycle built for two. It is the perfect design for our son's needs and current abilities. This bike would place Hudson in front, while a rear rider would control the steering in the back. A Buddy Bike would give Hudson the opportunity to experience riding a bicycle with our family. This bike would increase Hudson's motor skills, provide sensory input, and be a great activity to add to his day! We would love the chance to include Hudson on our biking adventures!
Buddy Bike has generously extended a discounted price for Hudson to receive a Buddy Bike for Christmas but we need your help. We are requesting your financial support to help make our Christmas wish come true.
Thank you for your consideration in helping put a smile on our son's face and a special thanks to Shelley and Buddy Bike for the opportunity to receive a specialized bike for Christmas!
With love,
The Hooseman Family,
Harley, Abby, Olivia, and Hudson
BUDDY BIKES FOR CHRISTMAS
Buddy Bike, LLC is raising funds to provide 1 Buddy Bikes to a special need child for Christmas (or whichever holiday you celebrate)! The fundraising goal must be met by December 1, 2015 in order for the child to receive a Buddy Bike by December 20, 2015. Fundraising goal includes Buddy Bike Family Classic 7 speed or Buddy Bike Sport 30 speed, basic dual leg kickstand, fold-out foot pegs, domestic U.S. shipping & handling, and bike assembly at a local bike shop.
Please consider a contribution to help a child realize the freedom that only a bicycle can offer! Contributions are not tax deductible. Any unused funds will be donated to
www.ambucs.org
in support of adaptive cycling and bringing bicycles to people with disabilities.
Each year we participate in The Great Bike Giveaway by The Friendship Circle. We decided giving away bikes once per year was not enough. With your help, we hope to give away more! Your funds will help provide a Buddy Bike to a special family and will contribute toward building more Buddy Bikes for the people who need them most.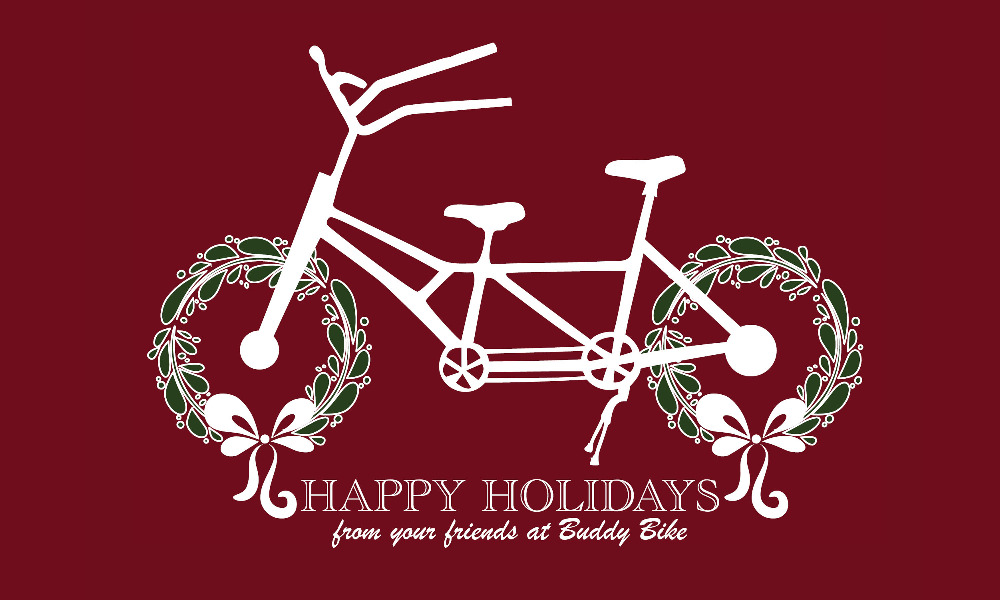 BUDDY BIKE - THE ALTERNATIVE INLINE TANDEM

The Buddy Bike® is the alternative inline tandem bicycle (bicycle for two) that places the stoker (smaller rider) in the front seat while the rear rider controls the steering. The Buddy Bike has a lower front seat so both riders can safely enjoy the view. It is shorter in length than a typical tandem, making it easier to store and transport. The Buddy Bike is CPSC safety-rated for up to 380 pounds; making it the ultimate family bike that can be enjoyed by riders of most ages and abilities. The features of the Buddy Bike offer adaptive outdoor recreation and therapeutic activity to riders with cognitive or physical disabilities who may not be able to ride a bicycle safely on their own or who do not have the strength to pedal a bike alone. The Buddy Bike allows riders with autism, down syndrome, sight impairment or other disabilities to experience the thrill of riding a bicycle with the whole family. They are no longer left behind!
Visit our web site for more info
www.buddybike.com
.
Visit our 
Customer Comments
page to see how the Buddy Bike has been a benefit for over 800 families, schools, and organizations worldwide.
RECIPIENT SELECTION - CLOSED FOR 2015

Buddy Bikes for Christmas eligibility requirements.
1) The family must have applied for funding for a Buddy Bike and been denied. The denial letter will be requested as proof.
2) The family must be willing to fundraise on their own to improve their chances at raising the funds by the December 1, 2015 deadline.
3) The family understands that Buddy Bike will assist with the fundraising promotion but can't guarantee that the funds will be raised within the deadline or that a family will receive a Buddy Bike.
4) The family understands that if the fundraising goal is not met by the December 1, 2015 deadline, any unused funds will be donated to 
www.ambucs.org
in support of their adaptive cycling programs.
Suggestions for fundraising include sharing the fundraising link with friends, family, co-workers and others on your e-mail list and on your social media sites such as Facebook and Twitter. You may also create a flyer that you can spread around town.
You may use text similar to this, "Buddy Bike has provided a discounted price and an excellent opportunity for my child to receive a Buddy Bike but we need everyone's help to make his/her Christmas wish come true!"
If you meet these requirements, please contact at shelley@buddybike.com or 786.489.BIKE (2453).
Please spread the word!
Your friend,
Shelley at Buddy Bike
786.489.2453
+ Read More
I remember when I used to Ride on Bike Pegs
+ Read More
Thank you to everyone who has already made a donation. Our hearts are full knowing we have such amazing people surrounding us.
+ Read More