Maddox Madison Fund
$7,435
of $10k goal
Raised by
161
people in 35 months
The Lower EastSide Ladies Benefit for Maddox Madison was, in a word, magic.  Those of us in attendance will remember this night forever, as it brought together a beautiful and amazing group of people in support of our friend.  There were laughs, there were tears, there were shows.  Maddox came with her family and sat by the stage the whole time as performer after performer came and celebrated the life of this wonderful person.  We raised thousands of dollars to cover medical expenses, all while carrying and kiki-ing... like we do.  It was a joyous night, and it will be a moment we will always cherish.
Just a few days later, Maddox passed away.
The shock that comes with losing someone so fast, and so young, is immeasurable. Its taken me far too long to write this update because I just didn't have the words. Maddox was loved by so many people, from all walks of life and really around the world.
For everyone who donated, we thank you.
I thank you, Stephanie Stone thanks you, Maddox's family thanks you, and most importantly, Maddox thanks you.  Maddox read the notes on this page and was blown away by the love and support. 
We are continuing our fundraising efforts to reach our goal, so if you haven't given yet, please consider doing so, or spread the word.  All funds collected will still, of course, go directly to Maddox's family to cover expenses.  
Thank you again for your love and generosity.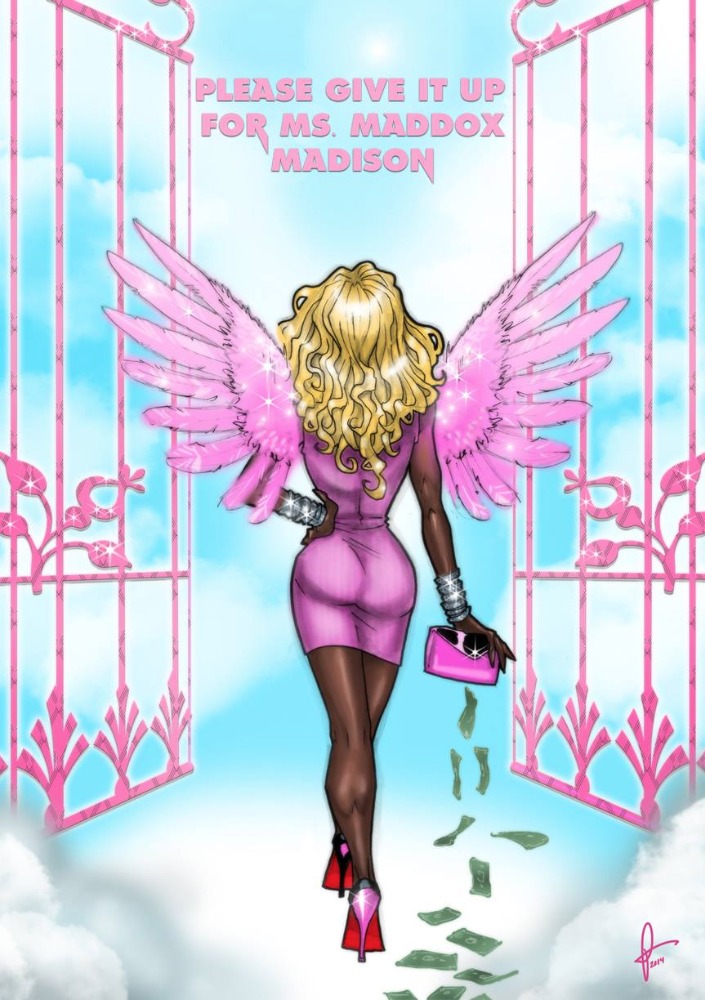 Facebook Event Page for Benefit
THE DRAWINGS
The more you donate, the more chances you have to win:
$10 - Entered to win a prize from category A
$20 - Entered to win a prize from category A & B
$50 - Entered to win a prize from category A, B, & C
$100 - Entered to win a prize from categories A, B, C & D!
$300 - Entered to win a prize from categories A, B, C & D! 
PRIZES
(images at 
http://jeff-chatterton.com/prizes/
)
OPULENCE (Donation of $300 or more):
1. Pologeorgis collarless goat vest (retail $4,000)
2. Reed Krakoff boxer bag (retail $1190)
3. 2 tickets to off-Broadway play "Pageant" (any performance between June 29th and July 28th)
4. Silk halter gown from ODD-Judson Harmon
TOWN & COUNTRY (donation of $100 or more):
1. Slick It Up Giraffe Pants (retail $100)
2. Hairstylist Michael Thomas Lollo – One cut and blow dry
3. Studmuffin black cotton shorts and green tank
4. Framed Edwin Pabon print
5. FENDI silver fox and mink necklace ($1000 value)
6. WESTGAY Deluxe Prize Package ($800 Value)
7. Knit gown and leather and chain accessory from ODD - judson harmon
EXECUTIVE (donation of $50 or more)
1. saint vitus bar: 2 tickets to any heavy metal rock show w/ $100 bar tab
2. slick it up beast harness (retail $68)
3. studmuffin grey cotton shorts
4. Roomeur brocade leather top and shorts
5. 2 Family Passes to the Children's Museum of the Arts (Value $88)
6. Suede and leather skirt from ODD-judson harmon
BANJEE (donation of $20 or more)
1. 2 tickets to Wendy Williams Show
2. 1 of 2 Portrait sessions from Ian Sklarsky
3.  slick it up neon new york hat (retail $44)
4. 2 tom of finland black tanks
5. 2xist stretch cotton v-neck t- shirt
6. Nickelodeon Gift Bag
7. Purse & Accessories Prize Pack
BUTCH QUEEN (donation of $10 or more)
1. slick it up orange neon tank…. retail $34
2. organic avenue lunch certificate
3. studmuffin no shade tank
4. 1 bottle of Jameson Black ($50 value)
5. Brunch for 2 at Lips
6. Mojito Pop Phone
+ Read More
Be the first to leave a comment on this campaign.