Cole & Richelle: Our infertility story
$3,480
of $15,000 goal
Raised by
52
people in 60 months
It has taken me 5 years to decide to share our story publicly. Close friends and family are well aware of our circumstance. I have never been apt to publicly display my vulnerability but as time is of the essence I feel there is no greater moment than right now to share our story.
I can remember the days of thinking about how I will tell my husband (Cole) or my parents that I'm pregnant! I have come up with dozens of ideas that were funny, cute, and creative. I remember imagining our family by the time I was 25. We would have two kids a dog and a home. I can remember thinking about how easy it must be to get pregnant since my mother and older brother had families by just 'looking at their spouse'. I figured it was going to be pretty much the same for us. I always just figured that our story would be simple and easy but the months came and went and still no good news arrived. We did everything we could for nearly three and a half years until finally, we were faced with the reality that IVF was our only hope. 1 in 8 couples (or 12% of married women) have trouble getting pregnant or sustaining a pregnancy. (2006-2010 National Survey of Family Growth, CDC)
We were told about a year into trying that Cole had a low count and so we thought that is going to be an easy hurtle to get over. 1/3 of infertility is attributed to the male partner (
www.asrm.org
). We tried waiting every 3 days for a higher chance of conceiving, we tried the whole ovulation kit and still nothing. So we decided we needed to see a specialist. About 2 1/2 years of infertility we went and did Artificial Insemination 3 times and were told that if it doesn't work we might need to reconsider our options. So our families prayed and fasted with us in hopes that this procedure would work. Unfortunately this is not what The Lord had planned for us. Our Doctor told us our next step was IVF.
We went home and prayed and fasted again in hopes of knowing what we needed to do next. We considered adoption and IVF and came to the conclusion ( in a very difficult and round about way) that IVF is what we needed to do but we felt that a second opinion would be best.
We found an amazing infertility dr, the best in the northwest and he had many great referrals from close friends of ours who had gone through very similar experiences. After 6 months of waiting we finally got in and were able to do lots of testing. From blood tests and semen analysis to hysterscopes. We were finally feeling like we were going to get somewhere and were feeling extremely pleased. We were asked to come in for results and that's when the bad news hit. I was told that I have a slight thyroid imbalance. Nothing that would effect getting pregnant but it could effect the pregnancy and our chances for autism or down-syndrome had greatly increased. Then our doctor went on and told us that I have this thing called degenerative ovaries. Basically my ovaries are 40+ years old and I most likely won't be able to conceive after I'm 30. So IVF is our only hope for conception. Approximately 85-90% of infertility cases are treated with drug therapy or surgical procedures. Fewer than 3% need advanced reproductive technologies like in vitro fertilization (IVF). (
www.asrm.org
)
Hearing news like this is like getting stabbed in the heart 100 thousand times. I felt hopeless and rushed. We hated having a timetable in our lives. I cried for days. The pain just got worse the more reality sank in.
So here we are 5 years of infertility and 5 years left to have kids and we can hardly get out of living month to month with a large portion of our bills going to previous medical expenses. There is absolutely no way we can afford IVF. In case you are unaware it will cost up to $15,000-$20,000 for us to have a child. And most places don't have finance options, only require money upfront. We have recently moved to Utah with hopes that options for infertility treatment would be better. Cole has made a big career change and I have been able to rebuild my personal training clientele in Utah, as we have felt this was the right move for our family.
Our daily life has been more of a struggle for us than we imagined as we both have felt something missing from our family. We constantly are finding ways to fill this void by taking quick weekend trips and finding ways to serve others. Dedicating our time to other causes has been the most beneficial because we have found extended comfort from others dealing with different trials. We will do anything busy and active to help us forget for just a small moment.
Our relationship has grown immensely through this trial. We have seen each other in our most vulnerable and weak times. I remember just wanting to cry and Cole would let me. He didn't try to stop me but instead he would just hold me. Sometimes it would be for hours. I remember feeling so alone, like no one in my life understands or tries to understand what I am going through. I am embarrassed to admit that I have had a hard time understanding why children are being sent to people who shouldn't be having kids or don't want them yet I can't have them. I find myself asking the question why? quite often. It has been a real challenge being grateful for the life that I do have but I will say that we have both come a long way from the beginning.
I'm tired of hating Mother's Day because I feel like I don't deserve the gifts and flowers. But I do because I am a nurturer and a wife. I'm tired of feeling sorry for ourselves and seeing others not know how to react to our situation. We are ready to have children join our family. That is why we are here, to ask for help and to share our story for hope for others and for us.
+ Read More
Update 2
21 months ago
Share
Wow friends! I realize I haven't updated yet! For those of you who don't know we were blessed with two amazing miracles!!! Twin girls who are now healthy and thriving 2 year olds! We love them more than we could have ever imagined! Thank you!!!! Our journey still continues with infertility but we have these two beauties to help;)
+ Read More
Update 1
50 months ago
Share
We love all of you guys and still can't express enough how much you have helped us! The latest update is Our Twin Girls are growing and are healthy. Richelle is 28 weeks and is such a trooper. It was such a scary thing to jump into this adventure but all of your support has given us strength through the trials and into the countless miracles.

Real quick- one of the 2 embryos that made it to our second checkup was too weak to develop. Knowing that, we knew we still had a chance of having a baby. When we learned we were pregnant and astonishingly twins- we knew that 1 embryo split. It brought the reality of this Miracle home when the doctor showed us that they were fraternal! Our Heavenly Father does bless us with miracles that come in the form of tender mercies, or in life changing experiences. Knowing that one of these babies has beaten the odds sheds more light on the love He has for all of his children!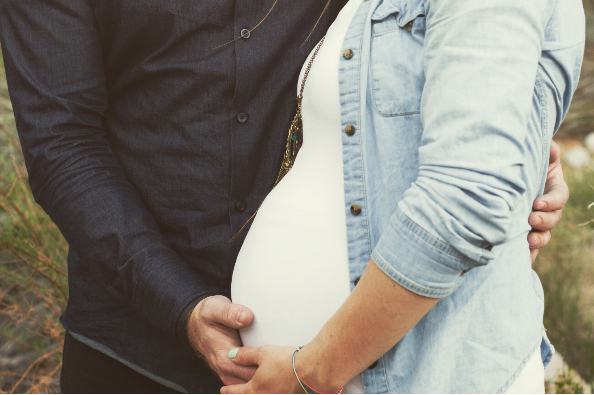 + Read More
Read a Previous Update