Footprints Across Haiti
$1,649
of $15,000 goal
Raised by
52
people in 63 months
About
Footprints Across Haiti Corporation
Footprints Across Haiti Corporation
is a 501c3 non profit altruistic organization that mobilizes in any crisis. A stellar human services organization specializing in addressing human deprivation through emergency assistance and mentoring.
On January 12, 2010, Haiti suffered a catastrophic earthquake near the Haiti's capital Port-au-Prince. The earthquake caused major damage in Port-au-Prince, Jacmel and other settlements in the region. An estimated three million people were affected by the quake. The government of Haiti estimated that 250,000 residences and 30,000 commercial buildings had collapsed or were severely damaged. A 2013 study by the International Monetary Fund found that more than half of the 10,000,000 cubic meters (13,000,000 cubic yards) of debris have been removed, and 20 percent of it has been recycled. That still leaves much dangerous terrain to walk or travel on.
Armed with this knowledge, I thought the best way we could assist the people of Haiti was to deliver hope in the form of soles. So in 2014, Footprints Across Haiti was launched as a benevolent campaign for Casting Couch TV. The Footprints Across Haiti Campaign will address the concerns of the harsh Haiti soil by supplying much needed Haitians with proper shoes.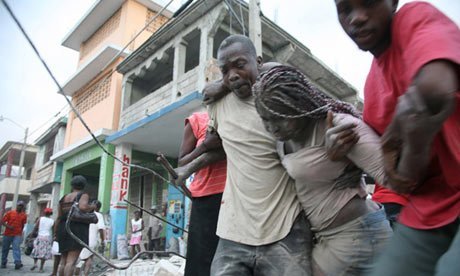 From the start the South Florida Community embraced the initiative. In the first several shoe drives of 2014 we gained support from countless volunteers and organizations such as
Miami Dade Public Schools
,
Miami Country Day School, Ransom Everglades School, Barry University School of Podiatrist Medicine, Ritz Carlton Miami Beach, The Dade Bar Association, Kappa Alpha Psi Fraternity, Inc., Delta Sigma Theta Sorority, Inc., Alpha Phi Alpha Fraternity, Inc., Omega Psi Phi Fraternity, Inc., Alpha Kappa Alpha Sorority, Inc., Adding Doses of Hope Daily Foundation, Haiti First, Alpha Pi Chi National Sorority, Inc., African American Performing Arts Community Theatre, House of Hope Haiti, and Casting Couch Production, LLC.
I felt so strongly about this cause that I suspended taping of the South Florida TV show Casting Couch to concentrate on the goal of delivering 10,000 pairs of shoes. In our first year we were able to collect, ship, and deliver over 3,500 pairs of new and gently worn shoes to several orphanages in some of the most remote parts of Haiti.    
What started out as a goodwill initiative has morphed into an altruistic non-profit organization and in December of 2014
Footprints Across Haiti Corporation
was registered with the State of Florida as a non- profit. Its mission is simple: "mobilize in any crisis to address human deprivation".
While Footprints Across Haiti Corporation is firmly committed to its original call; we cannot ignore concerns in other countries and especially here at home. When we incorporated we decided to keep the name Haiti to remind us of the lives that were lost on that fateful day of January 10th and why our company was founded on the strength of altruism. Since incorporating we have expanded our scope to collect clothes and school supplies and to assist those in need locally, nationally and internationally, thus we have delivered 200 pairs of children's shoes to the Chapman Partnership Homeless Shelter in Miami, collaborated with Immanuel Temple Church to hand out 300 pairs of adult shoes to the homeless in Downtown Miami, joined with Delta Sigma Theta Sorority, Inc. and the Progressive Firefighter Association Charities, Inc. to collect over 5000 pieces of school supplies for orphanages in Haiti, partnered with Mercer University in Atlanta Georgia to collect and deliver over 200 pairs of shoes to the homeless shelter, Covenant House Georgia.
Recently, as an organization we had several successful projects; we brought comfort to thousands of victims, who suffered from Hurricane Matthew, we addressed the epidemic of domestic violence in South Florida by providing local law enforcement agencies with Comfort Kits to encourage women to make the transition from helpless to hopeful, we assisted South Florida's only HBCU,
Florida Memorial University
by providing gently worn garments to students graduating, interning, and entering into the workforce, we approached global illiteracy by proving much needed school supplies to orphanages and a small school in Thomazeau, Haiti, we also insured that future generations would have a decent chance at education by providing
Miami Dade County Public School, C.O.P.E. North's
media center a little facelift, we delivered toys to children suffering from illness at
Footprints Across Haiti is a 501c3 non profit organization
Florida Hospital for Children
in Orlando and last but not least our organization gave some needy families relief at Christmas time by delivering Publix gift cards during the 12 days before Christmas.
While we have done a lot, there is much more to be done, our board members and directors stand poise and ready for the challenge to serve. We also look forward to having YOU join us in serving humanity,
Thank you for your time God Bless.    
Keith A. Harrell, MSM
Founder/President
Footprints Across Haiti Corporation

+ Read More
Be the first to leave a comment on this campaign.