Greg's Annual Angel Tree Fund 2015
$2,632
of $2,500 goal
Raised by
81
people in 44 months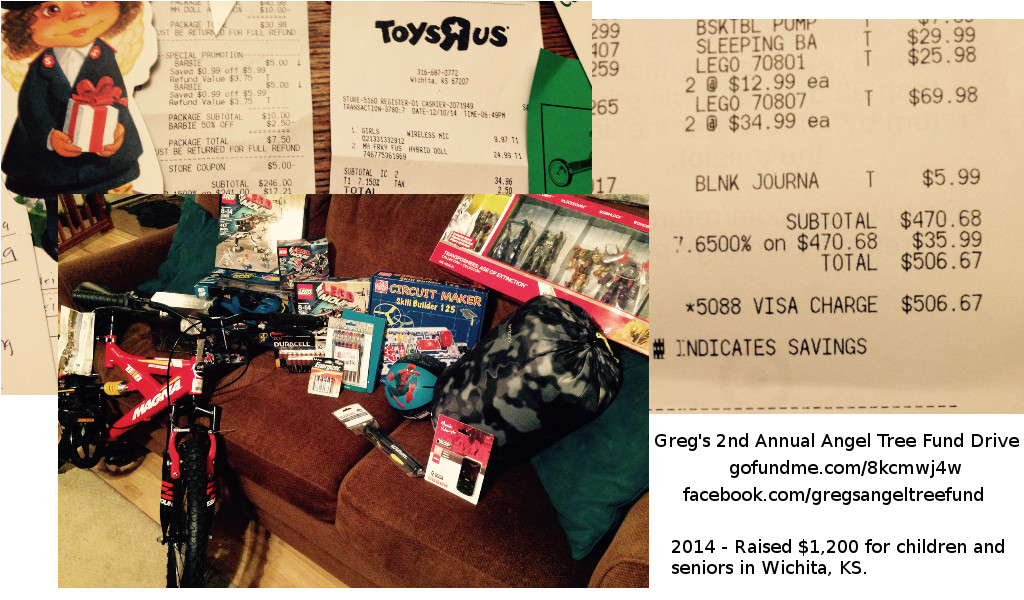 This year, we're branching out to other platforms. Find us on Facebook as well:

facebook.com/gregsangeltreefund
2015 Update!

In 2014, I started this fund to purchase Christmas presents for children and senior citizens through The Salvation Army. Last year, we raised $850 in donations from 15 donors. My family personally added another $300 and some change to bring that total to over $1,100 for the season. If you go back and look at the pictures from the campaign last year, it was a modest success. I'm hoping to grow it just a little more this year.

This year, I'm asking each person I know for $5.00. If everyone I know, friend or casual aquaintance from just Facebook alone, donated, we'd reach nearly triple my goal. So this year, I ask you: please, donate $5 per person and more importantly, please share this amongst your peers. The way this is successful is because of you. My family and I will do the leg-work necessary to purchase and distribute the presents. We just need your help in purchasing power. 



The original story, written in November of 2014:

 

As a small child, one of my prevailing memories was sitting in the home I shared with three other siblings and a single mother, looking on at a small Christmas tree sitting on the table, glowing softly in the darkness.

There were no presents.

Then, there was a knock at the door. My mother opened it, and standing outside were three people, holding a crate of food, and arms full of wrapped presents. These were apparently all for us. I don't remember my Mother's reaction, but I remember being overwhelmed, and not understanding why these people had done this. In that moment, I didn't understand generosity, charity, and the power of giving to those who can give you nothing back. It didn't matter; in that moment, I had Christmas presents. In that moment, my siblings, who at that time didn't know their fathers, had gifts when I didn't know if and when we'd have anything. It was miraculous to us.

Later, when I understood what The Salvation Army Angel Tree is, I made an effort to give something every year. It's my way to give back to a cause that meant so much to me as a child. Some years, I've bought piles upon piles of toys and clothes, trying to fulfill every possible gift and dream I could.

One year, I was so broke, I couldn't eat. I took my last $200 I had, and made one kid's Christmas as amazing as $200 could make it. Christmas is my time to give to give to the children that felt just like I did that night so many years ago. This is where I and my family give back.

What I'm asking from you, and anyone you'll share this with, is to help me extend this further. Every penny you donate here will go into The Angel Tree and The Star of Hope. Once we collect the money we will, my family and I will spend the weekend before the donations are due, and make as many childrens' and elderly people's Christmases as wonderful as possible. We will include a video of us throughout the weekend, my children and I will send out thank-yous, receipts will be kept (for proof, if you'd like), and a final picture with the whole haul brought to The Salvation Army will be taken, with a tally of all the children and elderly we all help. I LOVE doing this for people. It's a passion for me. I love giving back when I can, and this is the most meaningful foundation I can give back to.

I will do this myself. My family and I will do this regardless. I don't do this for me; I'm doing this for every kid out there who sits longingly hoping for a Christmas. What I'm asking you to help me provide for as many people as we can this Christmas and beyond. If you don't donate here, I'd ask you to go pick up your own Angel or Star, and make someone's day. You'll never see it, but I promise you: there's a child out there who will be eternally grateful for your donation.
+ Read More
I am totally in awe. Wow, what a great gift for these children and elderly people to receive these gifts. This wouldn't be possible without the love and generosity of all of you who donated. And to you, Griog, I am so proud of you for doing this. What a gift of your time and talents. And what a great lesson for my grand daughters, and I know they love the shopping they get to do for the gifts. You and your family are true Christmas angels to many. We love you and what you are doing.
+ Read More
Do it!! I know that will bring in more donations and a chance for you to help even more deserving kids and seniors. I love that this has taken off! You're such a great example for your kids and so many others who want to help but might not know how.
+ Read More