Dempsey Family House Fire
$

1,800
of $10k goal
Raised by
19
people in 31 months
The Dempsey Family lost their Baldwin, Florida home today in a fire. The Fire Marshal has deemed this an act of arson and is working to bring justice to the responsible party. By raising money, this family can try to rebuild or replace what was lost. This family is amazing in their charity work! Amanda, the mother, is a Girl Scouts Leader, a Service Unit Leader, volunteered with counseling..the father Jason, also volunteers a lot with Girl Scouts as well. They are dedicated in helping children and people and we would like to be here for them in their terrible time in need! They have 4 small children, which makes losing their home that much worse!
+ Read More
We just wanted to take the opportunity (while it's available to us) to express our thanks and gratitude to _everyone_ during this time. So many of you have reached out, offered condolences, provided support, and assisted us in so many different ways. In the chaos and whirlwind of events at the moment we have not always had the chance to thank each person individually.

There are such a vast amount of loved ones--friends, family, neighbors, anonymous individuals, churches, and organizations--that we want you to know how deeply you are appreciated and we deeply cherish each and every one of you.

Some people have asked questions such as how could God allow such a thing to happen? Some have expressed their anger, frustration, and desire for justice. Believe me, there is not a question nor emotion that has overcome you which we have not experienced ten fold.

In regards to how could God allow such a despicable act . . . there's no easy answer, but there is an undeniable one.

When we received the message on our way back to town that it was indeed an act of arson there was a great deal of anger on our behalf. We were still four plus hours from home and the only thing we could think about was how horrible people can be. If we ever needed proof that human beings are despicable, undeserving, vile creatures it would be waiting for us in the cindered baby pictures and sentimental items of our home. And for hours this is the type of thought that consumed us and seared itself within our minds as we came nearer to the devastation that awaited us.
Although we had some time to prepare ourselves for what awaited us, and pictures sent to help prepare us, it still wasn't enough to prevent the emotions from overtaking us once we laid eyes on the home that our youngest son was born within.

However, before the sight in front of us could ignite the feelings of rage bubbling within we were quickly surrounded by family (some had even followed us from South Carolina) and friends to offer support. Before we knew it individuals we would have never expected condolences from were by our side, wrapping their arms around us. Neighbors gathered, organizations such as Girl Scouts USA rallied to our aid on site and online, local churches immediately extended relief, complete strangers stepped into our lives giving help, and an entire community embraced us, lifted us up, and showed us the type of person that committed this heinous act is not the "norm", but rather they are the exception.

So, rather than ask, "How could God allow this?" ask, "Have you seen how awesome God is?"

Sure this was a wretched occurrence, but each of us is unharmed--even Duke (the dog) is happily roaming across acres of land. We are healthy and all things considered in positive spirits. Thanks to the ways in which God has moved people to act on our behalf all of our needs are being met. We have food, clothing, shelter, and an endless supply of love. We have witnessed the grace of God extended to us through an entire community and we are awestruck.

Rather than ask God "Why?" give Him praise. Give him thanks for his eternal grace, gratitude for his steadfast love, and be grateful for his forgiveness.

We ask that each and every one of you pray for the party responsible. Do not wish for vengeance, for that is God's to handle. But, pray that the person who did this is so overtaken with grief, guilt, and self-disgust that they bring themselves forward to the proper authorities. Or perhaps that a family member aware of what they have done pursues the proper action.

Do not allow yourself to fall into the trap of evil thoughts as we did on our way home. Rather, focus on the marvelous acts that God has shown us through this crisis.

Have you seen how awesome God is?

We have.

+ Read More
pictues from what used to be a home... so tragic!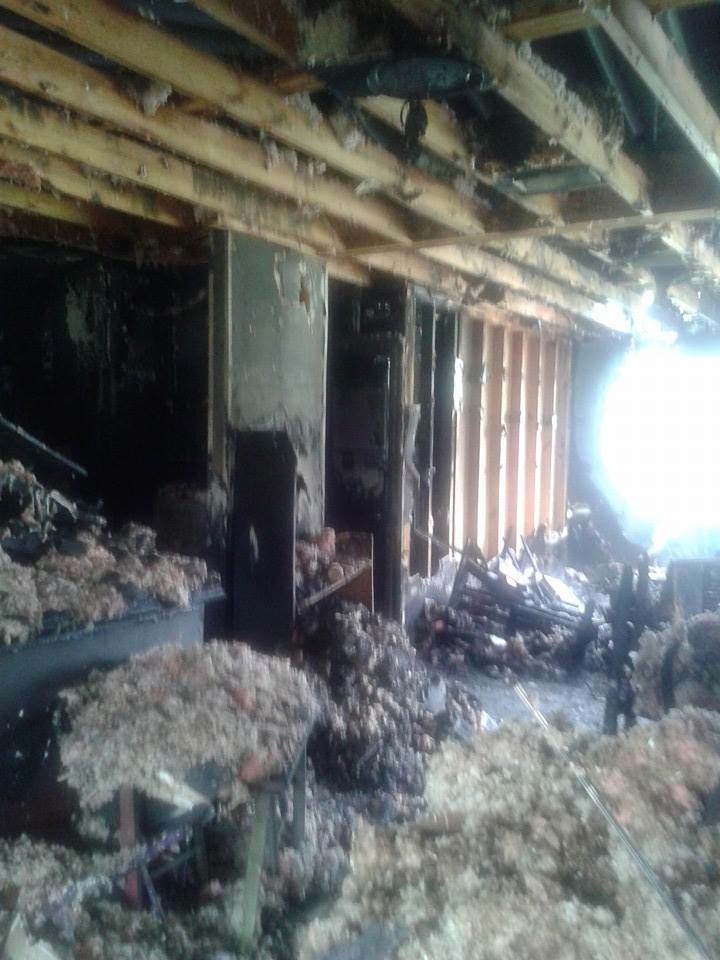 + Read More
Read a Previous Update
Help spread the word!
 111 total shares
Be the first to leave a comment on this campaign.