10
12
Flower House Resurrection
$1,260
of $75,000 goal
Raised by
8
people in 3 months
Our friend, Chris Vo, is a unique and creative individual who suffered ridicule as a child and young adult in the communist oppression of Vietnam until he escaped 25 years ago and started over in Cleveland, Ohio as a hairdresser. He was peacefully living with his male partner of twelve years in in his home, which became known as the Flower House due to his lighting design, skillful flower arrangements and the flower donations of others. It was truly a unique, beautiful and magic spectacle near the Interstate 90 freeway and a grey, busy intersection.

 However, over the course of two years Chris' safety and enjoyment in his own home, his freedom of expression, his flowers and many of his personal belongings were taken from him by a group of intolerant bigots with mob mentality that bullied him.

 The main bully called a local news station that aired a one-sided segment saying the flowers were fake and all the neighbors wanted the flowers gone. Not a single individual spoke to Chris directly. When the flowers didn't come down, the main bully and owner of a rental property across the street—who was neither the occupant nor a resident of the neighborhood—provided the news segment to cable TV and in came a big-time producer for reality TV.

 The bullies and a reality TV show producer used intentional deception to get rid of his lights and decorations. They also took advantage of the couple's naivety about the fakeness of reality TV shows, and told Chris that the show would publicize his story of escaping Communism and highlight the beauty of his design at the Flower House dedicated to love and to those who had gone before and didn't escape communism. They used the ruse that his house was getting a $25,000 renovation and that all of his decorations and property would be moved to storage during the process at the show's expense. What actually happened is the TV show had the bullies assist them in stripping away all of his artistry, decorations and flower arrangements. They then brought in local contractors that made shoddy and below-code electrical work and plumbing. 

 During this time, 90% of his lights, decorations and personal property were thrown out in violation of his agreement with the network that aired the show, or stolen by the bullies and their accomplices. Evidence of this exists and several witnesses to this have come forward. A list of other items that have gone missing include:

 ·       Indoor and Outdoor Furniture,
·       A Tree and Bushes
·       Flower Arrangements
·       A Metal Step Pool
·       A Deluxe Gazebo
·       A Grill
·       Lights and Lighting Fixtures
·       Expensive Personal Clothing
·       A Unique Hairdresser Chair
·       A $500 Watch and Other Jewelry
·       Tools
·       Hundreds of Paving Stones
·       Trash Cans
·       Canned Goods
·       A $200 Rice Cooker

 Chris suffered great emotional anguish over this, which has affected his overall health and put his relationship with his partner under tremendous stress, resulting in the split of the couple.

 Now Chris is trying to resurrect the Flower House, but he needs your immediate monetary help to do so and to retain expert legal services in order to hold those who harmed him accountable. Please help Chris recover the cost of all the stolen belongings, and most of all replace his trust in the American people as champions of freedom, tolerant and accepting of those different and artistic. Chris will be so grateful to know that what happened to him did not go unnoticed. He will be rejuvenated to know the American Dream is for everyone lucky enough to live in our country.

 Please donate to the Flower House Resurrection Fund today!

 

 

 

 
+ Read More
Hear the story of what happened to Chris and his Flower House in his own words.
+ Read More
For those still learning about Chris Vo and his Flower House, it is important to realize how cruel and premeditated the attack on him and his property was.

Chris Vo is a former refugee from Vietnam who has been a U.S. citizen since 2005. He is a self-employed hair stylist who has worked hard to afford a home in a middle class neighborhood in Cleveland, OH. As his success continued, Chris began to decorate his home with ornaments, artificial plants and flowers and strings of decorative lights.

As time and funds permitted, Chris turned his attention to the exterior of his home and his yard. It is a custom in his native culture to show prosperity by adorning your home with ornamentation that adds to the beauty of the natural surroundings. So keeping in sync with his roots, Chris invested time and money in carefully planned and designed displays of both natural and artificial foliage, trellises, stonework, garden statuary and lighting.

Chris's middle class neighborhood has several rental homes, including one across the street that was on the market. The individual trying to sell the rental house resented Chris, saw his decorations as a sign of flamboyant homosexuality—and blamed Chris's Flower House for his inability to sell the rental house for more than it is worth.

This individual's prejudice and hatred spurred an attack that lasted two years and included:

1. An attempt to have Chris cited for breaking city ordinances and fire codes that were unfounded and inapplicable.

2. The submittal of a complaint with the police that went unanswered because he wasn't breaking any laws.

3. A call to a local news channel that led them to do a "yellow journalism " story that announced the address of Chris's home, putting his and his partners' lives in danger.

4. The conspiracy with a reality TV producer to create an episode of a show that disguised his real intent to not only tear down the decorations and stonework but also throw them out and/or steal them to prevent Chris from putting them back up.

If this two-year span of harassment and terror wasn't enough, the TV show episode was aired without Chris's written or verbal consent, thousands of dollars of personal property from within his home were stolen, and construction projects were below-code or left incomplete.

Chris Vo is a victim of crimes and acts of tyranny—at the hands of a bigoted bully—that ruined his emotional and physical health and his 13-year relationship. He also lost business, which has put him in financial hardship and unable to recover the costs of stolen property, and unable to afford legal assistance to get justice.

Please help Chris get justice. Please help him realize that there are people in this country who are compassionate and accepting of those that are different. By donating today, you are making a statement that says, "BIGOTS and BULLIES NEVER WIN!"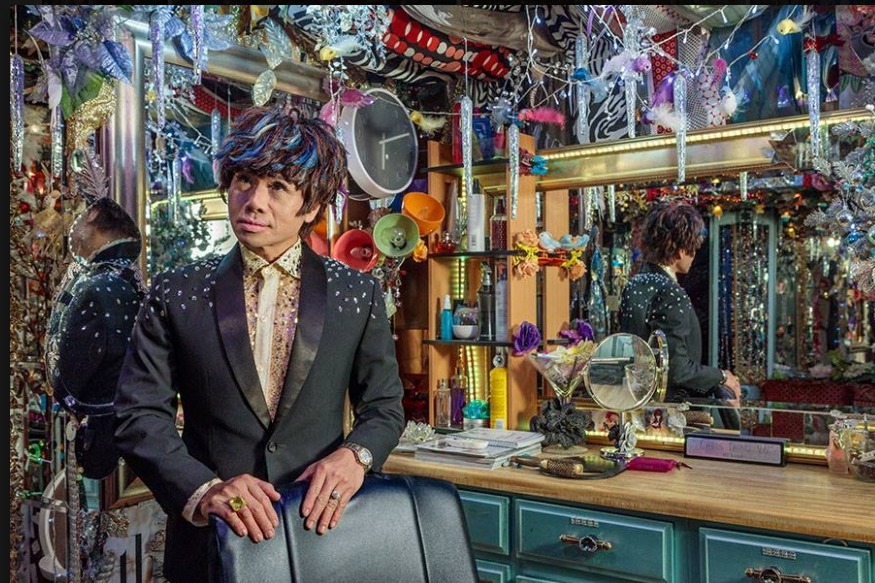 + Read More
Read a Previous Update