Help Chey Rescue Animals
$550
of $500 goal
Raised by
11
people in 56 months
My almost 13 year old cousin is rescuing animals in her area. In her own words "it's expensive to rescue them"... I thought I'd help her - can you help too? Every little bit is really a lot! Here is her story:
I have always loved animals and wanted to help them. From my first rescue of five beagles, to other dogs, then rescuing cat's. My long term hope is to have land someday to enable me to rescue big animals. Actually have kennels set up. Over the last year horses have become a big part of my life. For now rescuing dogs and cats will by my focus. All animals deserve to be loved and respected.
My sister Juel and I were home with my brothers and it was raining , i looked out my door and there was a little wet white dog, we went and told my brother and he put her in the yard next door but she started walking back to my house, two men were walking by and they kicked her. My sister ran out and grabbed her. My mom pulled up and we took the dog to her. We all went inside and bathed the dog. We posted flyer's for a found dog and no one claimed this sweet little dog, so we named her Lucky. We kept her for six months after not being able to find her owner then we had to rehome her because, my mom says we have too many dogs, even though I disagree with that, we wanted her to have someone that could love on her all day. We still keep in touch with her owners and they have had her two years almost 3 now. This little dog named lucky showed me that you should never dump your loved pets and that sometimes giving them to someone else to love is really a gift for the dog and someone else also.Lucky really is part of my mission of saving animals.
Storm's rescue started on Facebook, finished doing homeschooling for the day, playing on my pet groups and saw a few people talking about some dogs in Washington needing help. They were living in chicken coops in the snow. I told my mom about the dogs and said "there was a little boston terrier" I begged her to let me have him, told her I would pay for him with my own money, pay his vet bills and everything else he would need. She finally said maybe if i talked the seller down on the price. So I emailed the seller and she said she would go down to $250 but my mom said no. Emailing her back we talked her down to $200, my mom called the lady and talked to her for a short time because the lady was selfish,greedy and all she wanted was money. Secretly my oldest sister and my mom had seen the little dog and felt so sorry for him they decided they were going to rescue him. My sister drove five hours each way to get him. When my sister met the lady in a parking lot she was so shocked and angry about the condition of the dog. The lady still wanted 250 dollars for him. My sister was so very upset, she snatched the dog from the lady and threw a hundred dollars at her and told her she was using the rest to heal the dog she abused. My sister Ari drove him straight home to me, my mom had me go outside to see Ari. Walking out of the house there was Ari holding a Boston. It was so sad. He was so skinny and had frostbite on his ears and nose. We gave him a bath, wormed him and took him to the vet. He had wounds on his face from trying to dig out of the chicken wire. I babied him back to health. Now he loves me the very most, and will follow me everywhere. I love him with my whole heart. I have lost him twice. Once he was in doggie jail and once he was stolen, both times it was because he was outside looking for me when he thought I left. So now when I am not home I put him in a crate and don't' have to worry about him being lost again.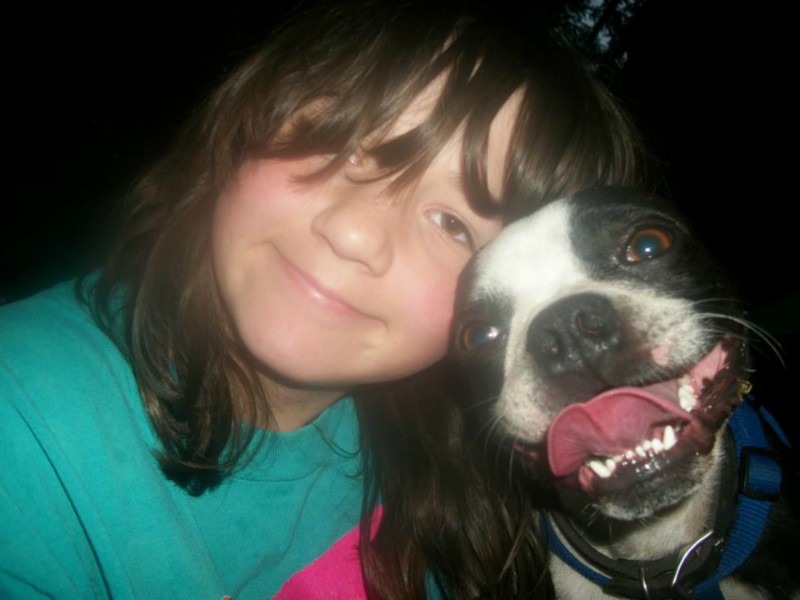 My last rescue story involves my cat Jaguar. We noticed a small black cat patrolling our yard for a couple days. When my sister Juel and I would go out to play he would follow us everywhere and if other cats would try to come in the yard he would fight them off. My mom let us start feeding him on our porch, then it started to get cold. My mom does not like cats much but she says Jaguar is not really a cat he is a dog in a cats body. We were afraid our great dane would kill him so we kept him in our bedroom. After a couple months we got him fixed and his shots done. We have so many stray wild cats in our neighborhood it was great to save this one. He really is a great cat. He sleeps above my head on my pillow. Or he sleeps on the dog bed in front of the fire. Our great dane is scared of him actually and leaves him alone. I think its really cool when all the dogs are in the living room and jaguar is in the chair looking like a king.
Those are my rescue stories. I am in the process of working to get all the strays in my neighborhood spayed. One of the hardest lessons I have learned is that not everyone who pretends to like animals does. That sometimes its very expensive to save them. I also had to learn the three "R'S" of rescuing animals, they are RESCUE, REHABILITATE, REHOME. The rehome part is the hardest for me because I would love
+ Read More
Update 1
56 months ago
Share
Thank you so much to those who have donated!! We're at 65% of the goal - just $175 to go. Every little bit helps! $5, $10, $15... anything.
+ Read More
Be the first to leave a comment on this campaign.