Caleb's wish #prayforcaleb
$20,550
of $20k goal
Raised by
187
people in 37 months
Caleb turned fifteen years old in June. A month later he went in for a CT scan for what his pediatrician hoped were migraine headaches. He was told it was not migraines, that it was a tumor on the left side of his brain that needed immediate surgery. The neurosurgeon prepared us of the possibility that Caleb would lose his ability to speak and that his memory might be affected. After four days in the hospital and numerous tests, he went into surgery. The neurosurgeon delivered the devastating news to his parents that the tumor was indeed cancerous. It was Glioblastoma multiforme, (GBM); an extremely aggressive stage 4 brain cancer. The amazing thing is that when his mother delivered the news to Caleb, he did not cry. He just shrugged his shoulders and said, "That's OK. Jesus told me himself I was going to be OK so I'm not worried". He explained that he had experienced a dream while he was getting his tumor removed where he saw and spoke to Jesus, and he says that Jesus told him that he was going to be fine. He received daily radiation and chemotherapy for six weeks. He was suffering from double vision, but he was able to talk and able to remember most things. He just suffered from a constant headache and was always tired. He always had a smile on his face, despite the pain. One day we were invited to a pool for a day of swimming. The look on his face when he came out from the water was priceless. He had discovered that when he went underwater he no longer felt pain. His headache was gone, at least for a while. He finally had a wish to ask of the local foundation for children with life threatening illnesses: a pool to relieve his pain. Unfortunately, they were unable to fulfill his wish. Never being one to complain, he kept going with his treatments and tried to forget about the pool. Everything seemed to be getting better until one day he started feeling numbness in his legs. A new MRI revealed that the tumor in his head had grown back and that he now had a tumor in his spinal cord. He went into surgery the next day, but due to the position of the tumor, they were unable to remove the entire thing. Now Caleb is bound to a wheelchair, unable to walk, with constant excruciating pain. Still, the smile has not left his face. He was exposed to another month of daily radiation to his spine and goes in for chemotherapy weekly. He is currently is learning to walk again with the help of a walker. He is being schooled at home, because he plans to graduate with his friends. He also receives physical therapy at home since he is unable to withstand going to the PT Center because he tires very easily and needs to be careful not to be exposed to sick people. He has a very aggressive neuro-oncologist who is treating him the best she can. His faith in God is getting him through. He has shared his entire experience on Facebook #prayforcaleb, where he has been a source of inspiration to hundreds. His strength and courage are second to none. His unfulfilled wish for a pool has become a mission to myself and a few friends. Hopefully we will be able to make it a reality soon, and enjoy the look of relief at his face when he comes up from the water.
God bless,
Cynthia
To watch his testimony 
http://www.youtube.com/watch?v=iyXGeMvI9Bw#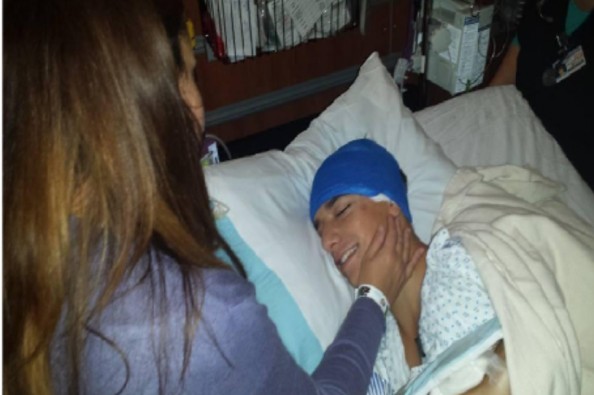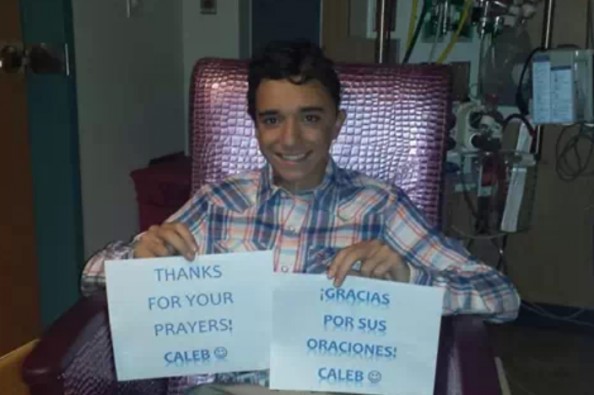 + Read More
Help spread the word!
 538 total shares