Olympic Dream
$6,906
of $10k goal
Raised by
110
people in 39 months
"The butterflies of winning for an opportunity like this, they never get old. That's why we play this game," said Shuster, who won Olympic bronze in 2006 in the lead position.
For those of you who don't know me, my name is John Shuster. This February, I will be participating in my 3rd Olympics (Torino 2006, Vancouver 2010, Sochi 2014). Ever since I attended the Salt Lake City Olympics in 2002 as a spectator, it has been my dream to wear Red, White, and Blue at the Olympic Games and represent my country. In 2006, that dream became a reality in Torino, where my team went on to win a Bronze Medal! The 2010 Olympics in Vancouver marked my first as a skip, Sochi will be my second at the helm. I used to think that there was no greater feeling than to step on the ice with the letters USA across my back. That is, until Sara and I had our son Luke in May. Now, there is no greater feeling than walking through the door to my son's bright eyes and wide smile when I return home from a curling event. While competing overseas last month in the Olympic Qualifying event, one of the highlights of my trip was getting to see my smiling baby through Facetime. This was my son and wife welcoming me home after qualifying for the Olympics in Germany.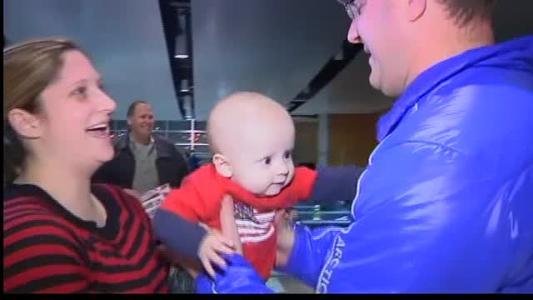 I am asking for financial donations to help get my family over to Russia so they can once again be there to support my team. Without my family, I would never have been able to accomplish as much as I have. My parents have always been there to support me, traveling hundreds of thousands of miles in the process. Being able to hear my mom's whistle from the stands has always provided me comfort, seeing my dad's nervous pacing around the arena has always helped me have a quiet laugh. Their support means the world to me and I look forward to the post game hugs, win or lose. My wife Sara has also given me the opportunity to travel and do what I love. While finishing up her training as a pharmacist, she has worked a lot of extra hours and banked ALL her vacation time just to come and support me. Her time off of work seems to always revolve around when she can come and watch me and I love having her there. With my parents retired and Sara in Residency, money is extremely tight and It would mean the world to me if this time I could help take some of the huge financial burden off of their shoulders as my team prepares to have a special Olympic Games in Sochi. Every dollar I could help raise will do just that!
I cannot imagine the total financial burden that following me around the world has cost to this point...but if you take a gander at the list below one can begin to fathom. Below is a list of major events that my parents have traveled to in order to watch me curl. With the enormity of these expenses, I am asking for you to help me help them get to this one!
2002 KETTLE MORAINE, WI Jr. Nationals
2003 UTICA, NY - Nationals
2003 WINNEPEG, CANADA - Worlds
2004 CENTERVILLE, WI Jr. Nationals
2004 GRAND FORKS, ND "" Nationals
2005 MADISON,WI "" Nationals/Olympic Trials
2005 VICTORIA,CANADA "" Worlds
2006 TORINO, ITALY "" Olympics
2006 BEMIDJI, MN "" Nationals
2006 LOWELL, MA "" Worlds
2007 TORINO, ITALY - World University Games
2008 HIBBING, MN - Nationals
2009 BROOMFIELD, CO "" Nationals/Olympic Trials
2009 MONCTON, CANADA "" Worlds
2010 VANCOUVER, CANADA "" Olympics2011 FARGO,ND - Nationals
2012 PHILADELPHIA, PA "" Nationals
2013 GREENBAY, WI "" Nationals
2013 FARGO, ND "" Olympic Trials
2013 FUSSEN, GERMANY "" Olympic Qualifiers
2014 SOCHI, RUSSIA "" Olympics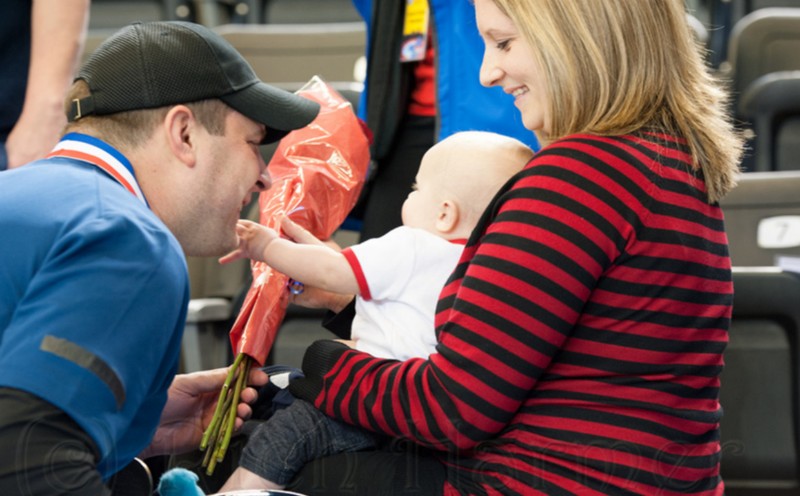 Please consider making a donation to help get my family to Sochi. It means the world to me to have them by my side. Thank you to all of the fans out there, it means a lot!
Sincerely,
John Shuster
Team USA Curling
+ Read More
Update 2
Posted by Sara Shuster
39 months ago
Share
Thank you so much for helping us meet our goal! We could not do it without support like this!
+ Read More
Update 1
Posted by Sara Shuster
39 months ago
Share
Thank you so much to all of those who are buying clothing and donating your time and money to help us get to Sochi. It is amazing to think of the amount of support we have gotten. We are so lucky to live in this wonderful Duluth community in addition to being part of a huge curling family. Friends, family, pharmacy colleagues, sorority sister, fraternity brothers, classmates, awesome strangers, .... you are all playing a part in making our dream come true!!! I could not be more thankful!
+ Read More
Read a Previous Update
Be the first to leave a comment on this campaign.