Aiden and Easton's Medical Fund
$5,098
of $4,800 goal
Raised by
74
people in 41 months
A little about us...
We call ourselves the Fugate Five.
Travis, works 50-60 hours a week to support his family. He is an amazing husband and dad to our boys. We are so lucky that he is such a hard worker and does everything he can to support us.
Tristin, stay at home mom to our 3 boys and makes our house a home.
Cohen is 2.5 and a total boy. He loves Thomas the Train, running non stop and has more energy than any little boy I've ever seen!
We struggled for 10 months to add another little one to "complete" our family. When we finally got pregnant we were beyond happy. Around 7 weeks along we found out our family was growing even more than we'd planned. The emotions we felt aren't even explainable, happy, scared and everything in between. But of course - God knew our hearts could hold love for 3 babies and that's what matters the most in the end. He got us through a tough pregnancy and though our preemies (but really, they were big boys!) had a short stint in the NICU, we all got to go home, together.
Aiden, is goofy, always on the go and a total shrimp. His medication makes him not have an appetite and Easton has a full 5 lbs on him!
Easton, is more reserved, he likes to sit and watch his brothers play. He does not miss meals either ;)
Aiden and Easton could not be more different and in so many ways but its so obvious the bond and love they share, even at only 6 months old.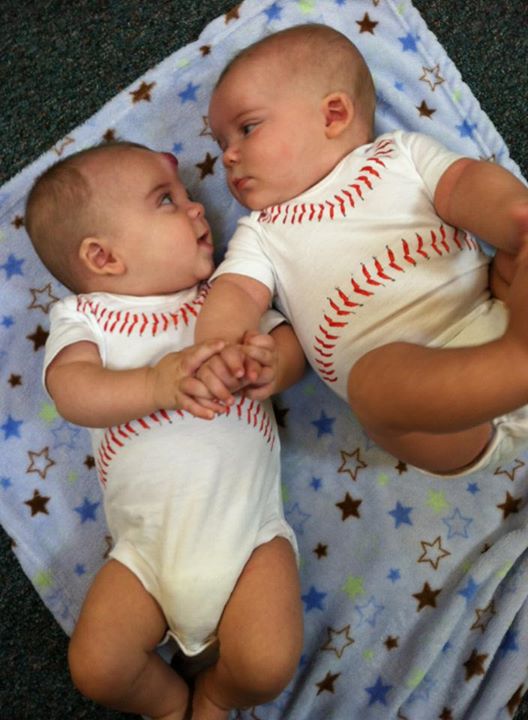 We are raising money for our boys to pay for private insurance premiums, medication and a helmet plus all appointments associated. Our current insurance has denied all treatment and procedures our twins NEED and deserve to have. Our insurance has denied removal of a dermoid cyst Easton was born with above his eyebrow so that he can get a helmet to correct his severe plagiocephaly/flat spot (caused by his torticollis/tilt from tight muscles, from being squished in the womb, dang twins). Aiden is currently being treated for his hemangiomas, one on his forehead and one on his side. He takes medicine 3 times a day to stop the growth and at 18 months he will have surgery to remove the superficial and deeper components of his facial hemangioma. Unfortunately, all of these treatments and procedures are considered "cosmetic" and our current insurance will not cover them. After a lot of fighting done by us, our pediatricians and even our local Congressman's office - we've decided to stop fighting and just start doing.
+ Read More