SAVE the Schooner Aldebaran
$12,986
of $50k goal
Raised by
127
people in 45 months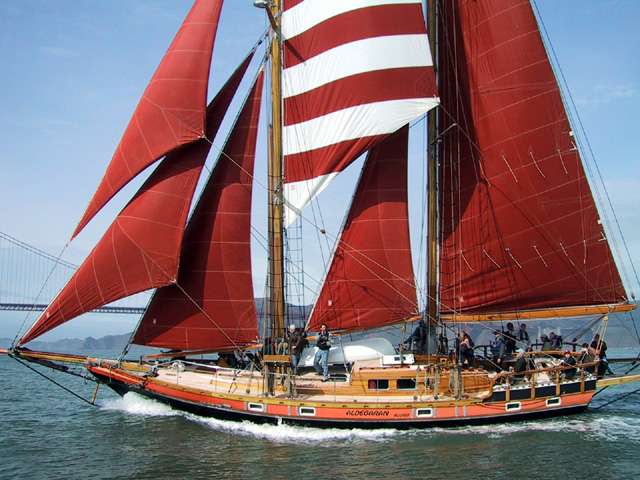 Last Thursday, Fourth of July, while returning from viewing the fireworks on the San Francisco Bay, we hit the submerged breakwater at high tide. We ran the Aldebaran up hard on the rocks. The Coast Guard, gratefully, rescued all aboard safely.
We are now trying various salvage and dive services to raise her, get the ship to dry dock, and save her.
We need your help to defray the immense costs of this operation.
With love and luck we will save this beautiful handmade craft to grace the Bay again.
Thank you,
Hayden Brown
Letter from Hayden's sister:
July 7, 2013
From the desk of Sherring Brown Burke, Powell, Wyoming
Dear Aldebaran friends,
The Schooner Aldebaran desperately needs your help.
On the night of July 4, Captain Hayden Brown and his wife Fern along with a party of 17 others were motoring home from watching the Independence Day Fireworks in San Francisco Bay, when the unimaginable happened...Aldebaran ran hard aground on the Richmond Jetty.
Right now, she is still upright, but completely awash and bashing continuously into the jetty, and sustaining further damage. It is unclear as to whether or not she can be salvaged and restored to full function, but by law, at the very least, she must be raised and towed to shore and dry-docked.
Just this process alone will cost many thousands and may bankrupt Hayden and Fern. Then, when she is up on land they will be able to determine whether or not she can be saved. There is, apparently, extensive hull damage, and that is just for starters. I am sure that sea water sitting inside the vessel will take a heavy toll, too, in damage to internal systems and the interior in general.
I am Hayden's younger sister, and I want to do all I can to help Hayden and Fern get through this catastrophe. Hayden has spent the better part of his adult life building this boat, just about every inch of her, and he has sailed her and shared her and celebrated her with honor and dignity.
Aldebaran sailed to victory last year in the Great San FranciscoYacht Club Schooner Race. You may know her as the official pirate boat of the Vallejo Pirate Festival.
She is a truly beautiful craft, a work of art and a labor of love. Few men have proven such dedication to excellence as has Hayden, over such a span of years, and it would be a tragedy indeed if Aldebaran were lost to the sailing community and to the community in general.
Please, I beg of you, consider making a donation to
gofundme.com
to help "SAVE the Schooner Aldebaran" using this link
http://www.gofundme.com/3ifhhg
If you have lived in the area and seen this beautiful boat; if you have been lucky enough to have sailed on her with Hayden; if in his building of her he has supported your business; if you are friend or family, neighbor or compatriot or crew, I implore you to be as generous as possible. We owe it to this beautiful schooner to do what we can. The donations will be made through WePay and no fees involved.
If you can help in any way, please contact Hayden Brown at (510) 685-9043 cell or (510) 236-3332 home, address 1302 Pelican Way, Point Richmond, CA 94801.
Sincerely,
Sherring Burke
+ Read More
Be the first to leave a comment on this campaign.