Projeto Social de Futebol (Portugal)
$820
of $5,000 goal
Raised by
11
people in 46 months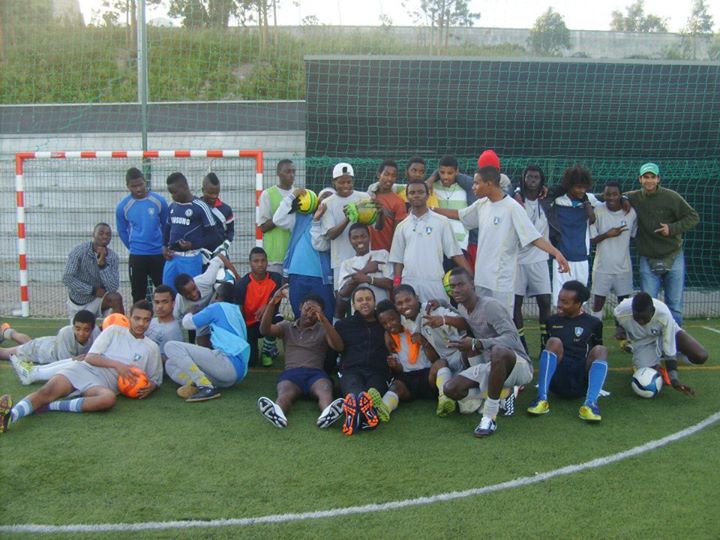 SOCCER PROJECT
Club Sporting Caravela
The Club Sporting Caravela is a non-profit social/Evangelistic project, based in Damaia, in the city of Lisbon. Our goals are exclusively educational, social, spiritual and philanthropic character. Damaia has some of the poorest and most dangerous neighborhoods in the Lisbon area. In a very condensed area of 1.41 Km
2
has a population of 21.000. Damaia is part of a larger community called Amadora. Amadora is the fourth biggest city in Portugal with a population of 175.135.00. Damaia its well know by a large concentration of African descendants coming from Portuguese colonies. Also sadly known by the high drug traffic in the community.
We have boys coming from all parts of Damaia, Amadora and beyond. Our goal is to reach out to kids and young men from these neighborhoods, aged 14 to 19, the most critical ages. And through Soccer, their greatest passion, teach them values like ethics, commitment, responsibility, teamwork, respect, organization and most of all teach them about Jesus. We aim to develop a program using sports (soccer) as a strategy for personal development, social, and spiritual education of children, teenagers and young people seeking their full social inclusion.
The coordination of this project and the creation of partnerships tend to enhance the knowledge gained. The exchange of experience provides a further development, both for professionals and for children and young people.
The school years are one of the largest processing phases in a child, adolescent and young years, in cognitive, social, physical and spiritual. So this project aims to highlight the development of each athlete because any experience gained at this stage of life is a basis for further steps.
Sports are traditionally known for the benefits it brings to human development, in contributing to the physical and intellectual training. It establishes the concepts of leadership, teamwork and discipline, which are stimulated since childhood, so as to make individuals grow in solidarity and sense of cooperation.
Even though 100+ kids have passed through us, at the moment, we have around 40 kids practicing twice a week with us on a small soccer field a local school opened to us. We have been gathering on a monthly basis to watch Christian movies, Christian hip hop concerts, or just to have dinner and share testimonies of conversion.
We have kids from all types of faith-based beliefs including muslim. Its always a challenge to find the best way to introduce to them the message of the gospel, because in Portugal there is a deep Catholic mentality, and these kids have all heard about Jesus, but they don't really know Him, they're skeptical about the possibility of a personal connection with Him. It requires a lot of personal emotional investment and being regularly a light in their lives.
To get the kids and young men to commit to the team, and to create a deeper relationship with and invest in them, we feel we need to get more serious and enter a competition next year, where we also will create a sense of purpose and motivation.
We have many dreams for this project beyond just our regular time spent with them on a weekly basis, but for that we need human and financial help. Besides our regular expenses for sports equipment, transport, meals, field rental and etc.: we would like also to have evangelistic materials like Bible, Tracts, T-shirts and more:
To sign up for the competition we require following funds.
Item
Cost for the year
Portuguese Soccer Federation fees Registration (850€)
850€
Signing up players (45€ each "" 45 x 30 = 1350€)
1350€
(Each player fee includes registration, insurance and Card)
Soccer Materials (Balls, Cones, Vest and Uniforms)
800€
Bibles, Tracts:
400€
Total: 3.400€ (approx. 4.540 USD)
Once we get these 30 kids committed to the team, showing up regularly for practice and extra activities, we plan on starting bible studies, follow their life and studies closely, visit their families, provide after-school tutoring and counseling. We want to invest in a way they themselves become Christian leaders and examples to follow in their family and in their communities, hopefully planting a church with them. All through volunteer work. All to show them the Love Jesus has for them.
Together, we are called by Scripture (Mark 12:30-31) to "Love the Lord your God with all your heart and with all your soul and with all your mind and with all your strength...and love your neighbor as yourself". By virtue of the Grace of God placed upon our personal and corporate lives, through the reign of Jesus Christ as Lord, we desire to be faithful witnesses to Him and His Gospel, serving others as Jesus served.
We pray that the Lord may touch your heart to join us in this great adventure of impacting kids and young men for Christ.
In Christ
Lielson Penido
O Club Sporting Caravela é um projecto social sem fins lucrativos, com sede na cidade de Lisboa, seus objetivos são exclusivamente educacionais, desportivos, sociais e espirituais de caráter filantrópico. Temos como objetivo desenvolver um programa utilizando o desporto como estratégia de desenvolvimento pessoal, educacional, social e espiritual de crianças, adolescentes e jovens à procura da sua plena inclusão social.
Através de pesquisas realizadas entre crianças e jovens de baixa renda, pode-se verificar que em sua grande maioria, não possuem recursos financeiros para o desenvolvimento de habilidades em entidades desportivas particulares, que facilitem sua inclusão social. Devido a essa carência financeira, um grupo de pessoas decididas a ajudar a esta camada sócio económica desfavorecida pensamos na criação do projeto social Club Sporting Caravela.
O facto de que a visibilidade social da criança, jovem, ou seja, o lugar e o papel que ocupam na sociedade, bem como a percepção de suas peculiaridades (características), decorre do contexto histórico, social e ideológico e reflete-se no atendimento às suas necessidades de desenvolvimento e educação.
Vendo que a falta de recursos limita o desenvolvimento das habilidades e dos potenciais de crianças e jovens, os Projectos Sociais se tornam viáveis para alcançar a educação como um todo.
Na educação através do desporto desenvolvem-se habilidades, sendo estas essenciais para a obtenção de novos conhecimentos. O desenvolvimento de novas competências faz com que as crianças e jovens aprendam a conviver em um meio social de diferenças, tanto culturais como de classes, preparando-as para enfrentar as dificuldades sociais, as conquistas, enfim preparando-as para a vida. As habilidades desenvolvidas através do desporto partem desde as dimensões físicas, cognitivas, sociais, emocionais, éticas, morais e espirituais.
Através da prática desportiva pode-se sistematizar situações de ensino e aprendizagem que garantem às crianças e jovens o acesso a conhecimentos práticos e conceituais. Dando oportunidade a todos que desenvolvam suas potencialidades, de forma harmoniosa e não seletiva, visando o aprimoramento do ser humano.
Para que todas essas características sejam alcançadas, o projecto social Club Sporting Caravela com o auxilio de profissionais de Educação Física e voluntários, irá trabalhar de forma social e lúdica, buscando criar com seus atletas valores e desenvolver competências pessoais, sociais, produtivas e cognitivas.A coordenação deste projecto e a criação de parcerias tende a aprimorar os conhecimentos adquiridos. A troca de experiência proporciona um maior desenvolvimento, tanto para os profissionais quanto para as crianças e jovens.
A idade escolar é uma das fases de maior transformação na criança no adolescente e jovem, seja física, cognitiva, social e espiritual. Assim este projecto tem como objetivo destacar o desenvolvimento de cada atleta porque toda e qualquer experiência adquirida nesta fase da vida constitui uma base para outras etapas.
Através deste projecto há um compromisso com a reversão do quadro de injustiça, de exclusão e vulnerabilidade social ao qual se submete grande parcela da nossa população. Quando falam de Desporto e Lazer, estão se referindo a fenómenos distintos, mas, de certa forma confluentes. É no tempo e espaço de lazer que a manifestação cultural desportiva despojada, apresenta-se como possibilidade de ser vivenciada por todos que tem acesso.
O Desporto é tradicionalmente conhecido pelos benefícios que traz ao desenvolvimento humano, na contribuição para a formação física e intelectual. Ele estabelece conceitos de liderança, trabalho em equipa e disciplina, que são estimulados desde a infância, de maneira a tornar indivíduos mais solidários e com sentido de cooperação.
O programa fundamenta-se em princípios que norteiam as suas ações. São apresentados como saber coletivo, capacidade de organização grupal, reflexão crítica, posicionamento do atleta como sujeito e agente de sua aprendizagem através da participação; isso tudo a partir da realidade na qual está inserido possibilitando a consciencialização coletiva.
E tem como principal objetivo possibilitar o acesso à prática desportiva e de lazer como um direito e não um beneficio, democratizando o acesso à prática e à cultura do desporto como instrumento educacional, visando o desenvolvimento de crianças, adolescentes e jovens até 18 anos.
NOSSO PRÓXIMO DESAFIO É DE INSCREVER O CLUBE E OS MENINOS NA COMPETIÇÃO REGIONAL DE LISBOA, PORTUGAL!
É por isso que precisamos da tua ajuda:.
QUEREMOS DAR A OPORTUNIDADE A CADA JOVEM DE TER UMA VIDA MELHOR E A VOSSA AJUDA É ESSENCIAL..
AJUDE-NOS!
CONTAMOS CONSIGO!
+ Read More
Be the first to leave a comment on this campaign.