Griot Museum of Black History A/C
$4,055
of $35k goal
Raised by
72
people in 11 months
We need your help! 

Continued vandalism is threatening the viability of a treasured museum, The Griot, in St. Louis.  The Griot is the second of its kind in the country, and the only Black History Wax Museum in the Midwest.  It opened in 1997 as The Black World History Wax Museum and in 2009, changed its name to "The Griot Museum of Black History," ('The Griot').  In some African countries, the "griot" (pronounced "GREE-OH") is the highly respected member of the community who collects, preserves, and shares the stores, objects, and cultural traditions of the community.  In that same tradition, we collect, preserve, and document the stories, culture, and history of Black people, then use a variety of cultural expressions to share that with the community.

Our collections and exhibitions are at risk of irreparable damage due to vandals and  theives.  During the last two weeks, two of our three central air conditioners were stolen; the third vandalized, possibly beyond repair.  Out of concern for the museum collection, a large part of which includes life-size wax figures, we have had to switch our priority to the HVAC system.

Now this is no simple proposition.  Our units have been stolen/vandalized 5 consecutive times.  So, in addition to replacing the units, it is imperative that we also implement a comprehensive security system that will help to deter such future activity.  

All of this sounds good, but it all costs money, money that we simply do not have.  We are  a not-for-profit organization that has existed for 20 years without the benefit of major support from the philanthropic or corporate communities.   It is impossible for us to imagine how we can restore our HVAC system, and as a result, preserve our collection, without your help!

The Griot' uses life-size wax figures, other art, artifacts, memorabilia,  documents, and public programs to highlight  our regional connection to American history.   Visitors can "meet" and learn about Carter G. Woodson, Josephine Baker, Dred and Harriet Scott, Elizabeth Keckley, William Wells Brown, James Milton Turner, Clark Terry, Dr. Martin Luther King Jr., the Rev. Earl. E. Nance Sr., Miles Davis, Madame C.J. Walker, York, Percy Green, Macler Shepard, Chief Sherman George, and Pearlie Evans, Betty Thompson, Dolores Malcolm, and more.

In addition to local schools, youth groups, and residents, The Griot is visited annually by people from around the world who want to learn more about the Black experience.  Our continued existence in this community helps them do so.   Our ability to exist has been due to the income earned from those visits, public events, and from the kind generosity of people like you.     

As we approach our 20th anniversary next year, we appeal to you to help us through this immediate crises and enable us to continue our mission.   

We  gratefully appreciate any and all contributions.

Thank you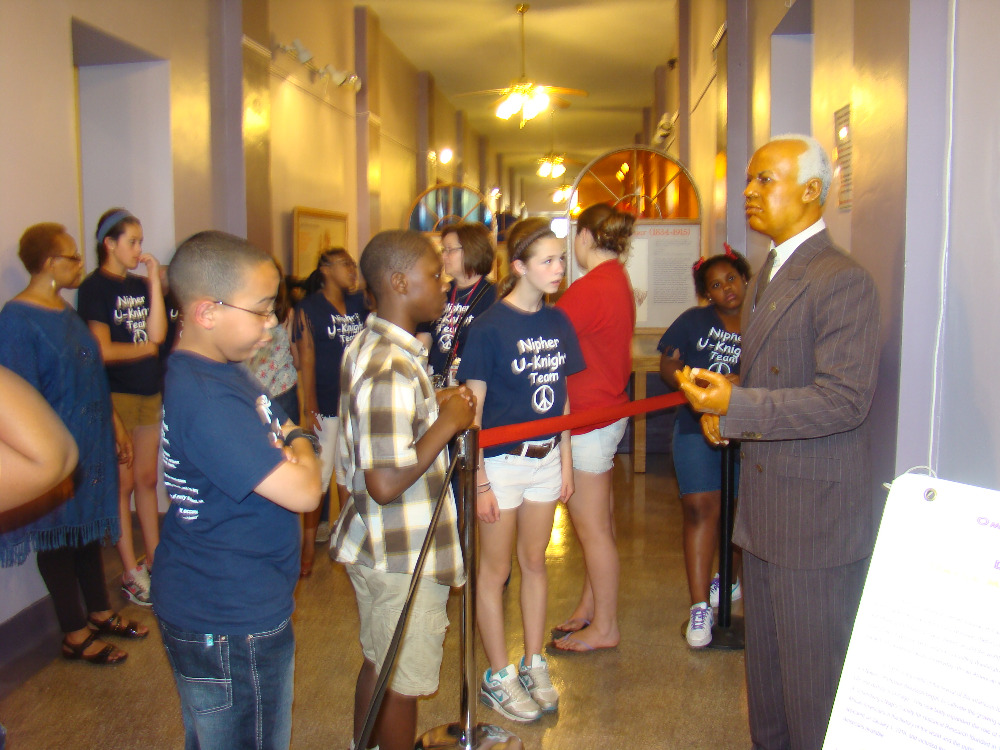 http://www.thegriotmuseum.com/
+ Read More
Update 2
Posted by Lois Conley
9 months ago
Share
Sharing some of the inspiring acts of generosity shown: Bryan and his partner from Belleville who offered to donate and install a portable a/c unit; C.T. who raided his "dollar savings jar" and donated it's contents ($250); EM Harris, who offered to donate window a/c units (we were unable to use because we have no windows to accommodate them); Officer R.D. for his personal donation and commitment to get fellow officers involved); R. R. and fellow former neighborhood residents committed to help with fundraising; Ethical Society of Black Police Officers with offers to help beyond the a/c crises.

These and other examples of support are extremely encouraging, and we are excited about what is yet to come.

Thanks, again, to all who have donated. We still have a long way to go to be able to restore the central a/c system and the accompanying enhancement of security that will be necessary to sustain and protect it.

+ Read More
Update 1
Posted by Lois Conley
10 months ago
Share
Whew! Thank God, we made it through another week with no air conditioning. The objects at The Griot are stlil in tact; group tourists have kept their appointments AND they have enjoyed their experience despite the 90+ internal temperature. Walk-in visitors choose to enter The Griot despite the notice about the internal temperature; AND, as you can see, our campaign continues to grow.

Many thanks to those of you who have donated cash & products, especially water), volunteered, sent good wishes, and helped promote the site. Special thanks to Mr. Willie Watson and friend, Hakiem Ali for getting two portable air conditioners installed this afternoon. We are anxious to see if they provide any relief.

Temperatures are predicted to be up again next week, so we are bracing for another week of extreme heat. We will continue to pay close attention to the wax figures and other objects in our collection and protect them as best as we can. My hope is that there will be some resolution to this situation very soon.

We will keep you posted. Please continue to promote our page.

Peace & Blessings

Lois Conley
+ Read More
Read a Previous Update
Be the first to leave a comment on this campaign.