My Papa's Medical Funds
€2,821
of €19,000 goal
Raised by
92
people in 27 months
Hi everyone, I am Helga Krapf, daughter of Hans Krapf, the beneficiary of this go fund me account.
First, let me tell you about my Dad and his present condition. My Father is in need of angioplasty with stents due to some blockages in his heart. Despite current medications at the Hospital, his condition doesn't seem to improve and his health has been deteriorating. He's going to need the angioplasty as soon as possible if we want to save his life, but since he has been in and out of the Hospital for the past 4 years our funds are running low and we won't be able to afford the estimated 700k-1M in Php (depending on the amount of stents) anytime soon, and this is why I'm taking my chances and put up this account for him.

I hope you can spare some time to read my Fathers story and why I'm doing everything i can to give him a few more years on this earth.

My Father was born some time WW2, he had a tough childhood, suffering from Epilepsy since he was Five and although a German, he was ordered for execution due to his condition, his life was spared tho because my Grandfather was a military truck driver for the Nazi at that time. Sadly my Father wasn't able to finish School because of the frequency of his seizures while studying, his parents didn't have any other choice but to make him stop School all together, but despite him not going to School, I can confidently say that he is a walking dictionary.
His condition wasn't an excuse for him to live life, he had to jump from one job to another, but he made it work for him so he can provide for himself and his family. He has compassion for others, wanting to help where he can although not always financially, he tried to give what he can to people he knew had less. He donated blood more than 25 times in his younger years and also has a scar near his thumb, a result of him fighting two Men who were trying to rob an Old Man who was all by himself.

No, we weren't rich people, I wasn't born with a silver spoon in my mouth, but I never complained and asked for more than what my Father can provide for us. You know why? Because knowing that he would, if he could, was more than enough for me. I grew up seeing him always worrying about money and saving up for things that me, my sister or my Mother would like, because he was thoughtful like that. My Father never missed a Holiday, whether it be Mothers Day, Christmas, Easter, Anniversaries, not to mention Birthdays, it was a must for him to give us something, just anything, to make us feel special.

That's probably why, even as a little child, I never really asked for anything fancy from him, or I'd save my own money for anything that I wanted. Many don't know, I went to Public School, by choice, to lessen the financial burden my Papa had, and I also paid for my entire College Tuition from the money I made by starting Showbiz, because I didn't want him to worry and feel guilty about not being able to provide enough for us from the small pension he gets every month.

I've always looked up to him because I am in awe by how he faced all his struggles in life. I can't say he's a perfect being, a perfect friend, a perfect son, or a perfect husband perhaps, but if there is one thing that I can claim, its him being a perfect Father who has showered his family with nothing but selfless love and kindness.

I'm doing this because Its hard for me to accept that just because we don't have the means to get him this Medical procedure right now, we should give up and not try anymore. So I'm here taking my chances, hoping that kind hearted and compassionate people like my Dad, can help me literally "buy" a few more years with this great Man. I'd consider this a lifetime of Christmas and Birthday gifts for me and my little girl Amelie who's so fund of her Opa. To some, I suppose, I may be just a pretty face, but right now, I'm just a loving daughter trying to do whatever she can for the person who has done everything for her all his life.

And to my dear Papa, please hold on a little longer, your little Girl is trying to find a way. Ich hab dich lieb.
+ Read More
Update 1
Posted by Helga Krapf
26 months ago
Share
Would like to give an update for everyone, especially those who have been very involved in the recovery of my Dad. We brought him to the Hospital for re-assessment of his heart. He was very weak and could barely say a word, he would just nod sometimes to respond to our questions and even the Doctors questions. Upon assessment of his Cardiologist, they found out that Papa was septic already due to an infection that has already spread to his blood, injuring his kidneys and it weakened his body badly. They immediately put him on IV antibiotics, but unfortunately his kidneys weren't doing well. The Nephrologist ordered for a Dialysis to clean out toxins in his body to avoid permanent damage to his kidneys. It had to be done ASAP. As much as I did not want him to go through all of that, he was barely improving so I consented to it. It was a 2 1/2 hour procedure, they couldn't do more since they had to be cautious of how much his heart can take. The following day they had to address his bedsores, he had to undergo surgery for wound debriment. He was high risk, weak heart, weak kidneys, seizures, prone to bleeding, low BP and his age was a big factor, but they had to do it anyway to control the infection from further damaging his organs. Amazingly, they had no complication during the procedure, his General Surgeon said he was very calm. His Anesthesiologist said he responded right away when she was calling him "Opa" to wake him up. His Cardiologist was also monitoring him closely during the procedure. Thankfully, no need for him
To stay in the ICU. I'm also thankful for all of his Doctors who are acting fast to prevent him from getting weaker. He has been talking more and is more attentive of his surrounding now, he has improved so much compared to when he got admitted. Thank God for all of my Dads Angels, thank you to all of you.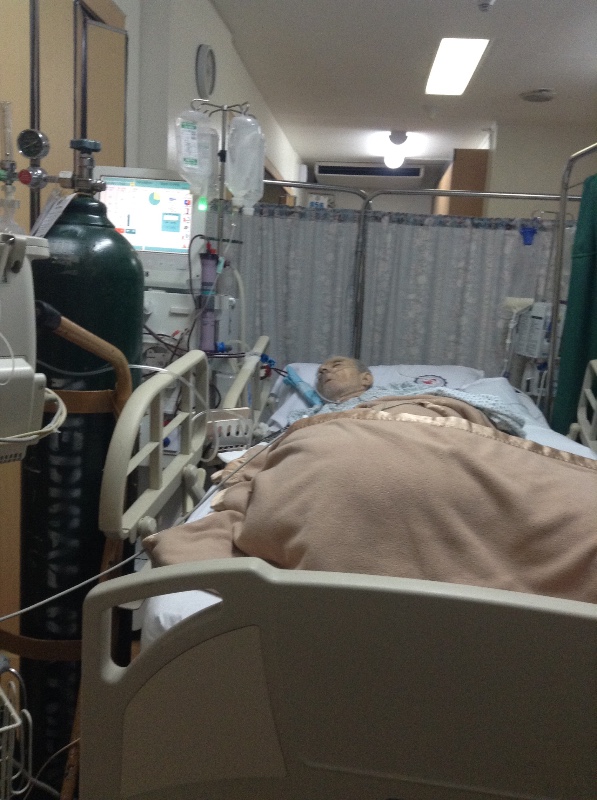 + Read More