TAYLOR FAMILY, WV FLOOD RELIEF FUND
$7,094
of $10k goal
Raised by
39
people in 8 months
Hello Friends:
For those who don't already know me, I am Stan Taylor. My wife Lyn Deadmore Taylor and I have lived and worked in Atlanta, GA for 23 years. 

Thank you for your time and any help extended to my Father and Sister -- who, like many, are struggling with recovering from the recent destruction of the WV flood.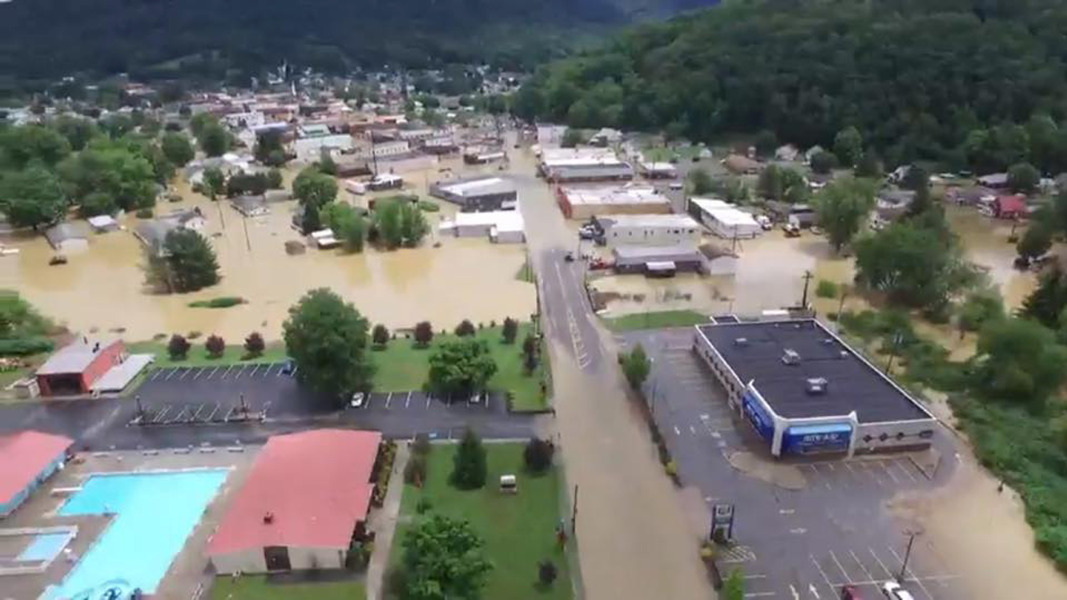 RAINELLE, WV July 1, 2016

Sharing of this campaign with your friends, family and places of worship would really help. If you feel moved to contribute to this fundraising campaign, it is needed and greatly appreciated. ♥


Stan Taylor and Lyn Deadmore Taylor

Dad received a small amount of money from FEMA, thankfully (much less than was promised in their initial letter).

That money is almost spent -- leaving them sleeping on mattresses on unfinished wood. As of September 20th they not longer have to use the Port-o-Potty for their bathroom.  Yea!
-----------------------------------------------------------
WHY IS THIS IMPORTANT TO ME?
There are some repairs underway and scheduled for the  near future, but funds will run out soon, and SAVE
assistance is urgently needed.  
It breaks my heart that my 89 year-old Father is living this way.  And I'm even more concerned about stress and his heart issues.

I want to help get their living situation back to normal as quickly as possible; understandably. It's been more than  3 months since the flood and displacement.

They ARE grateful to finally be back in their own home even unfinished!

CLICK HERE TO FIND US: (copy & paste into emails) **
https://www.gofundme.com/2krrnnhj 

--------------------------------------------------------------
URGENT NEED! ANY amount $5, $10, $25...

BELOW:
- List of finished work
- List of what we need 
- Updates on progress with photos

All proceeds go directly to Stanley W. Taylor, my dad.

We greatly appreciate you and every share you make of our GoFundMe site.  

**May we suggest sharing with your friends, family, church websites, Social Media and emails.

CLICK HERE TO FIND US: (copy & paste into emails) **
  https://www.gofundme.com/2krrnnhj 

-------------------------------------------------------------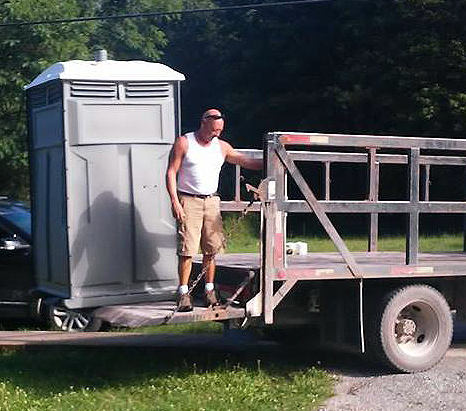 Port-o-Potty delivery - yea!!
   
 ♥ WHY THEY NEED YOUR HELP  ♥
-Dad didn't have flood insurance (depended on FEMA)
-The initial amount FEMA promised was NOT what FEMA actually gave them.  Not enough to finish.
-Appeal to FEMA was denied. No reason given.
-Dad was unable to qualify for a small loan due to ID    Theft which affected his credit rating.
=====================================
 ♥ WHAT THEY NEED NOW ♥

(How your donation will be spent)
-Carpet and linoleum with installation - NEED NOW
-Kitchen Island replaced
-Kitchen sinks
-Bathroom repair
-Refrigerator
-Oven/Stove
-3 beds with frames and box springs
-Washer and Dryer
-Drapes for 2 rooms
-Vacuum cleaner

  ======================================
INITIAL REMOVAL AND CLEAN-UP FINISHED
Besides damage to their home, of course they lost all major appliances, contents of the house & garage as well as their only car. Dad's car insurance helped with the car, thank goodness.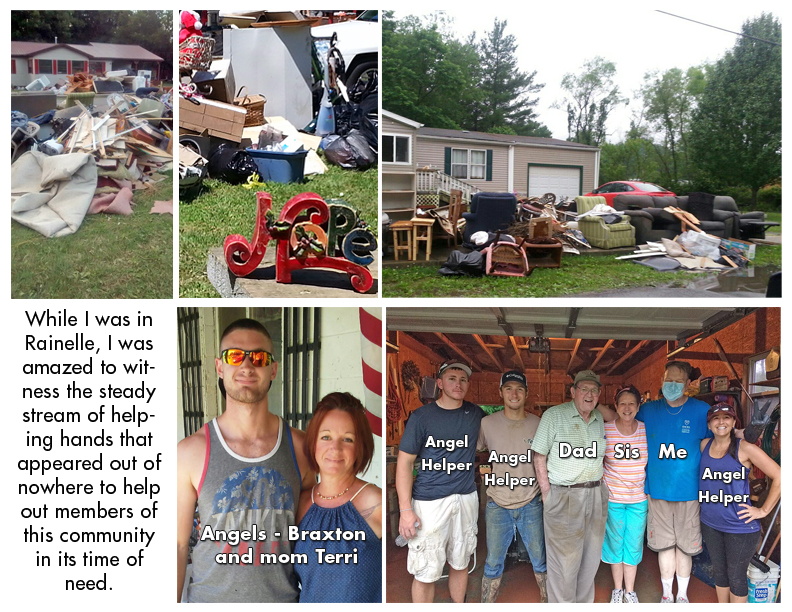 HELPING ANGELS EVERYWHERE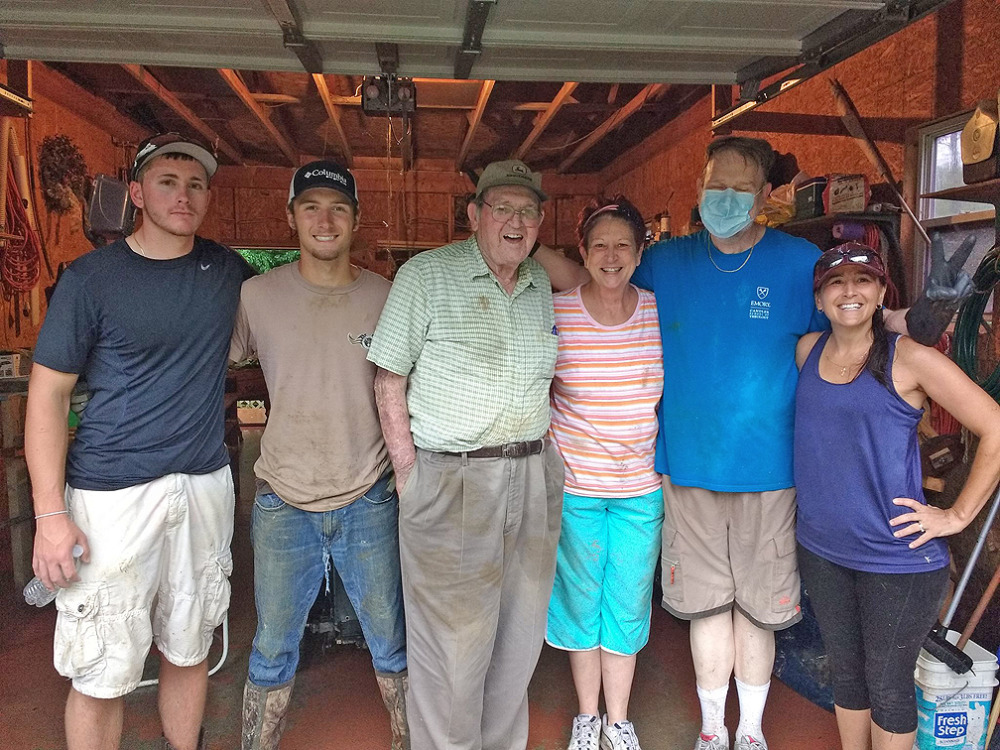 L-R Angel helper, Angel helper, Dad, Sis, Me, Angel

         VIDEO  of "the pile" removed from the house.
  
♥ SPECIAL THANKS AND LOVE TO TERRI AND BRAX FOR ALL CARE & ASSISTANCE ABOVE AND BEYOND THE CALL OF DUTY! ♥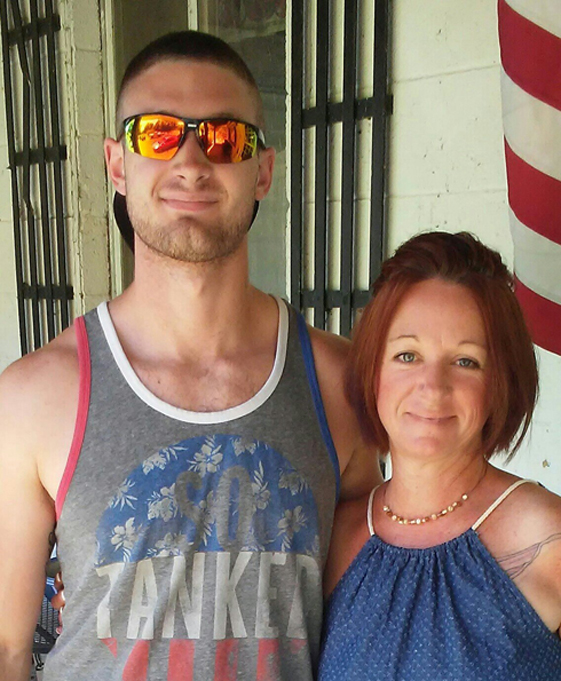 FINISHED SO FAR - updated September 26, 2016

-Good news! Hanging clothes in closets were dry!
-All water damaged components have been removed
-House sanitized
-Unfinished wood floors installed
    (no carpet or linoleum)
-Wallboard installed, mudded and sanded
-Walls painted
-Air conditioning repaired
-Have several donated furniture items
-Subfloor complete
-Doors are hung
-Hot water heater installed
-Kitchen cabinets installed
-Bathroom and Shower working
-----------------------------------------------------------------          
Wonderful people from the community who weren't affected by the flood were cooking and serving meals everyday in the Kroger parking lot!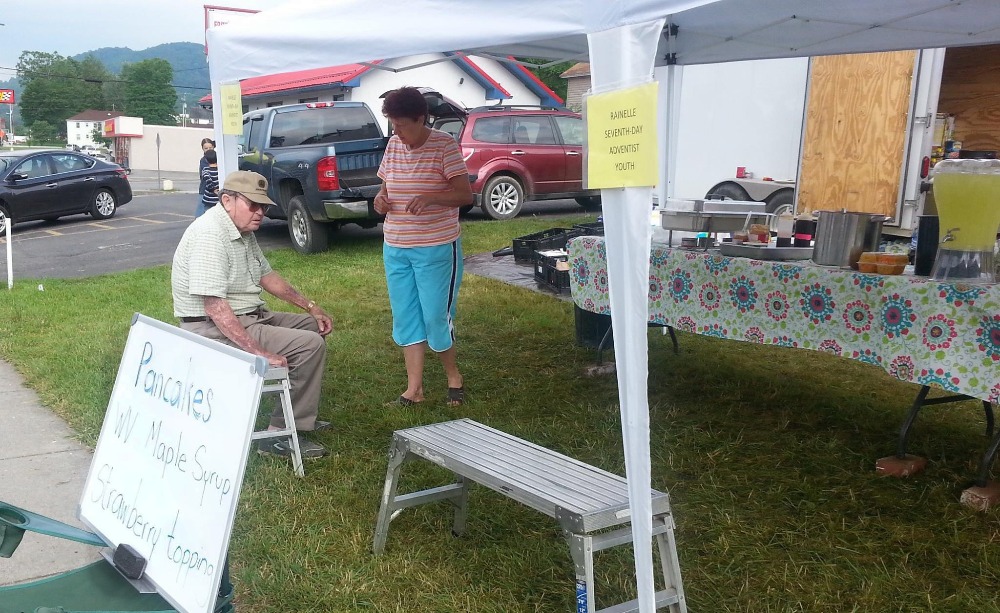 Dad and Debbie waiting for breakfast.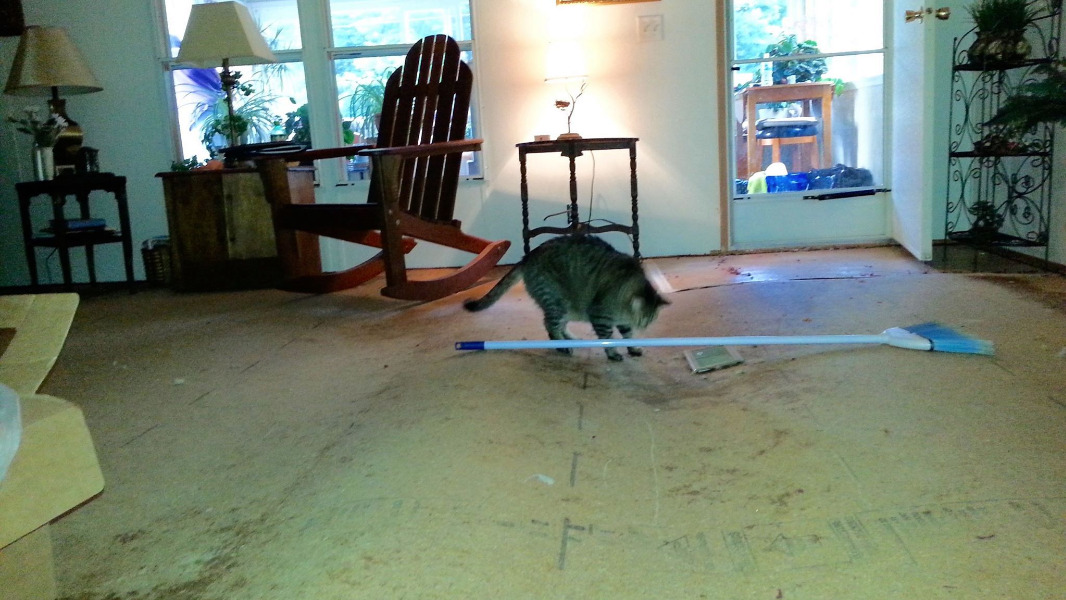 Before the floor was removed, you could see the water had warped the floor. The broom across the "hills" shows the depth.
====================================

PHOTOS - AUGUST 22, 2016

https://www.gofundme.com/2krrnnhj 

    KITCHEN   (OLD LINOLEUM STRIPPED OUT NOW)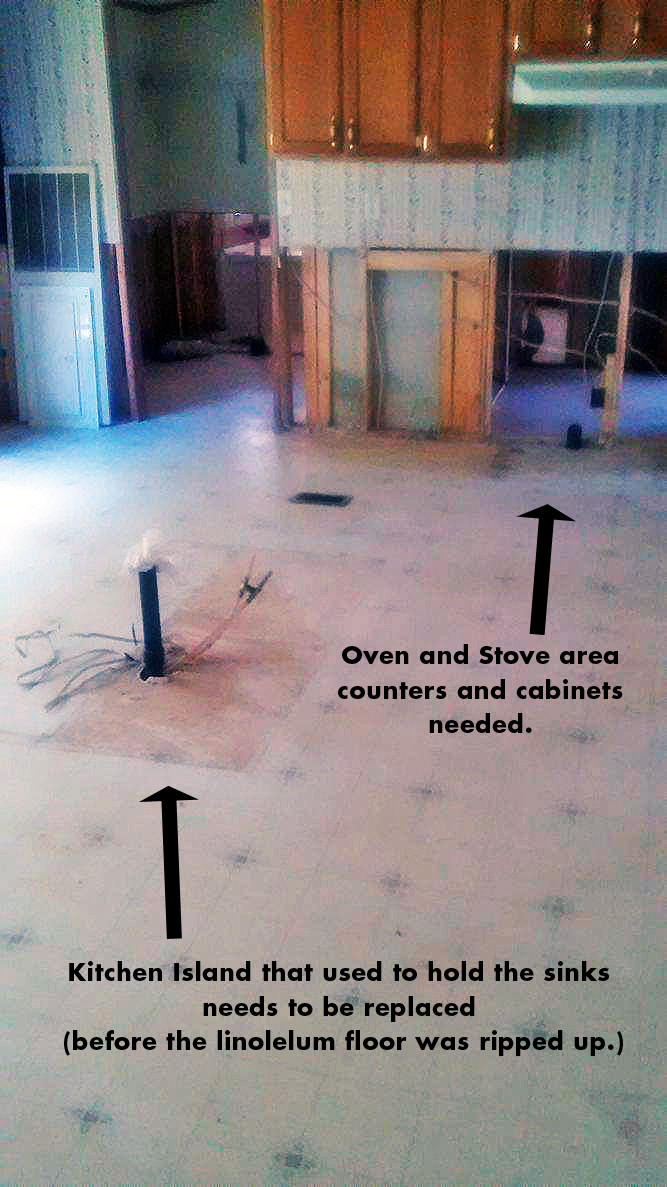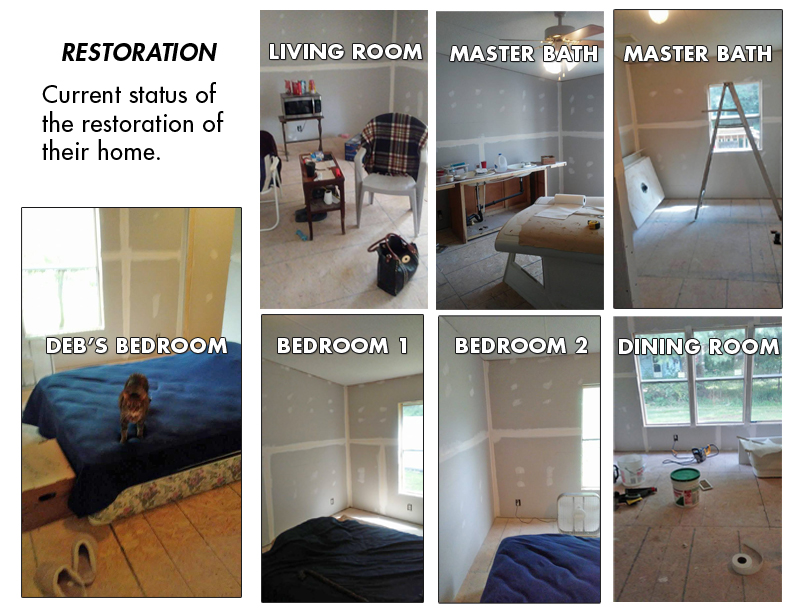 as of August 22, 2016

   LIVING ROOM


    BEDROOM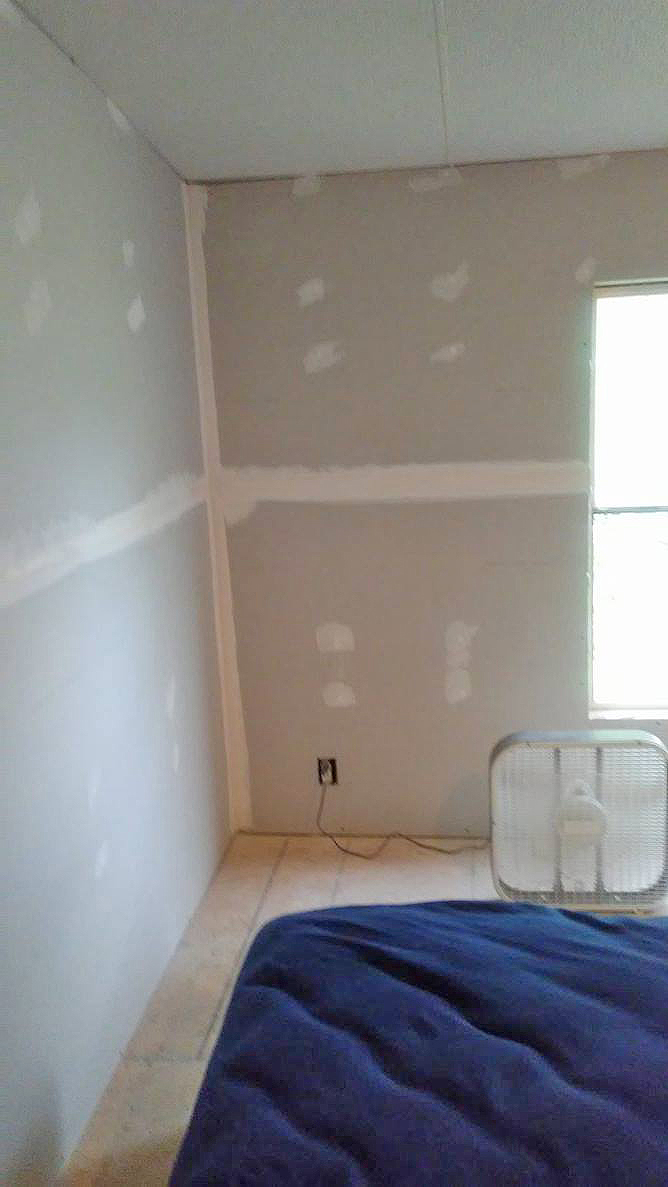 MASTER BATH


https://www.gofundme.com/2krrnnhj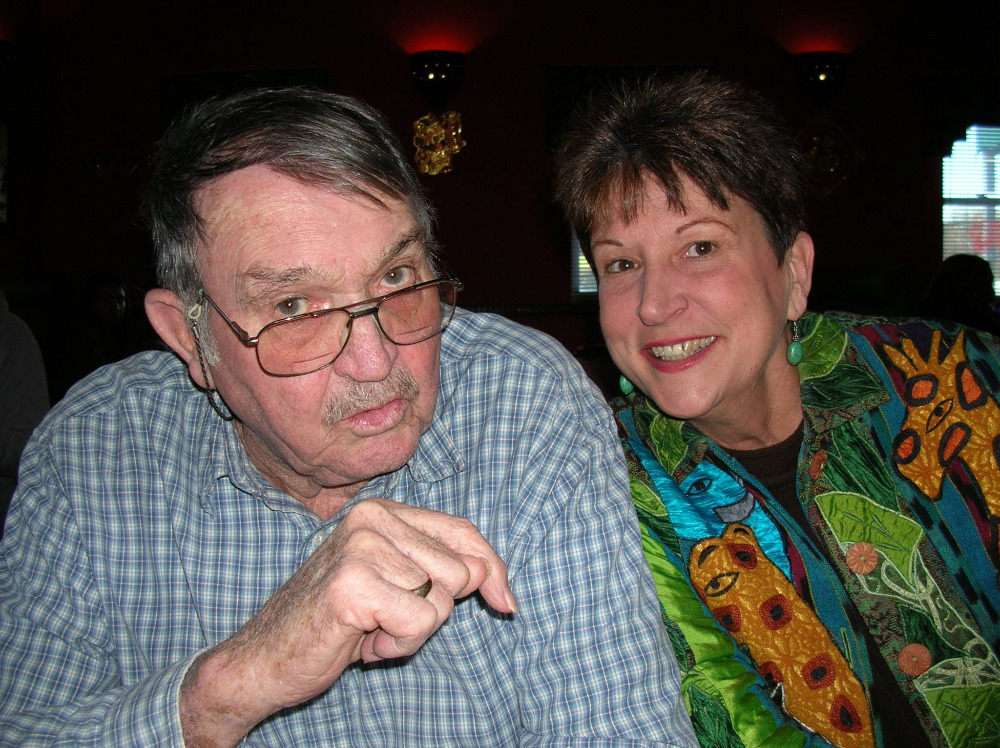 ♥ Dad, Stanley Taylor & sister Debbie Taylor ♥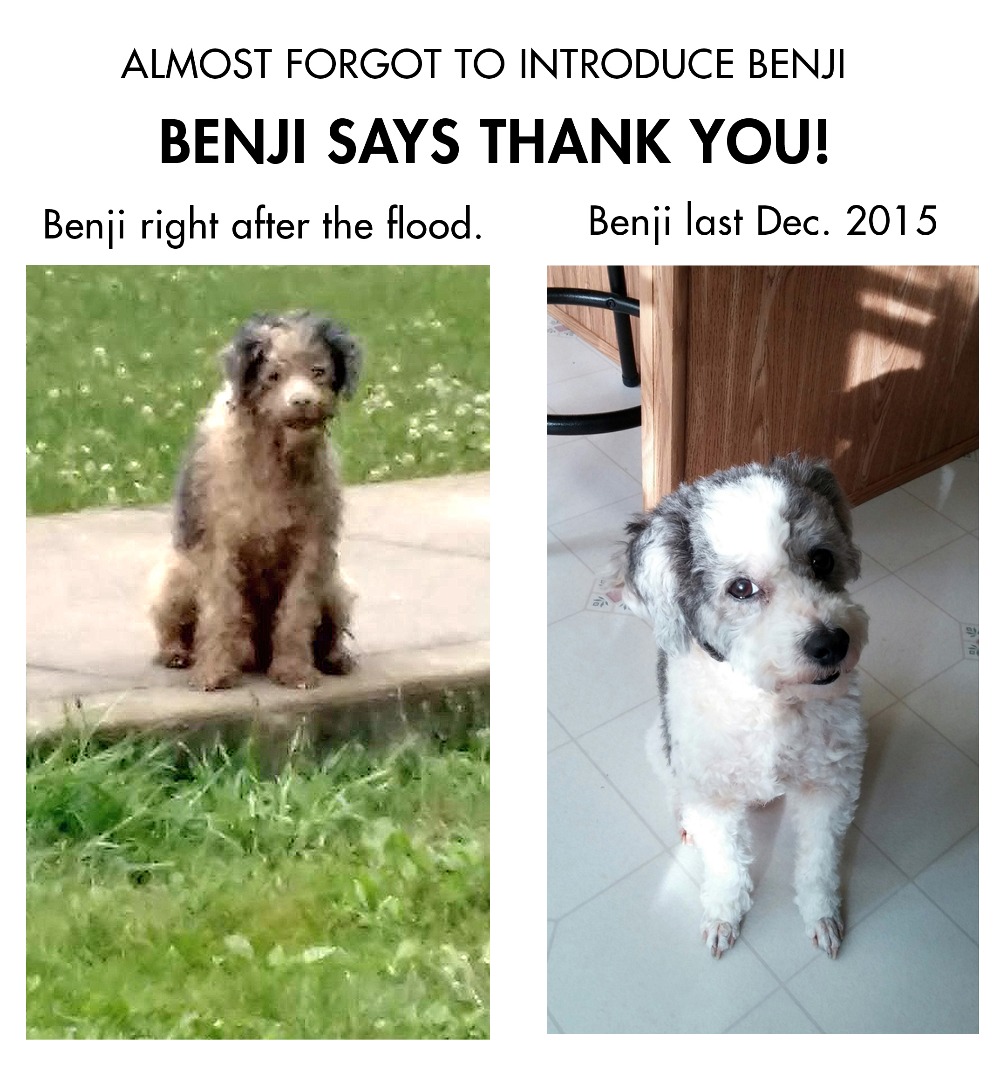 + Read More