CHILDREN WRITING THEIR OWN STORY
$160
of $5,000 goal
Raised by
4
people in 33 months
HELP TO PUBLISH THE ANTHOLOGY OF STORIES WRITTEN BY THE CHILDREN.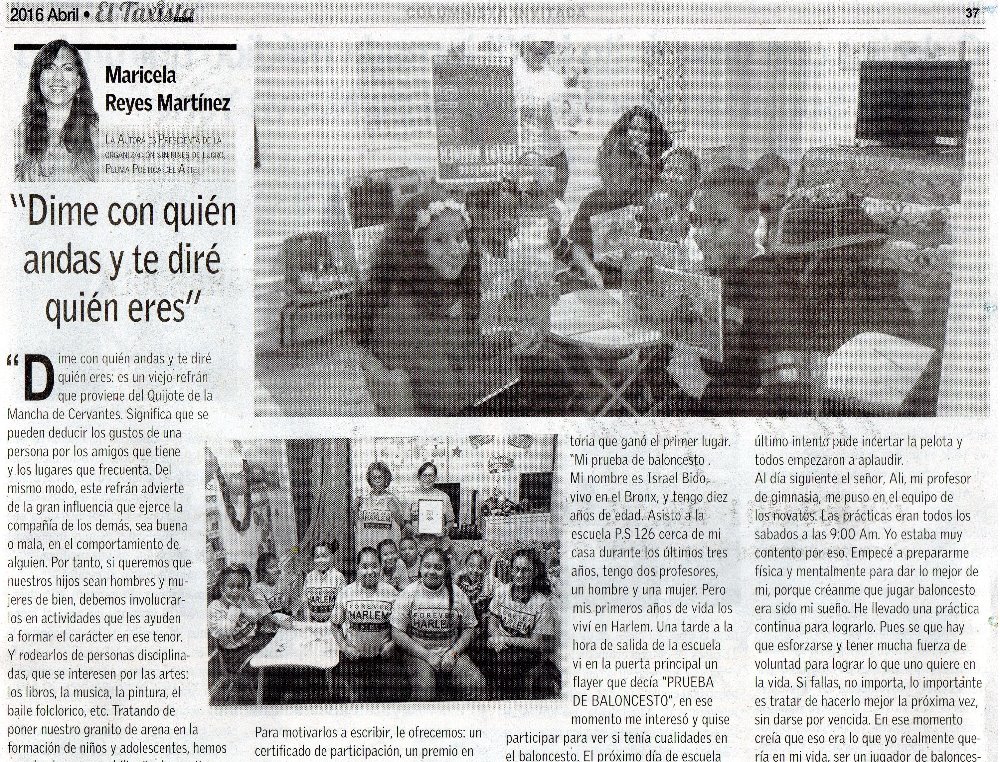 "PROGRAM AGAISNT BULLYING"
"
Tell me who your friends are and I'll tell you who you are
" is an old saying that comes from the Quixote of Cervantes. It means you can deduct the likes of a person by the friends you have and the places he frequents. The same mod, this proverb warns of the great influence the company of others, whether good or bad, on the behavior of someone. Therefore, if we want our children to be men and women of good will, we must engage in activities that help them form the character is the tenor.
article from:
El Taxista News
 (April 2016)
Pluma Poetica Del Arte, INC. ABOUT THE PROJECT

         "Children writing their own history" is a bilingual writing and comprehensive reading program that works with children and young people between 7 and 15 years of age and their families. Participants write stories of special situations and / or experiences of daily life: express their feelings: sadness, fear and abuse at school, home or around through writing and reading comprehension. Writing and reading comprehension develop cognitive and creative skills in both young children and youth. According to statistics, many of them show large behavioral difficulties: low self-esteem, depression and disinterest in school. Write a coherent and well-told story, it makes the child feel important and valuable. That strengthens their feeling of self-sufficiency.
        Writing workshops and reading comprehension, they are structured to provide guidance and instruction in English and Spanish to children and youth with the supervision of an adult or family, if they wish. It requires that each child / youth complete a story at the end of the program. These stories will be exhibited to the public through readings from children, either in English or Spanish, in a final event to which the community is invited. All participants will receive a certificate of participation, and the best story will be elected to publish in El Taxista News of New York City.
OBJECTIVE
       The objective of this program is to help children and young people to express their feelings and ideas: report any situation that is happening through their writings and share their experiences with others through reading. Writing and reading in Spanish, since knowledge of their native language will make them feel proud of its roots. So that, more self-pampering.
GOAL
         The Goal of the bilingual writer and reading comprehension program is that at least 25 children from low income become writers, so that they can express any child abuse. In addition, increase their self-esteem, develop thinking through the use of imagination and preserve their mother tongue as a person who knows more than one language, have more opportunities to succeed. At the end of the program we hope to publish a book with stories written by the children.
+ Read More
Be the first to leave a comment on this campaign.