Hello internet. I've never asked you for much, aside from the occasional cute puppy video, but today I have to ask you for something big.
Something life-changing.
Something life-saving.
I need you to help fund my Gender Confirmation Surgery.
My name's Jill. I'm a college student at Portland State University, I work at a call center, and I'm a navy veteran. My dream is to become a counselor for gender-variant youth. Ever since I was a young child, growing up in Mississippi, I could tell I was different. It wasn't that I talked different from boys. It wasn't that I acted any different. I didn't. When you're growing up in an atmosphere where any deviation from the norm is swiftly (and in most cases, publicly) snuffed out, you learn real quick to know your place and stay there.
I knew my place so well that it wasn't until my 25
th
year on this planet, after I had tried everything I could to run away from it (including joining the United States Navy), that I began to confront my gender. After a year of therapy and an extended period of severe depression with thoughts of harming myself daily, I gave in and took the first steps toward becoming a whole person. Steps toward womanhood.
That was over a year ago, and today the woman you see before you is far, far stronger. Stronger for standing up and telling my friends, my family, and the world "I don't care what you think I am. I am a woman." Stronger for losing a fair deal of those friends and family members, including my father who will barely speak to me. Stronger for making that leap of faith every morning that when I walk out my front door the world will take me seriously as a woman.
And I came out the other side. A year on hormones and I am happier, more well adjusted, and (if I may say so) much prettier. There's just one more thing I need to be a whole person.
I need a vagina.
It doesn't get any plainer than that. The reproductive organs I have right now are a constant source of stress in my life. There is not a single aspect of my life that isn't affected by it.
The way I dress:
I want to wear leggings as pants! I want to wear tight skirts without worry! I want to swim again! I can't even swim!
My sex life:
As you can imagine, being a girl with this kind of hardware is frustrating. It is especially so for me, because after a year of hormones suppressing the spontaneous erections that keep your junk healthy, when I do get erect it is really, REALLY painful. TMI, I know, but it sucks. Help, please?
My safety:
All women have good reason to be afraid when they walk alone at night. That's no joke. Trans women have even more to fear. 1 in 12 trans women are murdered in their lifetime. When I walk alone at night (which is freaking never if I can help it) I'm worrying about being read as trans and killed. I'm worried about being read as a woman by a rapist and murdered when they see my genitals. When I go on a date, I always tell the person I'm dating beforehand that I'm transgender, because I don't want him to flip out and hurt me. This surgery would greatly improving my chances to be one of the 11 trans women who lives.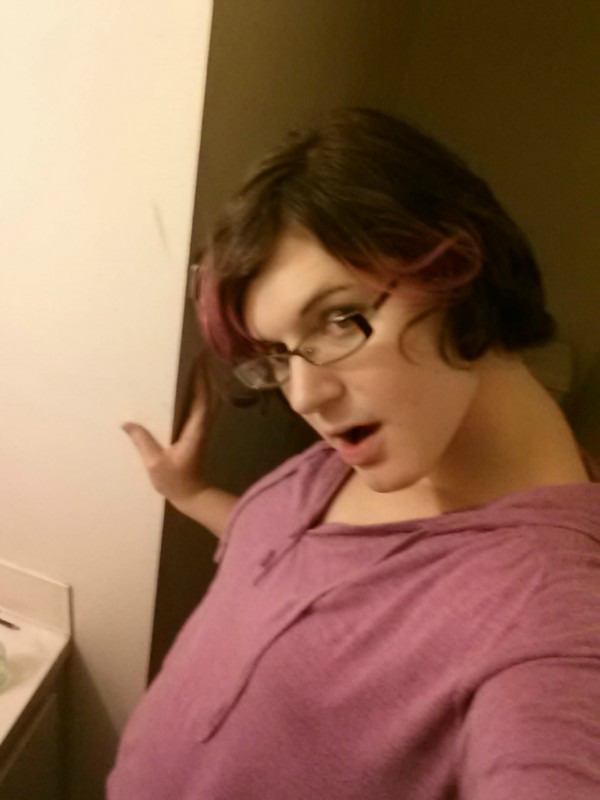 What do you need $6000 for?!
$6000 is my estimate for how much vaginoplasty is going to cost me. I have health insurance from my work that covers 80% of the operation after $1,250 deductible. I've already put down $500 with Dr. Marcy Bowers, who is VERY respected in her field for doing incredible work and producing vaginas for trans women that are every bit as sensate, functional, and pleasing to the eye as any woman born with one. I won't get into the details of how this is done because I'm squeamish, but there's about a six week recovery period afterwards. I have wonderful people in the San Francisco people who are willing to put up with me while I get better, so I'm good on that front. The money I receive from this crowdfund will go toward the money I'll have to pay Dr. Bowers as well as travel expenses from Portland to Los Angeles (I'll be driving) and the various expenses for supplies and such I'll need for recovery.
What do I get?
Besides the knowledge that you literally made my life? Check out the rewards above!
So, that's it. I really hope this fund goes successfully. My date with Dr. Bowers is Summer 2014, and I need to have the money by then, otherwise I have to cancel, possibly forfeiting my $500 deposit...
But that's not going to happen, because this is going to get funded! I know you'll help me, internet! Won't you?