Logan's Lyme Disease Battle
$11,823
of $11,548 goal
Raised by
89
people in 32 months
Hi, my name is Anita Nikora and I've set up this campaign to raise funds to get treatment for my 13 year old son Logan.  He contracted Lyme Disease whilst on a holiday in December 2014.  He's been sick for 18 months now and  having treatment for the past 9 months. It took 10 months to get a diagnosis, which was valuable treating time lost, hence he is now considered to be a chronic Lyme sufferer. 
Some of his symptoms are brain "fevers", extreme weakness and fatigue, severe insomnia, difficulty putting sentences together, anxiety, depression, joint pain at times, nausea, diarrhea, sometimes difficulty walking straight, sensitivity to light and more.
 The treatment he's had access to in Australia has helped a little bit, and it has already cost in excess of $12,000.  But all this treatment still hasn't gotten him his life back i.e. being able to go to school, learn any school work, play his trumpet, play basketball, go out with friends and family etc. Logan explains his symptoms and everything he's lost since he got sick in the video attached.  I had to write out what he wanted to say as he can't think and process very well due to the Lyme bacteria affecting his brain.  This is a photo of Logan when he won age champion at school, he was such a great athlete. This is also the smile we miss seeing.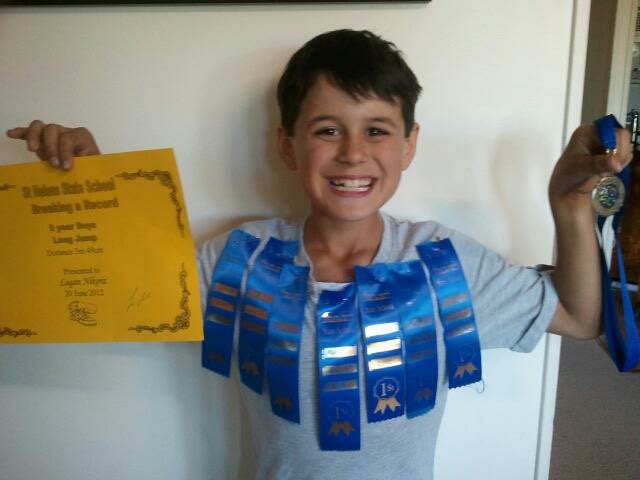 He really needs to get to a facility in America for intense and specialised treatment so that he can start living again.  With the treatment protocols, expertise and experience with Lyme disease in the States, Logan will get better quickly. It is breaking my heart to see my child who was once full of life, energy and humour, now live a daily life where he literally just wants his life to end.
The money raised will go to getting myself and Logan to The States and back, 6-8 weeks of treatment, our basic living expenses whilst there and any medication they send us home with.  The facility we want to go to is called Sierra Integrative Medical Centre and they will look after every aspect of Logan's health including physical rehabilitation to regain his muscle strength and co-ordination. I have had excellent feedback about this facility both from a friend in America and a fellow Lyme sufferer who went there and her life is now back to normal and she hasn't regressed.
We are hoping that everyone that sees our campaign can donate and then share this with everyone they know. We will be incredibly grateful for any assistance given to us to reach the goal of getting Logan well and happy again, living and loving life - as a kid should - with his family/whanau and friends.
When we are well on our way to reaching our goal and we get to go to the treatment centre, I will be keeping everyone updated regularly each step of our journey.  Logan and I thank you in advance for all your efforts on our behalf.
+ Read More