Feral Cat Colony/TNR/Michigan
$2,820
of $5,000 goal
Raised by
75
people in 71 months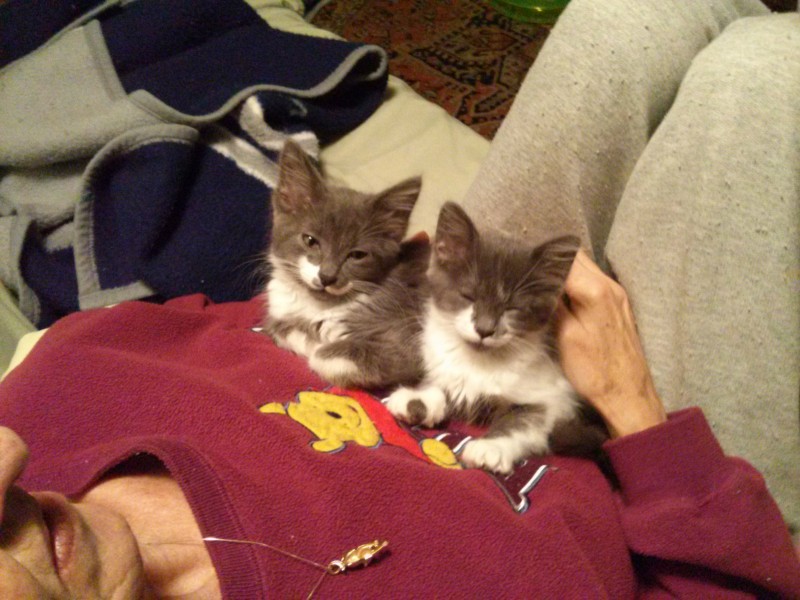 Being an animal lover my whole life, if comes as no surprise to me that animals in need tend to migrate in my direction. I joke all the time that there is the proverbial "X" on my house. In the winter of 2011 my first two feral cats, Molly and Maggie found access to the crawl space under my house via a broken vent window. Having always had domesticated cats and kittens in my life, feral cats were a new experience for me. I watched these two lovely cats as they navigated their way around my home and my neighbors home and noticed that both had kittens with them. Thus began a process of rescuing homeless and feral cats and kittens, getting them spayed and neutered and then beginning the process of determining which ones are capable of being socialized so they can be adopted out to good homes and re-releasing the ones that are unable to be socialized so they can live happy lives free of having to reproduce which, for female cats, creates a very short life due to the stress and strain of multiple pregancies.

Of course I started feeding them and not understanding what a feral cat was I struggled to try to catch some of the kittens and not having yet been trained in TNR from our local TNR facility it was a futile attempt. In attempting to catch them I came across some of my neighbors who are to say the least "cat haters" and I was told that they already trapped or picked up some of the kittens and turned them over to a shelter that had a 92% kill rate. (My daughter worked there for a short time until she couldn't take the abuse at the shelter anymore and came home in tears after quitting). I was horrified that these lovely creatures were not only homeless, unwanted, unloved and uncared for but that I was told to my face that they would be killed if they had anything to do with it. I set in motion a plan to save these lovely cats. One of Maggies kittens "Jenny" survived and made her home with Molly and Maggie.

The following spring of 2012, after a lot of research, I got started with the local TNR program. I was able to trap Jenny and she was the first of many that was spayed and released. Since then I have spayed and neutered 40 cats, and have 3 more that need to be spay and nuetered, then put up for adoption.
I am a young senior who took a job just to cover the expenses and have found that even at that, I am in need of help to give these lovely creatures the care they need.

Hence my page on GoFundMe:

I am asking for help to take care of these lovely animals and provide them with the best care possible and the ability to find them good homes. The care for these amazing creatures is not cheap, spay/neuter costs $55 per aninal, food to care for them costs $200 a month and others expenses such as vet bills for unseen health issues can run upwards of $500 a shot.

Please help us give the care these loving animals need so we can get them good homes where they can get the love and attention they deserve. Any contribution no matter how small will go a long way.

Sincerely,
Patricia Brown and her Furry Feral Friends

Please note, your donation and support of my TNR Colony
is not tax deductible and all money raised will be used solely for the purpose of caring for this Feral Cat Colony.

Thank you for supporting me and helping me make a
difference.









+ Read More
Hi. I have tons of kitty food coupons I can clip and mail to you
+ Read More
Hi Patricia, did you get my question about the Rhinestones. I left the message last night. If you lost it let me know so I can buy some and send some for the kitties! Linda
+ Read More