Lipstick Car Makeover!
$2,581
of $3,900 goal
Raised by
31
people in 37 months
The Lipstick Car is getting a beauty makeover and needs your help!What's going to be changed?
Included in this transformation is a brand new GIANT tube of lipstick for the roof that will animate just like a real tube of lipstick! More recycled lipstick tubes and compacts and light up features will be permanently glued to the exterior.  The engine will get a much needed new transmission!
How did this all start?
When I showed my paintings in a 2009 art show called "Lipstick", I was left with a 6 foot tall tube of lipstick sculpture, which I'd created as a gimmick for the show. My wonderful brother, Scott welded an attachment for the lipstick, so I could put it on the luggage rack. I kissed the car 1000 times and used my own lipstick to write "The Lipstick Car" on the hood and I drove it in its first parade! Since then I've added lipstick tubes, compacts, and mirrors. I drive it everywhere and blow kisses to the world wherever I go.
This car gets around!
With the help of some fantastic art organizations, the Lipstick Car has travelled across the country. You may have seen this art car at: 
Art Tougeau
in Lawrence, Kansas; 
Central Art Car Exhibit
in Omaha, Nebraska; 
Scenic City Art Car Weekend (Art 120)
in Chattanooga, TN; the World's Largest Art Car Parade (
The Orange Show
&
Houston Art Car Parade
) in Houston, TX; 
North Carolina Museum of Art
(Porsche By Design) in Raleigh, NC; the 
Seattle Art Car Blowout
in Seattle, WA.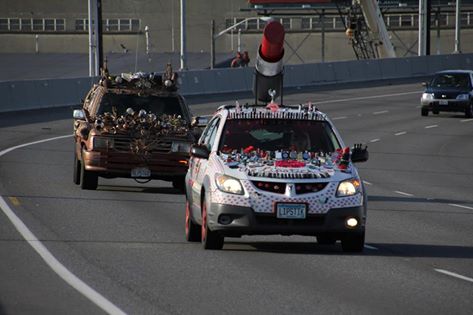 In Minneapolis, The Lipstick Car is a regular at the 
ArtCar Parade
, the
Minnesota State Fair
,
Art-A-Whirl
, the
Art Shanty Projects
' "Art Cars On Ice" (we drive our cars on the frozen lake, for real!) and I've even ridden the big sculpture down the hill at the
Art Sled Rally
!  
Who's doing the work?
Money raised will pay for supplies and labor for the work to be done by talented engineer & dear friend, Willis Bowman of 
Leonardo's Basement
and my most trusted mechanic & loving brother, Scott Paulson.  I'll be adding the lipsticks, compacts and lights myself.
In Minnesota, Art Cars were ranked the #1 Bizarre!
What's the deadline?
We need money now to buy parts to proceed with the project.  The work will be completed over the winter months (in Minnesota that gives us until April.  No, I'm not kidding).  The big unveiling will be held at the 2016 
Maker's Faire
on the Minnesota State Fairgrounds. The car will then make its way around the U.S., to be shown at many art car events.
The Lipstick Car (pic) at Burning Man: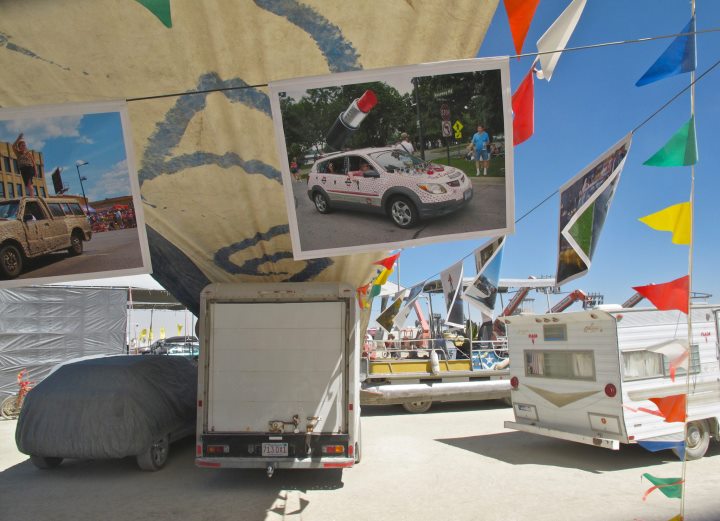 I would love to have your help!
Many of you know, this project has been a dream of mine for quite a while. I've envisioned a motorized version of the giant tube and sharing the new art with everyone I meet. I am so happy to have finally found the team to make it happen.
I am grateful for donations of any amount.  For larger donations, I've included some incentive thank you gifts.
Thank you very much for your consideration and for reading this to the very end!
Kisses!
Patti

Thanks for photos by: Max Haynes, Jerry Jaz, Larry LaBonte, Paul McRae, Larry Miller, Linda Nelson, Elizabeth Paulson, Zay Perez, Maureen Sullivan and Amy Wurdock
+ Read More
Be the first to leave a comment on this campaign.