Tabitha Wells Fund
$1,035
of $5,000 goal
Raised by
17
people in 11 months
Tabitha Wells was critically injured in a severe car accident on Friday, May 6, 2016. It is still unclear what happened, but we believe the other driver ran a stop sign. Tabitha was hit with such force it shot her truck over 200 feet from the point of impact. She was air-lifted to Bronson Hospital in Kalamazoo, where she is struggling to recover in critical condition. She has several broken ribs, a punctured lung, a broken pelvis, and broken bones in her face with brain trauma. She has a tube and a camera in her skull to monitor the pressure in her head.  Doctors say the recovery is going to be long and arduous, and she may not  be able to walk for the next 8-10 months. We are optimistic, but we wont know the extent of the brain damage, if any, until she wakes up. The doctors put her into a medically-induced coma to keep her as comfortable and safe as possible.

     Tabitha and her fiance Brian own a small tree service company. Successful operation requires both of them to be there at all times. Due to this tragedy, the business  and household will struggle. Tabitha is a devoted mother of a young girl (Kyleigh) who is devastated by this tragedy, occuring just days before Mother's Day. Imagine seeing your battered mother in a hospital bed on Mother's Day with tubes all over her body and machines beeping her life status. Now imagine you are 11 years old. They are also raising a 15 yr old girl (Brittany) a 10 yr old boy (Zeke) and a 5 yr old boy (Peyton), who are Tabitha's stepchildren. The family moral support has been amazing and they are grateful to all who have shown their love and concern.

     There will be many bills and costs for this family for the next year. Medically, Tabitha will need extensive recovery extending beyond hospital care. This road will be long and tiresome for Tabitha and her family.     Any donations will be extremely appreciated and definitely needed.

     Thank you for all of your support. God will protect and bless you for your kindness. And I know God is also protecting Tabitha. Known to most as "Tabby" and known to many as mother, sister, daughter, granddaughter, aunt, cousin, and friend. Please help this family in their time of need.
+ Read More
Update 2
Posted by Kelly Lesosky
11 months ago
Share
Great news! Prayers are working! Tabitha is doing much better. She is still at Bronson Hospital awaiting transfer to a rehab facility. She is able to smile, move her arms and legs around and nod and shake her head. She is still very weak and has some confusion. She cannot speak because she is still hooked up to a ventilator. She is still battling some pneumonia and healing from 5 broken ribs, a fractured ankle, several facial fractures, a bilateral pelvic fracture, and 10 bruised areas in her brain. Tabitha is very fortunate to be alive and we have to thank God and all of your prayers (and her strength) for all of that. The road to recovery will still be long and she and her family need all the help they can get. Your continued support is appreciated. We are also doing a t-shirt fundraiser in her honor, with all proceeds being donated to this fund. Information can be obtained at notoriouskg18@gmail.com or cindymills1026@yahoo.com. Thank you.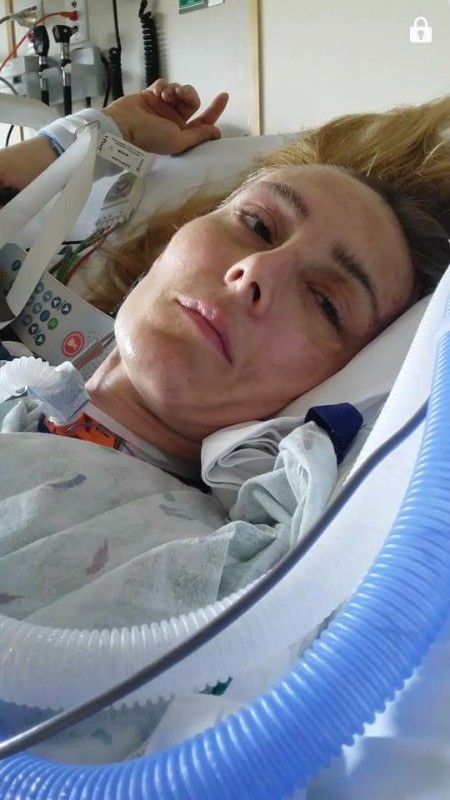 + Read More
Update 1
Posted by Kelly Lesosky
11 months ago
Share
Great news! Tabitha is doing so much better! The doctors removed the monitor from her skull and the drainage tube from her chest. She is no longer on the sedative and they are trying to slowly wake her. She has been moving her arms and legs and showing facial expressions. We are waiting to see the extent of her brain damage, if any, and how she can respond. She will be transferred to a rehabilitation facility this week. She is still ventilator-dependent (cannot breathe all on her own due to punctured lung). Tabitha's recovery will be long and arduous. Doctors are estimating she may not be able to walk for 16 weeks due to her fractured pelvis and ankle. The prognosis physically is positive, but we are still unaware of what her mental status will be. Her fiancé Brian is struggling and juggling between sitting at her bedside, trying to keep their business afloat, and raising 4 young children. We appreciate any support. Additional donations can be mailed as well. Please contact me at 269-849-5803 or e-mail for further information. We are very pleased with the outcome of Tabitha's healing, but we still need more help and many prayers! Thank you all and God bless!!
+ Read More
Read a Previous Update