Camp Care More 2019 - Donations With Epic Rewards
$55
of $5,000 goal
Raised by
2
people in 2 months
As a thank you to our generous donors, we are offering exclusive gifts to those who are able to contribute to Camp Care More 2019. See below:
$1000
- Name the first rock climbing route developed at Camp Care More plus a plaque with your name on the rock of donors (scroll down to see images). Only one of these donation levels is available
$250
- A plaque with your name on the rock of donors. Limited spots available! (scroll down to see image)
$100
- Your name Included in the official 2019 Camp Care More Video
$50
- Personalized Thank you video from one of the kids at Camp Care More
$25
- Dedicated Social network shout-out
$10
- A signed card from all the kids at Camp Care More 2019
$5
- One of our Just Care More with wings sticker (not yet released to the public! Scroll down for photos)
What is the problem?
Do you care that there are currently more than 400,000 children in foster care in the United States? Every year 26,000 turn 18 and "age out" of the system.  Here is what happens next: By age 19, 26% will have been incarcerated and 33% will be without a high school diploma or GED. By age 21, only 1% will complete college. 26% will have been homeless. 26% will have attempted suicide. 31% will have been arrested. 71% of the females will have been pregnant. These are the forgotten youth of America.  But there is an opportunity to break this cycle and improve their future.
What is the solution?
Just Care More is a 501(c)(3) Tax-Exempt Organization helping foster youth living in group homes overcome adversity by creating opportunities for them to participate in new experiences so they can find their passions, learn practical skills and build community. All activities are designed to teach the youth life skills and lessons that they will not learn while in the foster care system. With Just Care More's help, kids are able to go on outings such as indoor skydiving, rock climbing, kayaking, hiking, running, surfing, off roading, and more,, enabling them to rise above the statistics that are not in their favor. You can learn more about Just Care More here:
https://www.justcaremore.com/
What is the project?
Just Care More purchased 40 acres of raw land in the hills of San Diego county which will be the home of Camp Care More. The camp is unique because the kids will work side by side with Just Care More's founders and team members to build the camp. The goal is to have the kids help develop the vision and participate in building the physical environment so they develop a sense of purpose and belonging. This is one step of them building a community for themselves, something many of them have never experienced before. The opportunity to work side-by-side with Just Care More team members will also afford them the opportunity to learn valuable life skills such as planning, job costing, sourcing material, operating power tools, cooking and how to exercise properly.
Why do we need your help? 
Just Care More purchased 40 acres of raw land in the hills of San Diego county which will be the home of Camp Care More. However, Just Care More needs your help. In 2019 we will be completing Phase I of our infrastructure plan during the camp with the kids which includes:
--Building an outhouse
--Developing an outdoor rock-climbing area using beautiful 80 foot boulders on the land
--Leveling pad sites for tents and assembling year-round sleeping quarters
We need your assistance to purchase materials for the projects listed above, camping supplies, tents, and food. You can help Just Care More carry out their mission by  donating today. Let's show these forgotten youth that there are people out there who 'Just Care More'
Rockclimbing Area Building Project - Before & After - $1000 Donation Name the first route established. With your help, many kids will learn valuable lessons and overcoming fears on these rocks. These rocks will be the birthplace where many children will discover their passion for the outdoors and rock-climbing. 
Outhouse Build Project - Before & After. Supplies still need to be purchased for this project including the materials (such as wood, cinderblocks, power tools to cut the wood, lye, & more). For all foster kids at the camp, this will be their first experience building and using power tools. These skills will prove to be invaluable as they enter adulthood and the workforce. 
Wall of donors ($250 & $1000 donation) - "Donor Rock" is placed right next to the community fire pit. Donors who contribute at least $250 will forever me memorialized at Freedomland with a dedicated plaque. These plaques will be beautiful at night as the bonfires reflect in each one. You can have a permanent place in Camp Care More history with your contribution. 
$5 Donors will receive one of these Just Care More + Wings stickers, which have NOT been released yet to the public! THey look great on cars, windows, computers, helmets, bikes, you name it!
Pictured below are founders Jamie and Sandra with two of the foster youth, Dakota and Tyler, who will be attending Camp Care More 2019. Donate today to help make a positive impact on these kids like them who need it the most.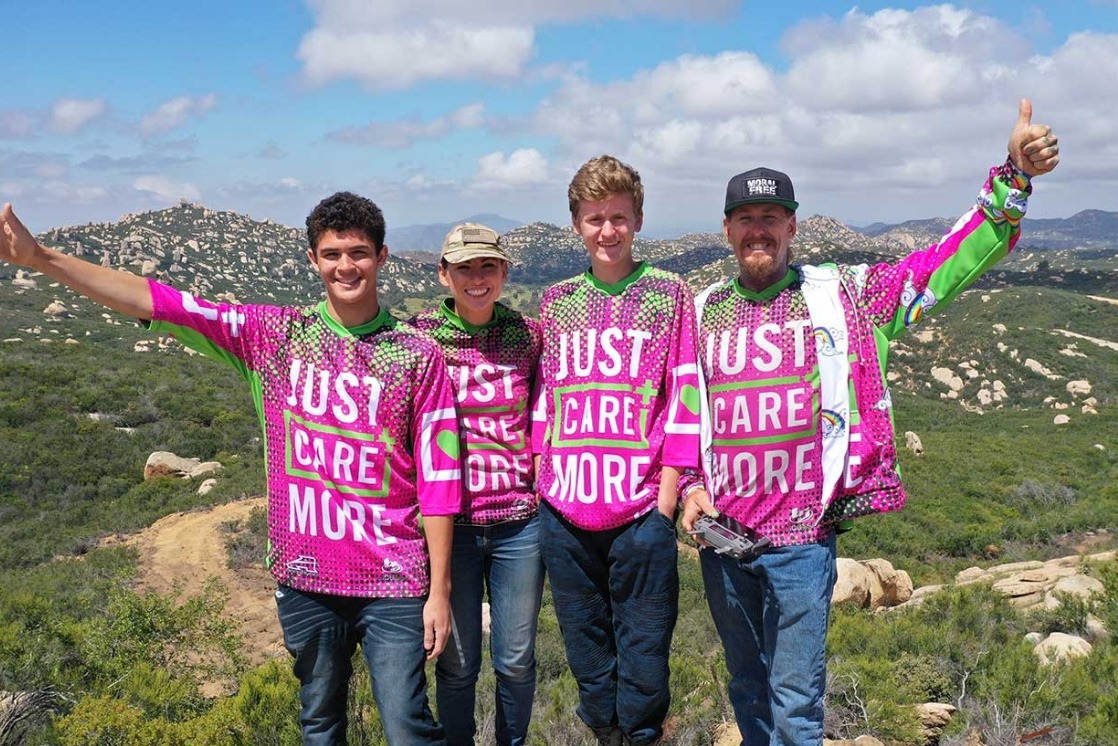 + Read More