Dear Members of Our Global Community:
Ata Adjei is a young boy of 14 years old who lost his father at 5 years old. Instead of attending school, he has been selling ice cream in the market and sleeping on the streets of Nsawam, Ghana. The Youth Advocates Ghana organization helps children like Ata, as well as other children who are young victims of domestic violence, sexual abuse and homelessness, to return to school to get the education they need to pull themselves out of severe poverty, and to become positive, influential members of their communities.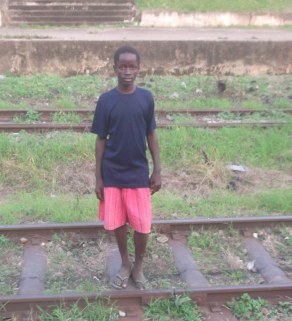 (Photo: Ata Adjei, age 14, in Nsawam, Ghana)*
Located in the Eastern Region of Ghana, Teacher Mantey is a junior high school near a poor village where child labor is a common practice. Many children there drop out of school to help their parents work and increase their family income. Most of the students who attend school at Teacher Mantey are without any books or materials to help them learn, and they do not have any of the skills that they need to better their conditions. Their old classroom block is a dilapidated structure that has become a death trap for it's pupils and teachers, and it has not seen any major renovations since it was put up by the community over 40 years ago. The roof is irreparable, and the building structure, in general, is unstable, unsafe and not suitable for effective teaching, but previous attempts to hold classes outside left the children and teachers physically unable to bear the harsh exposure to heat, the sun's rays and other elements in their environment. Your donations to the Youth Advocates Ghana will help these children gain improved access to the resources and education that they need to develop their abilities, and to transform their communities as time goes on. To learn more about Teacher Mantey, please visit
http://educateonechild.wordpress.com/2013/08/08/teacher-mantey-school-faces-imminent-closure-death-trap/
.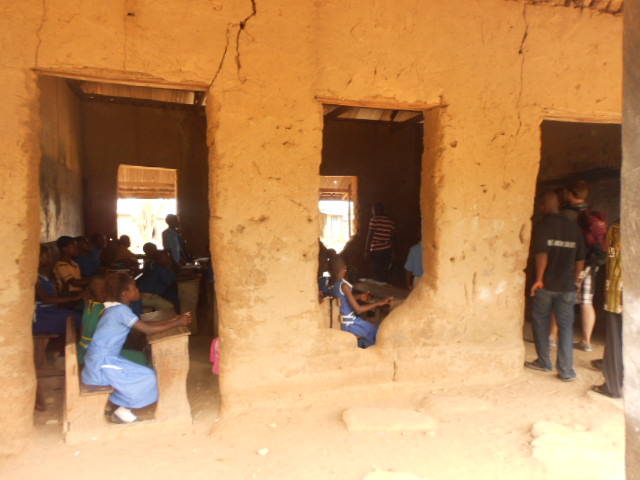 (Photo: Teacher Mantey Junior High, Eastern Ghana Region)*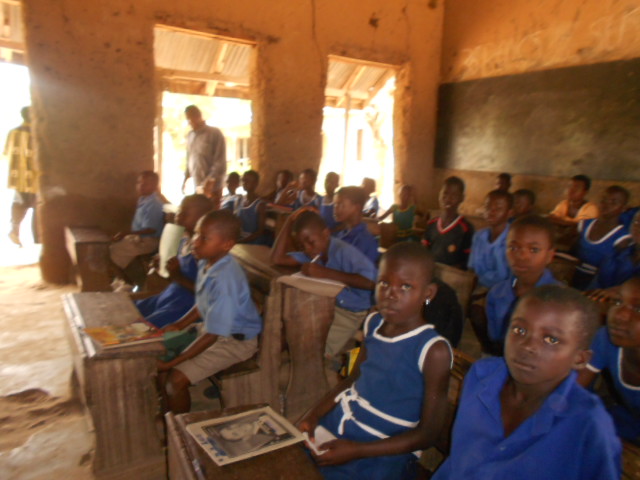 (Photo: School classroom inside Teacher Mantey, Eastern Ghana Region)*
With as little as the cost of your lunch today, you could sponsor one of these children who cannot afford to purchase textbooks, uniforms and other educational supplies. Your donation of $25 could buy a child's school supplies, or teaching supplies that they need for proper instruction. With $100, you could help pay for materials to build a safer school for these kids. These kids needs our support, but most of all, they need a better education, and they need to attend a school that keeps them safe, so any donation from you of any amount, either big or small, will help make a difference in the progress and change of this community. As a YAG sponsor, you will receive updates and be informed by the Youth Advocates Ghana's staff about the organization's progress.
If you have any questions about what our organization is doing to revive hope in Ghana, or if you would like the specific names and information of children who need sponsorship, please click
here
, or e-mail your request to
educateonechildghana@yahoo.com
. We are currently working to document the individual stories of these children's lives to share with you, so please stay tuned to our blog for upcoming posts:
http://educateonechild.wordpress.com/2013/08/06/38/.
Also, please send us an invitation through these social networks:
Click
HERE
to like us on Facebook!! (
https://www.facebook.com/youthadvocatesghana
)
Click
HERE
to join our LinkedIn group!!
http://www.linkedin.com/groups/YOUTH-ADVOCATES-GHANAYAG-3886837
On behalf of all of the members, partners and children of the YAG, I thank you all for supporting our cause to improve access to resources and better education for these children in Ghana. I look forward to updating you all soon on our progress.
Sincerely,
Joyelle Johnson
Intl. Director (USA)- YAG's Girls' Education Program
http://www.linkedin.com/in/joyellejohnson/
~In honor and loving memory of
Chelsey Sergeant
- my dear friend and passionate advocate of children. She will always be remembered running along Ghanaian beaches with those children she loved so dearly.