Justice for Braveheart- Who slit my throat to make me quiet?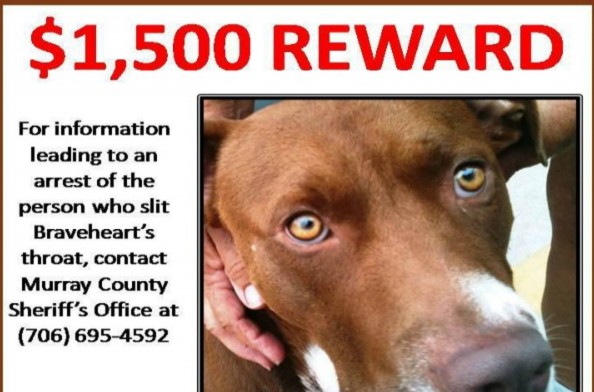 My name is Braveheart and someone slit my throat. I was turned into animal control. Animal Rescue League of Northwest Georgia (501c3) found out about me on Facebook and took me to the Whatley Kinney Animal Clinic. Before Whatley Kinney did my surgery I had walked around with my NECK SLIT OPEN for 48 HOURS. I have now had surgery and things are looking better for me. My wound is still very new but I have a loving group of people taking care of me and I feel a lot better! BUT we still haven't found who did this to me. ARL has put up a reward of $1500 to catch my attacker. My foster mommy thinks that everyone comes with a price. She thinks that if we can raise my reward money to $5000 someone may finally come forward with information leading to the arrest of the horrible person that cut me. So I need everyones help. Please help us catch the person who did this. Please visit my facebook page:  Beware my pictures are pretty graphic
 :(       www.facebook.com/JusticeForBraveheart    
THANK YOU FOR HELPING ME!
What is GoFundMe?

Fundraising made easy >>
CONTACT
LINK
POSTER
REPORT
Leslie Webster
25 months ago
Monika - I commend you for what you are doing to help animals like Braveheart. I wish more people had half the heart you do. I hope you find the sorry excuse for a human being that did this to such an innocent animal.
Let's find who did this and make sure they are punished!
Susan Hobbs
26 months ago
Prayers for Braveheart's full recovery, and for all innocent dogs who are victims of senseless, brutal acts of violence. We all need to stand strong, and send a loud and clear message on their behalf.