Kamarion (ka-mar-e-on) a/k/a Kmoney is a darling 6 year old boy who is in need of a handicap van for transportation in his wheelchair.  He was born with a rare genetic muscle disorder X-Linked Myotubular Myopathy (XLMTM); which causes weak skeletal & respiratory muscles. 
Kmoney had to have a trach and gtube at 39 days old and at 8 1/2 months old was put on a ventilator due to respiratory insufficency.  He was on the vent for 22 months, gained enough strength to breath on his own, and has been off the vent since Oct 15, 2010. We have been told by the Doctors that when he goes through his teenage growth spurt, his mucsles may not be able to keep up with the growth and there is a chance he will end up losing the strength we have worked so hard to build; he could lose the ability to sit up on his own and end up needing the vent again.  We pray this does not happen and continue to push on with therapy!
50% of the children born with XLMTM do not live to their 1st birthday, but we made it to 6!  Kmoney is in full day kindergarten, weighs in at 52 lbs, is over 46" tall and is quickly getting to big for a car seat and will need to be transported in his wheelchair!  He does not stand or walk on his own, but uses a Kidwalk walker, trike, wheelchair, and his Mcqueen car for mobility!  He will soon be upgraded to a power chair which will require that we have a handicap van to transport him.  They are quite expensive and his family is not able to afford one on their own, so they are reaching out to the community for help. Any donation, no matter the size is greatly appreciated!!!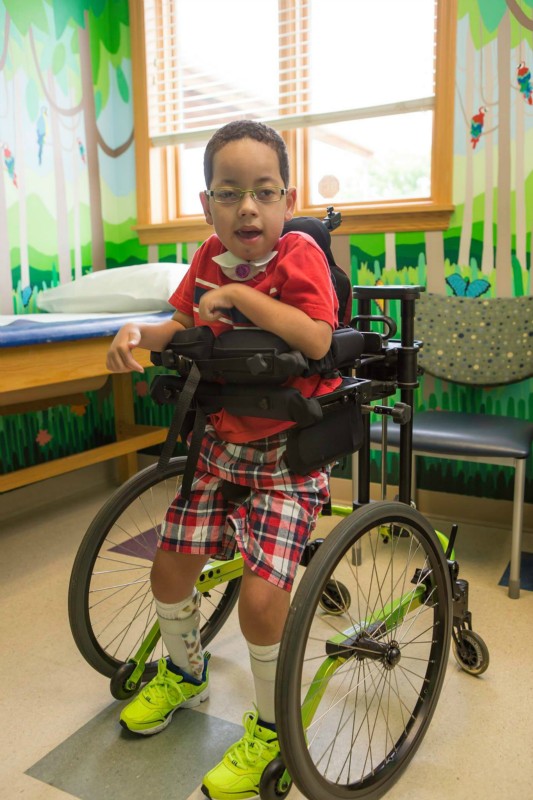 Please share our story with your friends!  If 1500 people gave just $20.00 each a handicap van could become a reality for us!!!  We do not know what the future holds, but cherish every moment with our cutest boy ever!  For more of our story visit our facebook page
www.facebook.com/wheelsforkmoney
Please give us a "like" on our page our goal is 1,000 likes!! Thank you so much!!!