Be the first to like this update
Inquiring minds want to know! The little schnauzer that we know of as Franklin, and is referred to as Josh at the rescue center, is doing great! He had to have his right leg amputated, though it doesn't slow him down a bit! He bounds around and will leap right up into my arms. He's a ham.
He's still looking for a forever home and still living with the wonderful folks over at the Pawza until we can find a family who will take him into their hearts!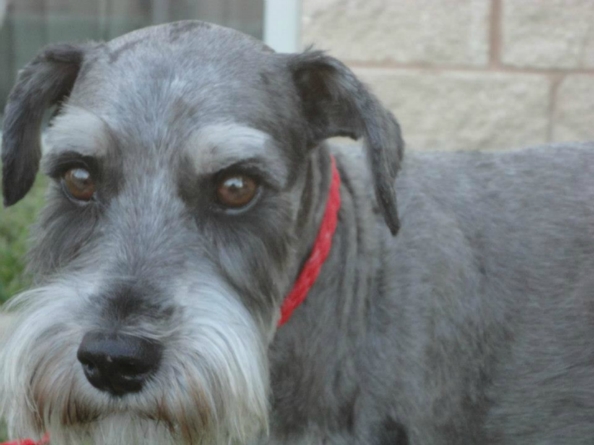 Driving from Shreveport to Houston, Sunday July 15th, David and I witness a hit and run where a little Schnauzer collided with a Cadillac and didn't win. There were a number of witness, standing nearby, and no one did anything - they just left the little guy on the shoulder of Hwy 59 near Corrigan, TX, not able to walk, and bleeding.
I scooped him up and David loaded us back up in the truck. We googled a nearby vet that we rushed to in Livingston, driving as fast as was reasonable. The poor little guy was crying but being very gentle and well behaved. He has a road rash gash down to his bone on his back leg and though he could move the back legs it was obviously very painful.
Once we got to the vet we quickly assessed our options and decided that barring something catastrophic we were going to stabilize him and rush him down to
The Pawza
where we board our dogs. The owner of the kennel, Anne, does dog rescue and spent many years in the emergency vet field.
We decided to name the little guy Franklin. A nice strong name. So far he's still having difficulties putting weight on his back legs, despite having clear X-Rays. We've been putting the word out on the rescue network for his owners. He's been groomed, well taken care of, and obviously loved. Someone is missing this guy.
Fostering Franklin, and his likely future medical coverage, requires donations. Please consider helping us help out this little guy.