NOTICE : If you have a large amount to donate, upwards of £200 please email James at jlc220@gmail.com prior to making your donation. Thank you.
Welcome to the official gofundme page for Team George. If you are donating for a specific fund raiser/event please add the reference,
which you will find below, in your donation comments to show your appreciation for the efforts involved. If you are just touched by George's condition and feeling generous then just hit donate now!!
We have amazingly reached our initial goal of £15,000 in just 3 months, due to the support and dedication of so many. However this is potentially just the tip of the iceberg in terms of medical costs should the US consultants feel they can assist George in his quest for answers, so please do continue to support Team George as we strive for answers to his condition.
Imagine a world where taking a bath results in horrific pain, where you have no taste as you are fed through a tube directly to your heart and where you spend most of your waking hours nervous that you will gain a terrifying infection that could result in yet another prolonged hospital stay.
Imagine for one second that you were 4 year old George Johnson, where this is a daily reality.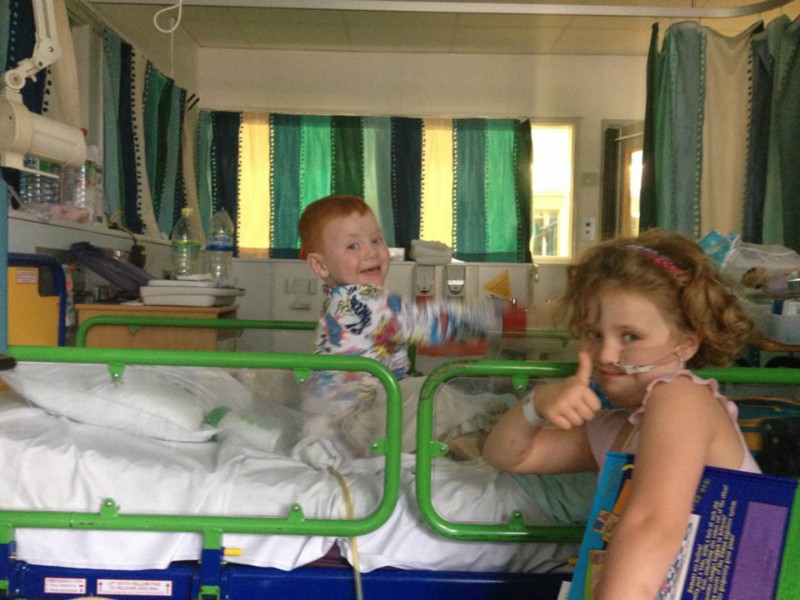 About George
George Bertie Johnson is 4 year old super star who has a very rare motility condition. This means that he can't eat or drink and is currently fed directly through his heart. Even though George suffers from constant pain every day, he is always smiling. Team George has been created so that
YOU
can be a part of the team which is fighting to get George better. George has spent the majority of his life in hospital where specialists at GOSH have been working tirelessly to get him better. Despite this the GOSH team have made little progress and so George's next line of hope lies with a team of consultants in America. Which is why we need to raise more cash!
Click
here
to watch the ITV News report on George, first shown on 18/11/13.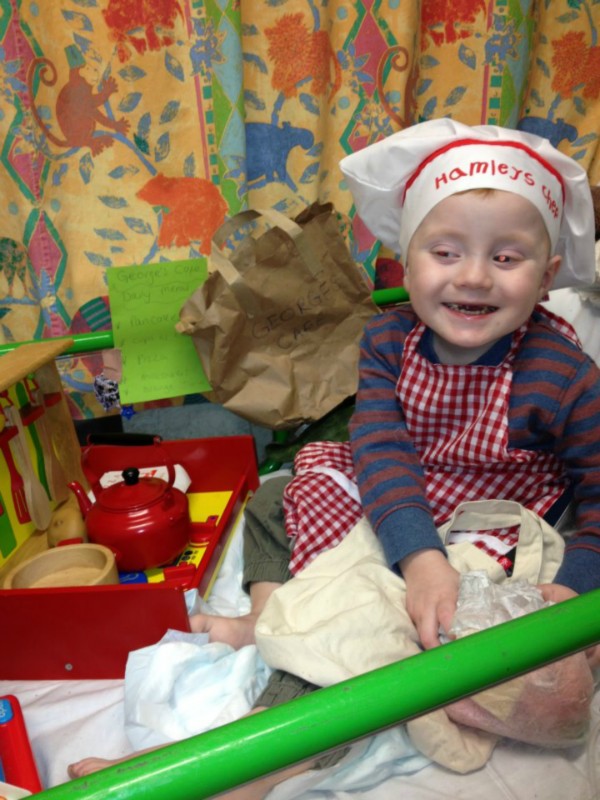 Team George
This charity has been set up with an aim to help further George's diagnosis and support his treatment with the ultimate goal of getting George better! We also want to raise awareness, information and support for other children with motility conditions like George. For further information, please view the
website
and
facebook
page and please spread the word about TEAM GEORGE!

Future Fund Raising Events
Do you have a fund raising idea for Team George, please let us know and we will feature you on this page.
9th February - Stadium of Light Charity Football match & Gala Dinner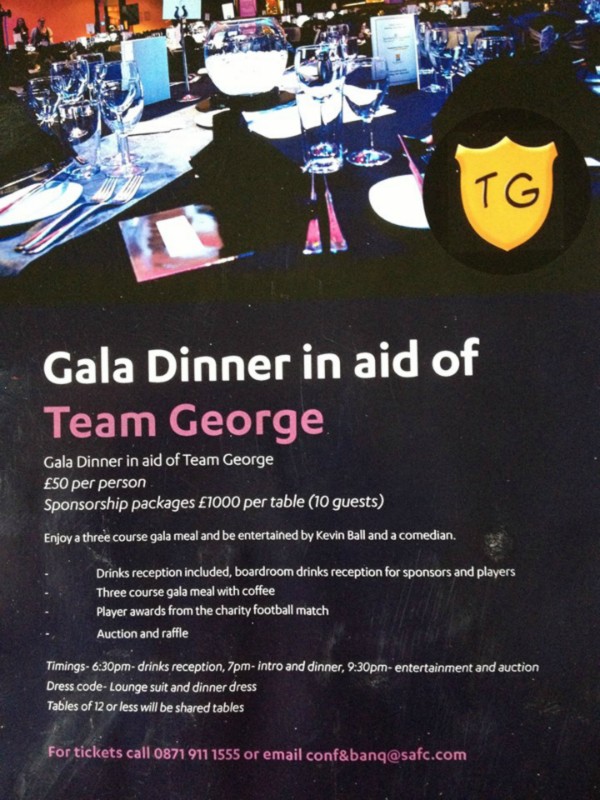 23rd March - Liverpool Half Marathon
Multiple runners for Team George
Claire McGlynn
Emma & Georgia Moss
Phil Burton & Leanne Male - Donation Ref - Phil&Leanne
"On the 23
rd
March 2014, Leanne and I will be running Liverpool Half Marathon for Team George.
'We decided at the end of last year that we wanted to complete a half marathon in 2014 but we didn't know who to run it for. We wanted to choose a cause that inspired us.
Late last year, we came across Team George at the Charity Event in the Farmers Arms. Leanne and I hadn't heard about this little boy before and was taken aback by the support and efforts that went into that evening.
We decided we wanted to know more about George and what he is going through and after reading about his life so far we knew that we wanted to run for Team George. Let's be honest, a half marathon is a walk in the park compared to what that young lad is fighting. He is a credit to all his family and friends and we know for sure that he will inspire us complete the 13.1 mile course.
We want to raise as much as we possibly can for Team George to get him closer to his Trip to America and we hope that you can help us do that by sponsoring us to complete the 2014 Liverpool Half Marathon."
Phil & Leanne
Recent EventsMatty Bowman - YNWA Tattoo - 27/01/14
Die hard Evertonian Matty had 'You'll never walk alone' etched onto his back on his birthday all for George!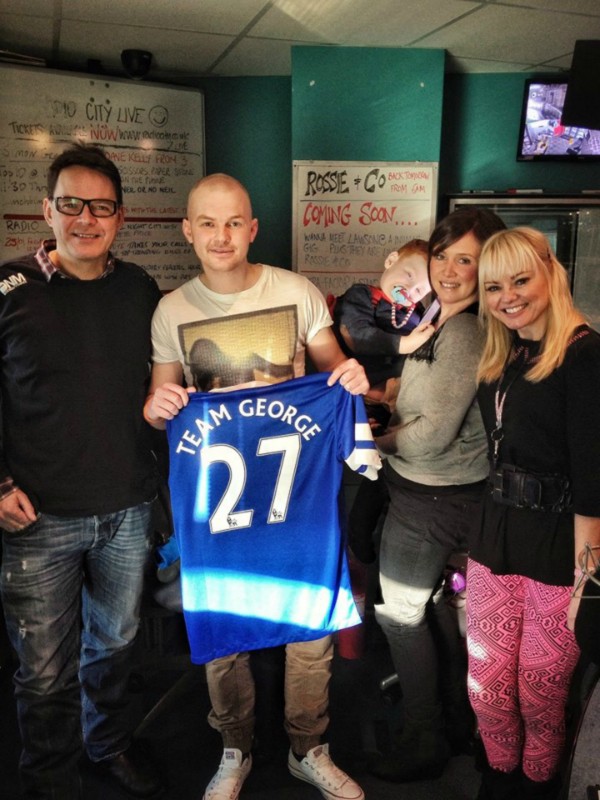 James, Suzie & Jenson Cooper - Dubai 10km - 24/01/14
This family who have been touched by George's condition ran the 10km race in some pretty unusual attire!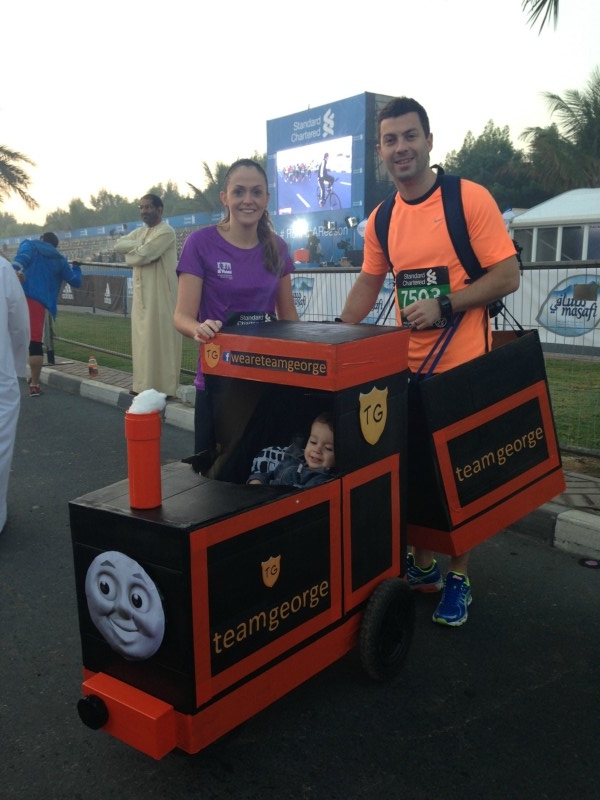 George is mascot Old Trafford - 22/01/14
Once again George proves to the be the Black Cats lucky mascot as they claim their spot at Wembley!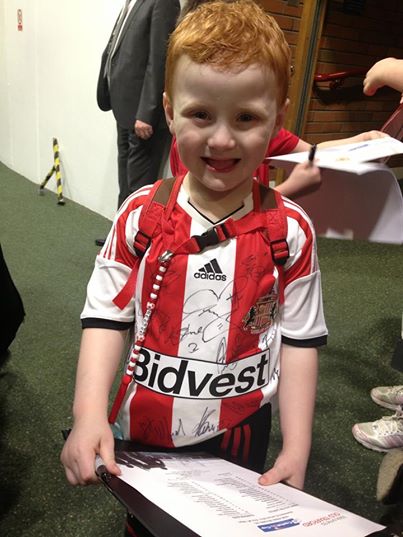 Greenleas JFC - Charity Football Match - 28/12/13

George and the boys showing off their skills on a cold winters morning.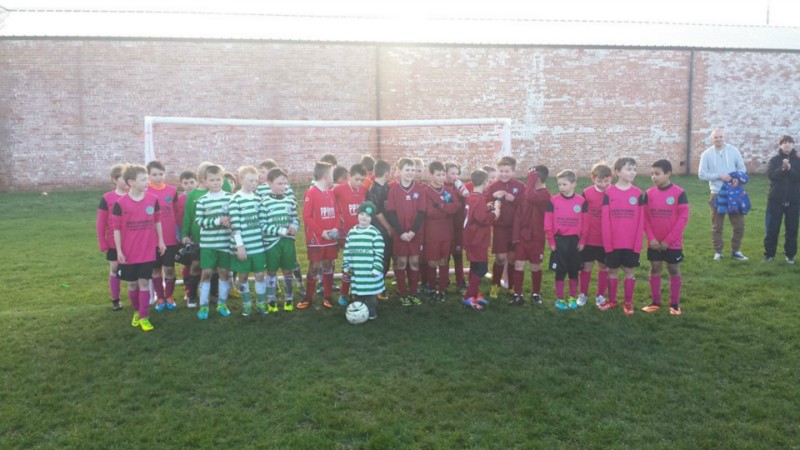 George is Mascot at Goodison Park - 26/12/13
An amazing day with George being half blue & half red and white!