medical bills, and living expenses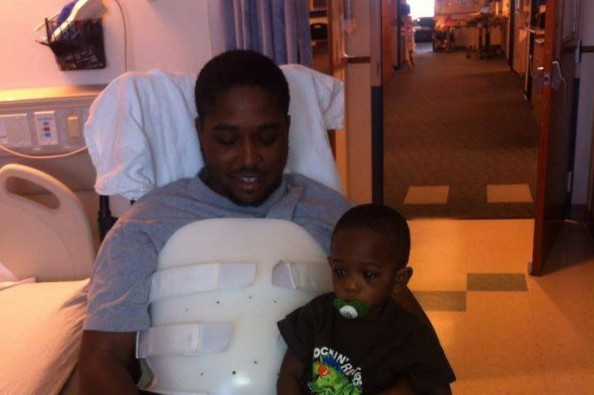 We're still asking for donations. Thank you!
My brother Lamonta Green was involved in a car accident on February 7th.He was sitting at the stoplight getting ready to turn into his apartment complex. He had just got off working his 3rd shift job as a truck driver.The guy that hit him said he was trying to commit suicide so he got into his car, closed his eyes and hit the gas. He ran into the back of my brother car, crushing it causing my brother to be put in the hospital in critical condition. The doctors said he had a brain injury to his right front side of his brain, a broken shoulder and a broken spine. Even after surgery, the doctors said he would be paralyzed. He's still in the hospital going thru extensive rehab. This has changed his life, and his family's life forever. Now he may never be able to drive trucks again or do many things independently that he was used to doing. I have faith and I know God will continue to bless him and let him be able to walk again. Even thru all of this his main concern is not being able to take care of his one year old son, 7 year old step son and family. He has to move out of the apartment he lived in because it's not suitable for all the accommodations we have to make now that he'll be in a wheelchair. As you may have guessed, his medical bills and living expenses are going to be very expensive. We are asking for any help possible to help take care of everything and make sure he comes home with no worries but to continue rehab,get better and walk again. Thank you so much!
What is GoFundMe?

Fundraising made easy >>
CONTACT
LINK
POSTER
REPORT
Anthony Leuenberger
11 months ago
Justin Butts
11 months ago
Prayers to you and your family during your recovery and journey forward from this incident.
Mark Glanemann
11 months ago
Kirsten Grotemat
11 months ago
In a day of skepticism, I give because I would only hope that if situations were reversed, I too would have people look beyond the faithlessness of society and help because it's the right thing to do. Godspeed...
Shamyra Babbitt
11 months ago
Prayers go out to monta and his family!!! May The Lord provide you with everything you need!!! God bless!!
Jon Gonzalez
11 months ago
Get well soon
Carl Thomas
11 months ago
Keep ya head up bro and much love to you and ya family!!!!