Be a Superhero for Damian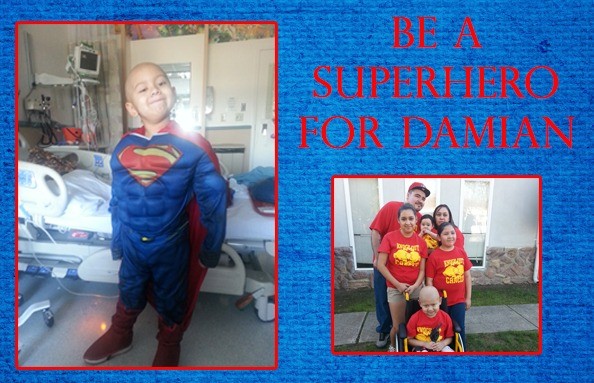 Meet funny, spunky six-year-old boy, Damian. He loves school and playing outside. Damian has a 9-month-old little brother, and two older sisters that he loves dearly. Although Damian is surrounded by family who love him, he unfortunately, is suffering from cancer.

Damian's journey began the summer of 2013. Damian started complaining of headaches and was having frequent falls. After a couple of visits with his doctor he was referred to an ophthalmologist. During the vision exam the doctor noticed that he had pressure behind his eyes and sent him to the ER. Damian was then rushed by ambulance to Oakland Children's Hospital. The neurosurgeon, found two tumors in his head.

Damian was diagnosed on August 27th, 2013 with Medulloblastoma. He soon had brain surgery to remove the large tumor. The smaller tumor was too difficult to remove and would have to be dealt with aggressive chemotherapy and radiation. Damian was scheduled to receive five rounds of chemo then an additional round with a stem cell transplant.

Damian has had an increasingly difficult time with each round of chemo. He's had to undergo various CTs, MRIs, chest x-rays, blood and platelet transfusions, surgeries to place a power line and lumbar punctures. He's had many infections unable to fight brought him close to death. Currently at Oakland Children's hospital Damian received his last chemo on March 31st and his stem cell transplant on April 3rd. Damian has to have another surgery to replace his infected power line. One thing about Damian is no matter what is going on he tries to put a smile in his face and yours.

Each cycle with a hospital stay about 30 days if not more. Damian's mom had to take a personal leave of absence from work to be by his side. She has exhausted all sick, vacation and medical leave. Leaving the family on one income. Having to deal with treatment and the bills piling up at home is overwhelming. The family tries to have weekly visits on days off but sometimes it financially is not an option.

The money raised during this campaign will help minimize the financial hardship to Damian's family.

On behalf of Confidence Plus Insurance Services, I want to personally thank you for your generosity and helping out a family in need in our community.

Sincerely,

Dean Shibler
What is GoFundMe?

Fundraising made easy >>
CONTACT
LINK
POSTER
REPORT
Araceli Cuevas
5 months ago
My prayers go out to you and everyone else who are fighting for the same cause.
Lopez/Hollingsworth/Gideon Family
5 months ago
We support you, you are not alone! We are praying for Damian and the rest of your family. STAY STRONG!
Tammy Dittman
5 months ago
Hello, Damian came to our attention through a co-worker and we were moved by his story to help make this goal happen! smile and the world will smile back at you God Bless all the best in us
Carlos Gomez
5 months ago
Courtesy of Andrea Hernandez of San Jose. And because I lost a dear friend to cancer this year, And because I have a one year old son. Que dios bendiga a Damian.
Michelle Granados
5 months ago
Damian..you are the CUTEST Superhero!!
Margarita Coria
6 months ago
Keep smiling Damian! :)
Fuentes Family loves you mijo!
Laura Jacobs
6 months ago
Praying for you Damian. Stay Strong!!!
Jason Turcott
6 months ago
God Bless You Damian