Strokes and Strikes for Scholarships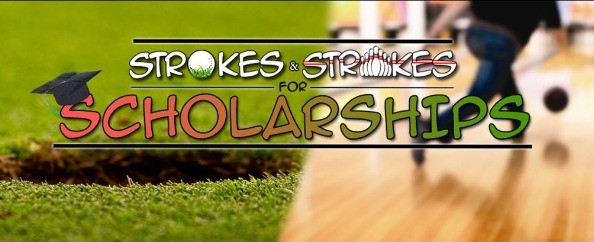 Hey everyone! We just wanted to thank you all for the support.

We really do appreciate the help you have given us and we are looking forward to a successful event. With a cause as important as Angel Wings, it is great to be able to make a large impact.

With that said, time is winding down to donate as our event is only a few days away. If you have already helped, THANKS! If you haven't been able to, we urge you to consider it, as you would be doing a great service.

We hope to see you all at the event if you can make it!

This site is where you will be able to sign up for Strokes and Strikes and donate online in order to benefit the Angel Wings Fund!

It's easy! If you are signing up for the tournament, please enter the amount due ($35) in the designated area. Also, if you have a partner you would prefer to be paired with, please also include that in the designated area.


If you are just looking to donate to the Angel Wings Fund, please enter the desired amount and a personal message, if you would like.

If you have any questions concerning what our event is about, who it is for, or any other questions please refer to our website @ www.strokesandstrikes.com or our FAQ page @  http://www.strokesandstrikes.com/faq/.
What is GoFundMe?

Fundraising made easy >>
CONTACT
LINK
POSTER
REPORT
My partner is my son Silas Cox! (yes we have the same name)
I am playing in the outing and my partner is my dad which his name is Silas as well!
Michele Champine
10 months ago
Matthew Kelty
10 months ago
partner- Anthony Smith
Autumn Duehring
10 months ago
You are doing such a great job Mikey. Danny and I are so proud of you and love you lots! Keep up the great work for a noble cause!
Anne Drozdowicz
10 months ago
Great Job Ethan Lievense!!!! I know you will make your goal, I'm proud of you! xoxo Mom
Randy Fisher
10 months ago
-Registration- Randy Fisher & Patrick Fisher
Robert & Kathleen Champine
10 months ago
Dave & Cathi Weaver
10 months ago
We're proud of you, Jonathan!
Mark and Colleen Champine
10 months ago