*** Pirates are a 501(c)(3) nonprofit, so your donations are tax deductible! ****** Donors who prefer to donate via check can send their gift to Pirates Mutiny Cooperstown Fund, 427 Correas St., Half Moon Bay, CA 94019. We can arrange for anonymous donations for donors with that preference. ***Help send the Pirates to Cooperstown in 2014!
In August of 2014, our boys, the
Half Moon Bay Pirates Mutiny
, will have a once-in-a-lifetime chance to travel to Cooperstown, New York, home of the Baseball Hall of Fame, where they will play in a baseball tournament against teams from all over the country. We need your help to get them there!
While at Cooperstown All-Star Village, the Mutiny will play a minimum of 7 games, visit the Hall of Fame, and bunk in special team dorms. This tournament is solely for 12U teams, so 2014 is the Mutiny's one opportunity for this very special experience.
The Pirates Mutiny are a current 12U travel baseball team who have made a commitment to take their baseball to the next level. The Pirates do not emphasize "winning" above all else; we support both player development and emotional well-being, helping our boys develop both as players and as people.
This band of brothers met playing Little League in Half Moon Bay and have continued to play travel ball for the past several years. They are a diverse and talented group of boys, and their shared love of baseball has not only brought them together as a team, but has also made all of us -- their families -- one big Pirate family.
These boys are working hard (on the field and off) to make this dream come true. They are hosting their own fundraisers and saving money themselves. On behalf of them, we thank you in advance for any help you can provide in sending them on their way. No amount is too small! All donations will go directly to cover the tournament fees and travel costs for this great group of boys.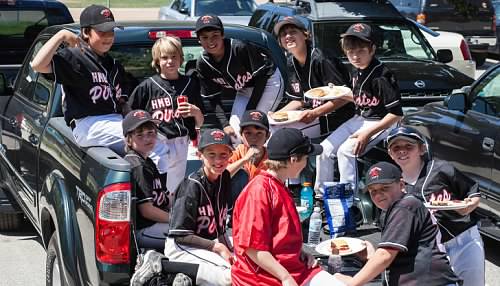 As the Pirates like to say, "All in, all out, all the time!"
Visit us on Shutterfly:
http://halfmoonbaypiratesmutiny.shutterfly.com