If only I could call Robin Hood! Ripped off and now facing financial crisis and multiple health issues at the same time.. Hoping a little help from my friends and the kindness of strangers will help me get back on track. 

In 2007, I was lucky enough to meet the love of my life. We are perfect together, we bring the best out in each other, and have been head over heels in love ever since. The only problem? The Atlantic Ocean, life in general and predatory sources leading to potential bankruptcy. If you are still reading, please don't be scared of the brick wall of text that lies ahead.

When we first decided we wanted to be together and do the long distance relationship thing, he was in University in the UK and I was starting my career as a Office Administrator in Canada. We met online, doing something we mutually enjoyed and got to know each other. We've been seeing each other as much as we can ever since and want to have a future together but things keep getting in the way. I became very ill in 2008 and so did he shortly after. I was treated and I've been mostly healthy the last 4 years, aside from a recent hiccup I'm much healthier than I was, and facing my newest battle with the conviction that atleast it's been caught early. 
My fiance also struggles daily to do most things we all take for granted, like being able to sit outside or cook for himself. It's complicated but he gets very dizzy and frazzled by loud buzzing. saw, sizzling. vacuum type noises; so much that he can't function like his normal amazing self. There's been no true identified cause but he's being treated with physio to help relearn balance, does daily extreme prevention of triggers and has to stick to a Coeliac diet just to keep him from being constantly bedridden. He had to drop out of University and has been trying to recover ever since, thankfully he's had the amazing support of his family but it hurts that I can't be by his side to help him get better. He proposed to me just to make his claim of me all proper, even though it's what we've always known, from the moment we first set eyes on each other.

I have been quite literally working as hard I can for the last 4 years just trying to come back from the debt I incurred while sick so that I can look toward being with my fiance in the UK and starting our lives properly. Last year though, was not so kind to me, I was faced with erratic paychecks, both due to work demand and my own health issues and so I sought a way to get things more on track. After getting advice from a local credit counselling group I applied and was approved for a debt consolidation through a company in Ontario. They requested a collateral payment in order to help with my debts. I thought this was odd so I researched them with the Better business bureau, fraud websites online etc, found nothing bad and even positive testimonials. I even further researched equity requirements for consolidation, and since I do not own a car or home, a cash payment is quite normal. I sent them my payments totaling $1800 and never received the promised help, in fact the opposite. I have a very well written legally presented contract and several bits of correspondence from them, but after I sent my payments they never answered my calls or emails, although they did extract payments from my bank account which I did not approve, resulting in me falling even further behind and have to close my bank account, resulting in compounding issues with my payroll not being deposited, the week before Christmas. The company is now showing as a risk with BBB.org and an investigation is in place, despite the information I found before the fact. Their website and phone number are no longer available, I've reported them to everyone possible and even have a police report for the fraud and blatant theft. Not so ironically enough, I had lost my wallet in the same month, which added even further to my debts, as the money for my payments at the time, were lost with the wallet. All this has caused such a massive roll on effect I am now facing bankruptcy.

One of my creditors, who I'm not naming for the sake of my better nature, when I initially went to them a while back, I got a loan to help clear off the remaining debt I incurred while undergoing treatment. I was asked to provide a collateral list of household goods as means to get the loan from the lenders, the agent told me to inflate this list based on what I would have paid initially or at replacement value. There is also an indication of misc jewelry, which very sadly they say includes my engagement ring. Due to me falling behind, despite the good History I had prior to getting scammed, they are now threatening a bailiff to collect the items on this list, which realistically the costs of which and my debt would not be cleared by the monetary value of my items. Due to this being a secured credit loan, there is apparently nothing that I can do to stop them taking the only things I have, even with bankruptcy. 

I feel frustrated and incredibly embarrassed as there seems to be nothing I can do. I'm honest, I work hard, have a decent job, have a good head on my shoulders and have always done the best that I can. Most importantly I did all my homework, and did all the right things, and I still got ripped off. However, due to the circumstances as they are, and the economy we live with, I am where I am. I truly was just trying to get things back on track to move on with my life and now that I have been a victim of fraud, it truly has worsened my situation to a point that only a miracle would help me come back from.

Being with my fiance properly has always been my top priority, we've already been in a long distance relationship for several years, and this has delayed that goal even more. I want to do the right thing but I also want to be with my fiance, and will do anything I have to make that happen, including soliciting help from others, which I am doing now in my most vulnerable moment.

So please, if you have it in your heart and your pocket, any amount at all, will make a huge difference toward helping me succeed in the future and coming together with the man I love. Like the saying goes, "many hands make light work", and after so long, I have no other choice but to humbly ask for help.

In closing, to those of you that are still reading this, I want to say Thank you. Thank you for taking the time to read my story, it means a lot to even be heard. That being said, if you still can't find it in your heart to help, please don't feel bad, I'm glad I'm getting my story out there and the chance that it might help someone else know to do differently when faced with the same aggressors.

Thank you very much for your time and consideration.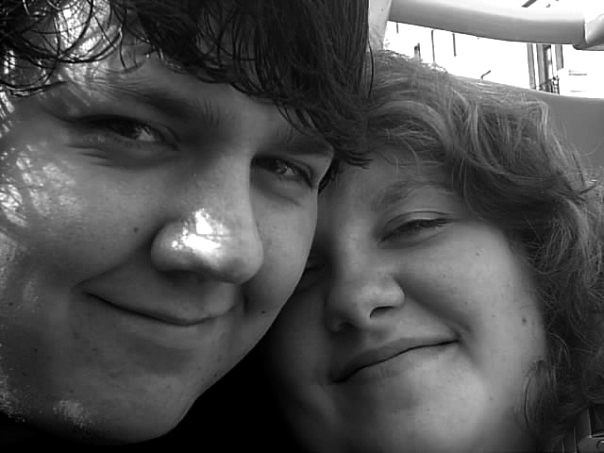 My fiance and I, the first time we met in London in 2007.

Please help me fix things so I can move on with my life and be with the wonderful man that I love. Any amount will truly do wonders toward getting me restarted.


Thank you again.