Letters from Students after a Living Is So Big presentation (CLICK HERE)

Since 2010,
Jesus (father), Iliana (mother) and Christopher (son) have been traveling the United States to reach kids in their schools to promote Life Appreciation.  To have a desire effect towards a positive change in their lives. To date, we have traveled over 80,000 miles and have visited 80+ cities. We have gone to many Cities, High Schools and Universities spreading the message of Life Appreciation via the cause "Living Is So Big."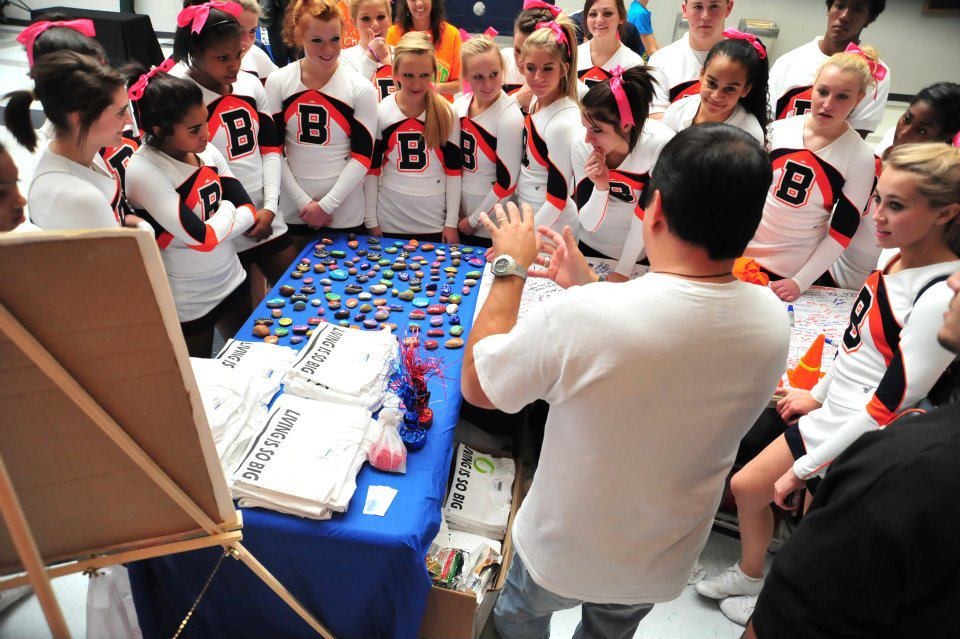 Living Is So Big at Blackman High School. Murfreesboro, TNTo date we have received 300 hand written letters
from students, letting us know the positive impact LISB has made on their lives and how it has changed their lives for the better, after hearing the presentation from the Agudo family in their classroom. 
(Read Letters)
For over four years the Agudo family have been putting their life's savings
into the Living Is So Big cause to help others.  We know it has been worth every penny spent thus far.  We have handed out for free, over 24,000 Living Is So Big Wristbands, 1,800 Living Is So Big Gratitude Packages, 600 Living Is So Big T-shirts and 1300 Living Is So Big stickers. Helping remind those receiving it that Life is truly worth Living.
We are just a regular family paying it forward.Other Ways You Can Help...
Please promote
LivingIsSoBig.

com
 to everyone you see. Talk about us and what we are trying to do with this "Gofundme" on your
facebook
and other social media sites. Some one just may come across it and the impact that could be made on the individual hearing or reading it is priceless.
1. We need your loving support. 2. We need your participation. 3. We need your financial support.
And that's all there is to it.
---
Living Is So Big at Sparta High School. Sparta, NJ
CLICK HERE to see more images of our presentations.
---
Q. How do I learn more about Living Is So Big?
Check us out at 
www.LivingIsSoBig.org
and feel free to connect with us through our social media channels:
Facebook
,
Twitter
,
Instagram
.
Q. Why does Living Is So Big exist today?


On April 10th, 2010 their views on living life were forever changed when seventeen year old Christopher, made the decision that he no longer had any reason to live and tried to end his life. Living Is So Big started as a campaign. Only a "handful" of reasons were simply not enough. Jesus Agudo and Iliana Agudo were going to take whatever steps necessary to change their son's perception on life and wanting him to live life to the fullest. So, a plea for help went out: "Please send us your priceless thought so that we can show him the many reasons to live for." Additionally, "livingissobig.com" was created and 200 Living Is So Big wristbands were ordered and purchased the same night. The family began approaching people on the street via festivals and events, asking them for one thing for which they were grateful in exchange for one wristband. People were touched and wanted to help. They started giving reasons why they were happy and why they appreciated their lives.  
(Read More)