Fresh Creek Primary School Education Fund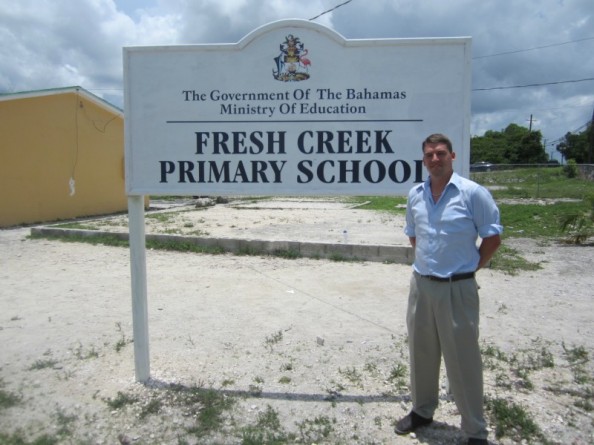 This past May, I had the opportunity to take my teaching talents to a small, underprivileged school on Andros Island, Bahamas. It was one of the most incredible, eye-opening experiences I have ever had. The students I taught had a thirst for knowledge unlike anything I have ever seen before. I only hope that I was able to make an impact on them the short time I was there as they have on me. On the island, the teachers, not the parents, are responsible for the school supplies of every student as well as their classroom as a whole. There is no store to go to when supplies are low. It must be ordered at a largely inflated rate and shipped from another island which could take weeks to obtain. Supplies are strictly monitored and constantly recycled. The lack of resources in the classroom and the larger burden put on the teachers makes this setting an unbearable site. Spending as much time as I have in various classrooms, I am now appalled at the resources that we take for granted on an everyday basis in the schools. No matter how little these students have, they still work harder than anyone I have ever seen. I am hoping you sympathize with this situation and instead of having an extra coffee, or going out for fast-food, please help me out in keeping a promise I made in providing as many extra resources as I can for this school. Please spare what you can; all I am asking for is a $1 but any amount I will be more than grateful for. If you would rather send any spare school supplies to my house, you can do that as well. It can be sent to 2701 E. High St, Urbana Illinois 61802. All money donated will be used to purchase various school and building supplies and shipped to the school. I know that in this tough economy this may be difficult. I know that we all don't have much, but they have even less. Thank you all so very much from the bottom of my heart.

What is GoFundMe?

Fundraising made easy >>
CONTACT
LINK
POSTER
REPORT
Through It All Inc. NFP
22 months ago
Inspired!
Anna Sipes
24 months ago (Offline Donation)
Kaj Holm
24 months ago (Offline Donation)
Help Out Any Way You Can!!!
Anonymous
24 months ago (Offline Donation)
Paige Stoneburner
24 months ago (Offline Donation)
Arts For The Nation
24 months ago (Offline Donation)
Sarah Hamparian
26 months ago
Good Work, Kaj!
Renee Porter
26 months ago
Keep doing what you're doing! Great cause!
Alex Shakerin
26 months ago
Bueller-- Je suis tres fier de toi!!!!!! J'espere que tu reussiras avec ton but!!!!