Medical Mission Trip: Cambodia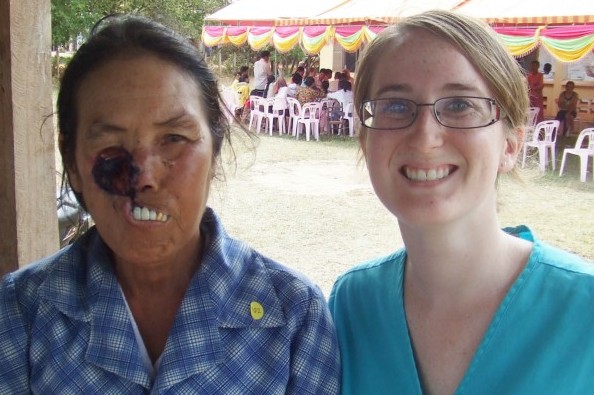 Thank you so much to everyone for the support so far! We raised around $1,500 through t-shirt sales, but I still have a way to go to reach my goal. I am so thankful for all your help thus far! I am humbled and blessed by this experience already.
In May of 2011 I traveled to Cambodia for my very first rotation of pharmacy school. I was in country for 3 weeks and was able to assist in the treatment of over 1,000 Khmer patients. For those that do not know the history of these people, they experienced something similar to the Holocaust in their country in VERY recent history. Between the years of 1975-1979 it is estimated that upwards of 2 MILLION Cambodian people were executed, and the main targets were the most educated people (doctors, teachers, etc.) in the area; at the end of it all there remained only 50 physicians to treat an entirely devastated nation. Since then they have been in a constant state of poverty and rebuild and have relied heavily on medical aid from other countries.

I now have the opportunity to return to Cambodia - this time to the archipelago region in the Gulf of Thailand where NO MEDICAL TEAM has ever before been invited to provide medical relief to the locals. From September 7th to September 15th I will accompany a team established by International Medical Relief to provide acute care clinics, dentistry clinics, and educational opportunities to these people who are still hurting from the genocide that occurred in their country only 34 years ago.

PLEASE help me help them by making a donation (no matter how small). I do not believe the donations provided via this website will be tax deductible. If you plan to make a larger donation please contact me, and I can set you up with a way to do so in which you can benefit from the donation as well.




What is GoFundMe?

Fundraising made easy >>
CONTACT
LINK
POSTER
REPORT
Randy Eckhardt
16 months ago
Good luck!