Freespeech - a Father's fight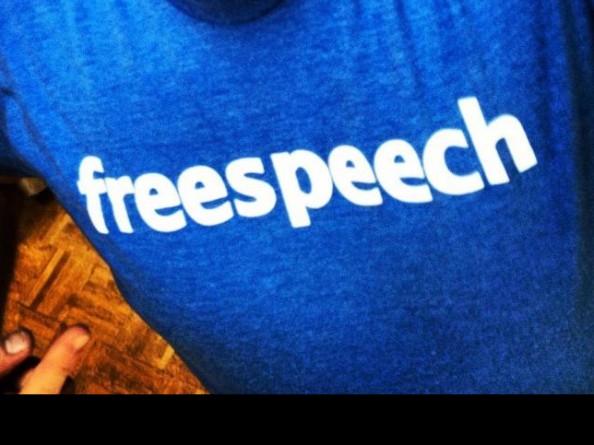 If you donated $30 or more - please send an email to FreeSpeechFIRST@yahoo.com with your mailing address and a T-shirt size! I also have Women's shirts so please specify Men's or Women's shirt!! Things have started to quiet down - but this fight is FAR from over! I am planning an event soon in downtown, Cincinnati where I will host a fundraiser. My son and I desperately need to get a better defense to fight these horrible injustices. I am terribly far from my goal here on gofundme - but continue to be EXTREMELY thankful to everyone who has contributed so far!! All proceeds will go directly toward helping me fight for fair custody of my son AND to appeal this egregious freedom of speech violation handed down on my by the Hamilton County Domestic Relations courts.
You may have seen my story online or seen my face on your local television news channel -  Last month, I was ordered to post a court-written apology to my estranged wife on Facebook - Every DAY for 30 days!  This is a major violation of my first amendment rights, and sets a very dangerous precedent for all of us!
Please support me in my fight to see my son AND to protect our first amendment rights - particularly our freedom of speech! In January - the Hamilton County Courts made a ruling that my general statements of frustration on Facebook were a violation of a restraining order that was easily obtained by my wife during our divorce proceedings.  This ruling could set a VERY scary precedent for all of us!  Your donation will go directly toward the enormous legal fees I have faced and continue to face going forward.  There is an immediate need to fund a strong defense for my case in the first district and quite possibly in the Supreme Court. All of the money collected here will go directly toward this mission. Any overage will go directly into a non-profit that is currently being formed to further movements of support for parent's rights and freedom of speech issues.  Thank you for any donation you can offer, no matter how small.
What is GoFundMe?

Fundraising made easy >>
CONTACT
LINK
POSTER
REPORT
BLUE LEVEL - TSHIRT
Susan Powell
36 months ago
BLUE LEVEL - TSHIRT
Theresa Wirsching
36 months ago
Let me know if there is anything else I can do to support you.
BLUE LEVEL - TSHIRT
Scott McElfresh
36 months ago
GOLD LEVEL
CyclotronMajesty
36 months ago
Melt the Matrix!!!
BLUE LEVEL - TSHIRT
Brandon & Audrey Blakeman
36 months ago
As parents of an 8 month old baby boy, we could not imagine going through what you have had to go through. Keep up the fight.
SILVER LEVEL
Stay positive and never quit. I've got 3 boys my youngest is the same age as yours. Can't imagine what your going through, and freedom of speech violations on top of that. Hopefully people will take notice of your fight and run these clowns out the next election.
SILVER LEVEL
I'm not from the US, but from what I've read, this does set a dangerous precedent everywhere. I hope you win.
BLUE LEVEL - TSHIRT
Steve Bradley
36 months ago
To be continued . . .
Andy and Julie Thomas
36 months ago
Use this wisely. End it soon. Legal battles usually benefit lawyers not litigants
BLUE LEVEL - TSHIRT
Mark, buddy...as long as I've known you you've been an inspiration bro...keep the good fight and let me know how I can help.