Veronica & I give thanks to God & the Henrietta Congregational Methodist Church of Converse, Louisiana for their recent donation of $500 dollars to our project to help support the Casa Bethesda Home for Disabled Children here in Piedras Negras. They also sent more than 30 beautiful handmade quilts for the residents, all made by the women of the congregation. What an honor and delight it was for us to deliver their handiwork and their financial blessing to Pastor Paulino and the residents!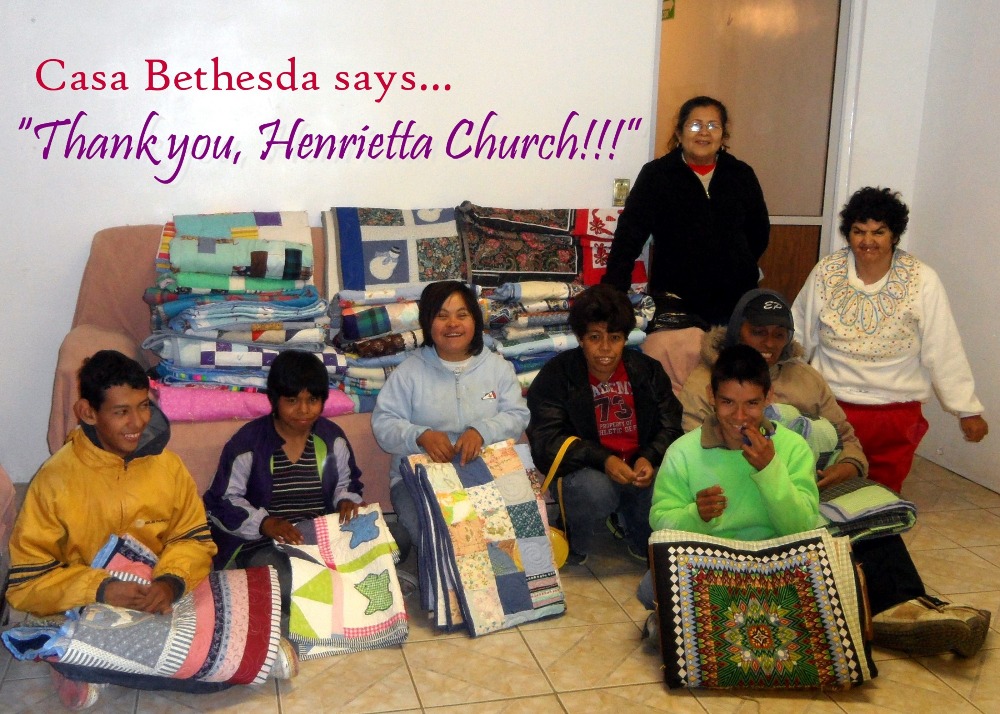 "I tell you the truth, whatever you did for one of the least of these brothers of mine, you did for me." - Matthew 25:40

OUR GOAL:
Raise support to supplement 6 months of basic operating costs (approximately $2,800 per month) which include food, medicines, utilities and salaries for 5 caregivers.

ONLINE DONATIONS:
GoFundMe.com assesses a variable fee for each donation of approximately 5%-7%, after which the entire balance of your gift will go directly to Casa Bethesda.

DIRECT DONATIONS:
If you prefer to send a check, it will be deposited directly into the Casa Bethesda account which we help administrate here in the US. A receipt will be sent to you with a signature confirmation from Pastor Paulino.

Checks should be made out to
Casa Bethesda's Mexican non-profit name:

"Por Amor a Su Nombre, A.C."

Please mail to:
Jeff Harvey
P.O. Box 1125
Eagle Pass, TX 78853-1125

* * * * * * * * *

Located just a few miles across the international bridge at Eagle Pass, Texas on the outskirts of Piedras Negras, Coahuila, Mexico, is a home for a very special family.

In 1995, Pastor Paulino Esquivel and his wife Gilberta had been leading a congregation for more than 24 years, when they received a very specific call from God to open a refuge for disabled, orphaned and abandoned children.

After praying and seeking God's will, Pastor Paulino stepped down from his pastorate to organize "Casa Bethesda."

Nineteen years have passed since that call. Currently there are 24 residents - 14 women and 10 men ranging in ages between 14 and 48. Most were abandoned by their own families, leaving no trace of any kind or any support whatsoever. For this reason there are no friends or family members that come to visit them.

In one bedroom are 6 incapacitated young women with cerebral palsy and Rett's Syndrome. They cannot walk, talk, or feed themselves. There are other children with Down syndrome, severe epilepsy, deaf-mute, and bipolar disorder. Some of the Bethesda residents can move about and play freely. However, all require very special care and are attended to 24/7, 365 days a year by Pastor Paulino, his wife and few modestly paid assistants.

The government offers nothing to subsidize the Bethesda Home. Nor do utility companies offer any discounts. Yet several residents were officially delivered by authorities into the care and custody of Pastor Paulino.

Pastor Paulino has never tried to seek help because he received a promise from God, that He would provide the resources to support them, while their responsibility would be caring for the residents in their greatest areas of need: food, medical care and cleanliness. The pastor gives testimony that God has sustained them for nearly two decades. They depend completely on God to maintain this refuge of peace and security, where all the residents will probably spend the rest of their lives.

Meeting the operating expenses is always a challenge, and there are ongoing maintenance needs and special projects to improve the property and quality of life in the Bethesda Home. As for any need that arises, Pastor Paulino's response is "only God knows how and when."

It's obvious that the Bethesda Home has a great benefactor: God himself; the same God that gave Pastor Paulino and his wife this mission, the same who has been providing resources, and people who help them to move forward with this great project.

We invite you to pray and bless this ministry that beats in the very heart of God and is sustained by the compassion of Jesus Christ.
What is GoFundMe?

Fundraising made easy >>
CONTACT
LINK
POSTER
REPORT