Funeral expense and memorial site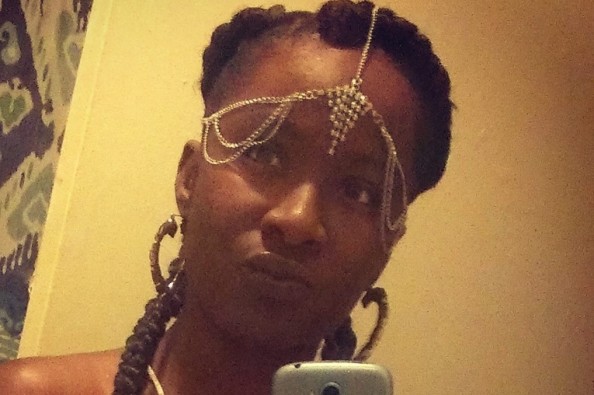 We are 4000 short please if you can help with donations anything would help thanks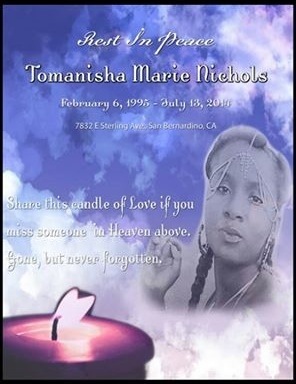 Hello my name is Nicole Denham, my daughter Tomanisha Marie Nichols was recently murdered Saturday July 13th, 2014 while attending a friends party. She was shot and died instantly outside her friends party in San Bernardino. So far the police have not been able to determine the motive behind her death. I hope that justice will be served for her murder. Too many innocent children are dying everyday in the city of San Bernardino especially to gun violence. I hope to bring awareness to the issue and stop the violence. No child should be robbed of their future to a gun or anything else. No parent should have to suffer and go through such a tragedy.My daughter Tomanisha was a loving and caring person, always willing to help out when she can. She was so young, full of life and always smiling. Tragically her life was cut way too short. I loved my daughter so much and will continue to love her. There is no amount of words that can ever explain or express my love for her. I have cried so much, I haven't slept, this doesn't feel real. I just can't believe my baby is gone. I have prayed and asked God why? I have bargained with God and hoped that one day I could wake up and this would have all been a bad dream. This is a mothers worst nightmare to have to bury her own child. No parent should ever have to bury their child.Unfortunately I do not have the money to bury my daughter , as her death was so unexpected and she was so young. This is a very difficult time that I am going through. Since I am so distraught and cannot afford it, my family has stepped up and is currently trying to raise money for my daughters funeral. I am now stepping up and reaching out and asking people to donate whatever they can. I'm not asking for much just whatever you can donate every penny counts and adds up. I just want my daughter to have a proper burial, everyone deserves that. If you can find it in your heart to donate, I thank you in advance and will be eternally grateful.
What is GoFundMe?

Fundraising made easy >>
CONTACT
LINK
POSTER
REPORT
Ayesha Johnson
8 months ago
God has a plan!!!
latifa wright
8 months ago
rest well xoxo
Shalonda Thompson
8 months ago
I love you Nicole. ..
melanie denham
8 months ago
RIP Nikka baby!
Breyanna Taylor
8 months ago
Wish I could have given you more!!
Robbie johnson
8 months ago
Words cant express how much your going to be missed
Lette Boykin
8 months ago
Love. You