ADDIE BLEU'S AFRICAN LIBRARY PROJECT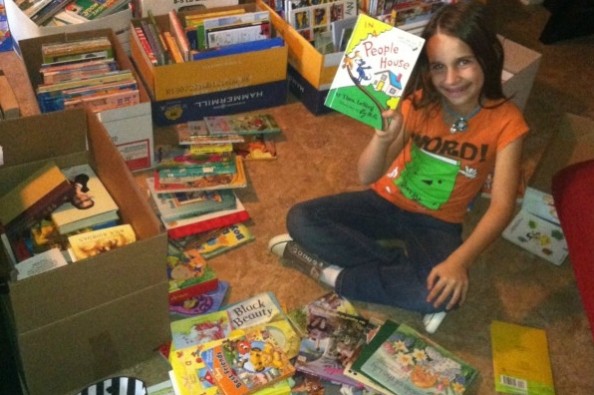 I am in awe of such wonderful generous friends and incredibly kind strangers!! We can't thank everyone enough for the donations so far and help with getting these books to kids in Africa. We are really making some amazing progress! - Addie Bleu's Proud and Grateful Mom :)
Please also like her Facebook page to follow her project... (Addie Bleu's African Project)
I am a 9 year old 3rd grader in Lubbock. Please help me raise enough money to send three separate children's libraries to Africa. I have already collected close to 2000 used kid's books, now I just need your help for shipping $ to get them there. I can't imagine my life without books and these children have none! Books change lives!!
The African Library Project is a top rated non profit. ALL money donated will go towards shipping or purchasing used books for my libraries!! Please like my facebook page-- Addie Bleu's African Library Project.
Here is a link that connects to the ALP organization page, but donations straight to organization page won't count towards my fundraising to get my libraries there...so please donate on this gofundme site if you have ANY amount to give! Thank you kind people!!
http://africanlibraryproject.org/book-drives/book-drives-in-action?alpdetail=377
What is GoFundMe?

Fundraising made easy >>
CONTACT
LINK
POSTER
REPORT
Timothy smith
10 months ago
Caroline Donahue
16 months ago
Love this idea- great work!
What a wonderful heart you have Addie! May God bless all of your efforts and the best of luck to you!
sandra milner
16 months ago
What a wonderful project! Best of luck!
carla samarripas
16 months ago
Susan and Sarah Taylor
16 months ago
Go Addi
Naeem Qurashi
16 months ago
Addie, you are a wonderful little girl. May God give you a long and healthy life. May God make you a source of joy and enchantment for all hopeless people.
You are a very special person Addie. It brought tears of joy to my eyes seeing your project on the morning news this morning. God bless you and your family.
Spencer Gaydon
16 months ago